He doesn't match up to Ronaldo's leadership on the field, says Petit
Petit, who won the 1998 World Cup in France and lots of other accolades, believes Messi is one of the finest players in the history of football, but that he fails to show leadership skills on the pitch. Since the start of the 2018 World Cup, Argentina have failed to secure a win after drawing 1-1 against Iceland and then succumbing to a horrendous 3-0 defeat to Croatia – for of the matches they were the undisputed favourites by online sportsbooks in Russia.
The Frenchman is imploring the Argentine to "wake up" as he just seems to be strolling around the pitch without showing much intent to take charge, unlike his biggest personal rival Ronaldo who takes pride in being the main man.
"He's not a leader. He's no Ronaldo in that regard," exclaimed Petit. "Messi is one of the best players ever, but he need to show that mentality. He needs to wake up! When things go well with Barcelona he's a terrific player."
"We've seen it in the Champions League though, when things don't go well, he can disappear on the pitch. He's not there anymore. He's not running, he's walking. He's not concerned about the ball. Come on," said the 47-year-old World Cup winner with France.
What now for Messi?
According to some providers of internet betting in Argentina, Messi is looking to retire from La Seleccion after the 2018 World Cup, along with with a number of other national teammates including Aguero and possibly Higuain.
The Barcelona forward has already retired from the Argentina national team two years prior, right after they failed to win the Copa America for the second consecutive time to Chile in the final. But after being persuaded by his personal entourage, fans and the national team's insistence on his return, Messi quickly changed his mind and got back to playing for La Albiceleste.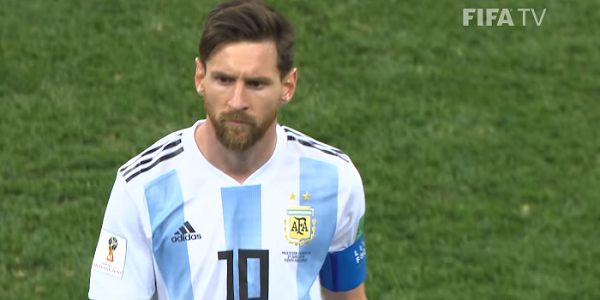 With Argentina having only 1 point from 2 games at the 2018 World Cup, their chances of further progression at the tournament are rather slim. They'll face Nigeria on Tuesday in a game that's paramount they win to collect the all-important 3 points, but the thing is they also have to hope that Iceland don't win against Croatia – a side that's already qualified – so that they have higher chances of reaching the knockout phase of the competition. Bet on Argentina with Bet365 Sportsbook!
(For more info about the online betting site, check out Bet365 Sportsbook review.)
Should Argentina fail to make it to the next round, it would scupper Messi's ambition of claiming a World Cup medal. The next chance he would get for that would be in the 2022 Qatar World Cup, by what time he would have been in his 35th year – an unlikely age for a striker to still be at the top level, despite this being Messi we're talking about. So it seems this is his last real chance to win a World Cup, and it seems to be fading away by the minute.