The France Football magazine's individual football award will be handed out in January. It's an epic fight between Luka Modric vs Cristiano Ronaldo, according to all Ballon d'Or 2018 odds. Can anyone else stand between them?
Check out the Ballon d'Or 2018 odds at 888sport!
Luka Modric: 1.33
Cristiano Ronaldo: 2.75
Antoine Griezmann: 13.00
Kylian Mbappé: 13.00
Lionel Messi: 21.00
Mohamed Salah: 21.00
There has been quite a lot of outstanding individual performances this year, and players still have time until January to prove that they are better than the rest. However, online sportsbook news sites in France seem to agree in one thing, at least that's what we can think of upon looking at the Ballond'Or 2018 odds today: Luka Modric is the biggest favourite to tear down the football hegemony of the Ronaldo v Messi rivalry.
Will Modric win Golden Ball 2018?
Should Luka Modric win the Ballon d'Or 2018, that would be a huge achievement for both him and his country. No Croatian has even won the most prestigious individual award in football: France Football's Golden Ball. Another Croatian Real Madrid legend, Davor Suker was the closest back in 1998. He finished second behind Zinedine Zidane.
Ballon d'Or 2018 odds suggest that Modric is the biggest favourite to win. His odds are a low as 1.33, and not without a merit: he has had a terrific season. He won the Champions League with Real Madrid and lead Croatia to the World Cup final in Russia. His individual class was acknowledged too: he won the World Cup Golden Ball, meaning he was the Most Valuable Player throughout the whole tournament.
In addition, UEFA named him as Player of the Year back in September. Just a few days ago, FIFA agreed with the European Football Association as Luka Modric was named Player of the Year at the FIFA the BEST gala as well. The last – and only – individual award Modric hasn't won yet is the Ballon d'Or. And still, he has competition…
Will Cristiano Ronaldo win Ballon d'Or 2018?
He is definitely among the favourites. Actually, he's the only actual competitor of Luka Modric, according to all Ballon d'Or 2018 odds. Online sportsbook sites in France rated his chances of winning at 2.75. Ronaldo was also a key member of the Real Madrid team that won its third consecutive Champions League trophy in Kiev.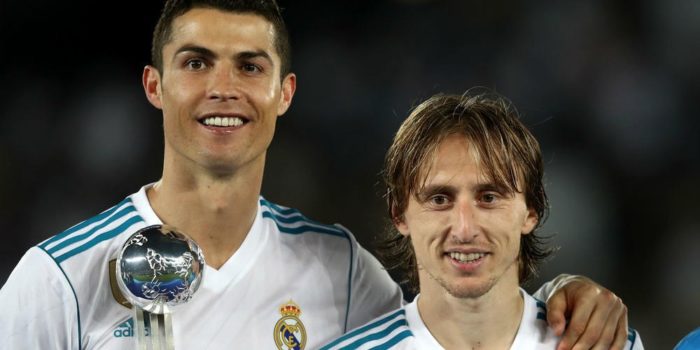 He was the top scorer of the tournament, netting 15 times – although he wasn't much of a key figure in the final or the semi-finals. He wasn't at his best during the World Cup either: despite the fact that he scored a hat trick against Spain in his very first match, he wasn't very memorable at any other one of his games.
Now he's trying to make history at Juventus as well. His only hope could be to score as many goals in the Serie A as possible. So that the journalists will remember his last 3 month instead of the previous 9 – because in that, Luka Modric was clearly the best player in the world. Cristiano Ronaldo is on the edge of losing the Golden Ball again, but this time it won't be Messi's, or will it…?
Can Messi win Ballon d'Or 2018?
The best betting sites in France predict easy victory for Luka Modric, especially after the UEFA and FIFA votings. However, Messi is always a favourite at the Ballon d'Or awards, so he could still cause surprise. The Ballon d'Or 2018 odds don't give him much chances (21.00) so he could be this year's black horse.
Another competitor could be PSG's World Cup winner wonderkid, Kylian Mbappé, whose odds to win Ballon d'Or 2018 are 13.00. Do you see any of them taking the individual award from the Croatian crack?
If you prefer moneyline of fractional odds, learn how to read sports betting odds like a pro here!