Houssem Aouar, Rodrygo, Mason Greenwood, and Troy Parrott are some of the most talented young football players in 2019.
Football clubs are trying to keep their best players by increasing transfer fees each year. Therefore, chasing young talents has increased dramatically by giant clubs. Here are some of the most talented young football players in 2019.
Houssem Aouar played in the Champions League for Lyon
Aouar is 20 years old and plays as a midfielder in Olympique Lyonnais. He is valued over €40 million in the transfer market. Aouar has already drawn attention from Barcelona, Liverpool, Man City, Chelsea, and Arsenal.
Houssem Aouar's playing style is similar to Barcelona's Andres Iniesta and Liverpool's Naby Keita. His strengths are passing, defensive contribution, keeping himself between the defender and the ball, and triggering counter attacks.
Many are comparing him with elite midfielders like P. Pogba, and K. De Bruyne. Aouar played in six Champions League matches this season. He played against Man City, Hoffenheim, and Shakhtar Donetsk. The youngster averaged a great 2.8 tackles, 1.7 key passes, 2.7 dribbles, and 87.8% pass accuracy.
By only 20 years of age, Aouar is a complete midfielder and is making himself known as one of the most talented young midfielders in the world.
In addition, 22-year old T. Ndombele is another midfielder ace in Lyon. He is also considered as one of the best midfielders and is linked with a summer move to Premier League. Furthermore, Ndombele and Aouar played against Barcelona on 19 Feb 2019. They performed very well against Spanish giants in defensive duties.
Brazilian Rodrygo Silva de Goes is the new Neymar
Rodrygo is 18 years old and plays as a winger in Santos F.C. Real Madrid signed him for €45 million last summer. However, he is still playing for Santos at least until Jun 2019. He had offers from PSG, Liverpool, and Barcelona as well.
Rodrygo is quite young, but he is one of the most effective players of Santos F.C. His playing style is similar to Neymar Jr. Rodrygo's strengths are dribbling and high speed. Just like Neymar, he doesn't have good physical performance. However, he doesn't lose the ball easily when surrounded by defenders.
Rodrygo Joined Santos F.C in 2011 and made his first professional start on Nov 2017. He is the youngest player who scored in Copa Libertadores competitions. In addition, he is also the youngest player who signed a contract with sportswear giants Nike.
Mason Greenwood had his professional debut against PSG
Mason Greenwood is 17 years old and plays as a striker in Manchester United youth team. He scored 22 goals and 6 assists in 22 matches. Greenwood also scored a hat-trick in the FA Youth Cup against Chelsea on 17 Dec 2018. Above all,  Man Utd won the Under-18 Premier League last season, where Greenwood finished as the top scorer.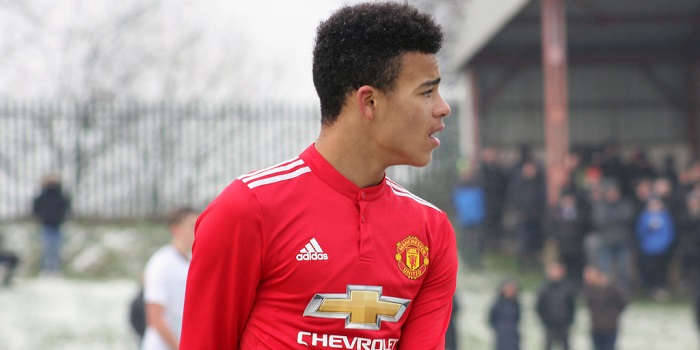 Many are already comparing him to former Man Utd striker, Robin Van Persie due to his similar running style.
Unfortunately, Romelu Lukaku and Marcus Rashford are the only strikers left in Man Utd first team. Due to injuries, other strikers are out of duty. Including Anthony Martial, Juan Mata, Alexis Sanchez, and Jesse Lingard. In addition, Man Utd are also missing their best midfielders as well. Including Pogba, Nemanja Matić, and Ander Herrera.
Therefore, Solskjaer decided to give a chance to their young starlets in the Champions League match against PSG. Greenwood was among those kids who participated in a dramatic win over PSG. Probably, he will play in the upcoming Premier League matches as well.
Betting odds for Premier League teams to finish in top 4 at Bet365 Sportsbook:
Man Utd (11/8)
Tottenham (8/13)
Chelsea (1/1)
Arsenal (8/11)
Make sure to check out GamingZion's list of online sportsbook sites in the UK to bet on English football.
Troy Parrott is already being compared to Harry Kane
Troy Parrott is 17 years old and plays as a striker in Tottenham Hotspur. He scored 11 goals and three assists in just seven U18 Premier League games. Furthermore, he showed a great performance in the UEFA Youth League. He scored three goals and an assist in just five appearances.
In addition, he scored a hat-trick for the Republic of Ireland in the UEFA Under-19 Championship against the Faroe Islands. He signed his first professional contract with Tottenham Hotspurs on Feb 2019.
Parrott is not playing for Tottenham's first team yet. However, his presence in their training sessions is a great chance for Parrott to impress. His qualities seem to bring him soon into the first team. For the reason that Tottenham star, Harry Kane showed the same qualities as well.
Troy Parrott is a player that works hard and builds his confidence with every successful appearance. Just like Harry Kane when he was a young player.