Russia World Cup Dope: Mental Boost or Actual Dopes?
Russia World Cup dope is becoming a pretty interesting topic, especially now when it seems that FIFA has proof of it happening, although they didn't do anything about it.
Online sportsbook news sites in Russia don't mention the Russia world Cup dope topic too much, but it's much more referred to in other parts of the world.
Why would you think Russian players are using forbidden drugs?
First of all, because you might be prejudgemental and think if a nation built up an entire ministry to dope their sportsmen and sportswomen for the Winter Olympic Games, they might do the same for their football players at the home organized World Cup tournament. And that's exactly what happened in Russia.
We've known that ever since the McLaren Report has been released. Professor Richard McLaren found evidence to state-sponsored doping of professional sportspersons in Russia. The report found out that Russian racers had to give urine samples way too frequently, so that they have clean samples when their dirty ones need to be replaced.
While it is an accepted fact that Russian sportspeople were doped which was supported by the state itself, FIFA didn't think it was an interesting case. The Federation of International Football Association made their private investigation and found out that all accused 155 Russian footballers were perfectly clear and fair – although we know exactly nothing about FIFA's drug testing methods and how they got to this conclusion.
Is there any other explanation?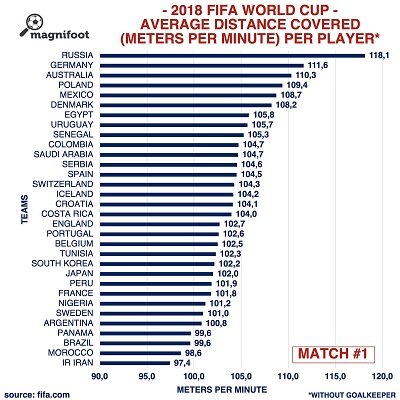 Of course. We can all agree on the fact that football is a sport that is decided in mind – at least that's for sure if we talk about the highest level. And the World Cup is the highest of all levels. Now the Russian players are playing in their home country, for the fame and glory of their own nation. It obviously gives an extra boost to each and every one of their players.
It's only natural that they want to perform as best as possible. They know that the entire world is watching, and that good performance will earn great fame to their country. And who wouldn't want to bring glory to his nation? The home-organized World Cup can add a lot to a player's performance, which can help certain players overcome the top of their abilities…
That might as well be one the acceptable explanations why Russian football players run by far the most at this tournament. After two match days, they ran the most meters per minute, according to Magnifoot's statistics. The other reason could be the fact that Russia still uses state-funds to dope their players in hopes of reaching a spot as best as possible at the home World Cup.
Bet on Russia to beat Spain!
It would be a mistake to accuse Russia of anything, they might as well just be this good. We will see soon how they perform against Spain in the Round of 16 – online sportsbook sites in Russia see La Furia Roja as the favourites for the encounter, but there must be some surprises during the World Cup.
The odds for Russia to win against Spain are 7.00 at Marathonbet Sportsbook, while the odds for Spain to qualify are 1.60. Will Russian players be able to run much more and much faster than Barcelona and Real Madrid stars from the Spanish squad? You can see the odds and you can believe in conspiracy theories. Should they be just partially true, the 7.00 odds could be regarded as a free gift.