Top 4 ATP World Tour Swedish Open Båstad Tennis 2019 Betting Odds
Pablo Cuevas will most likely claim the 2019 Swedish Open title

Matteo Berrettini is also a frontrunner to claim a title win at Båstad

Casper Ruud's leading serve and return statistics could help him pull of a 2019 Swedish Open win
The Swedish Open title will soon be up for grabs again with top tennis players battling out on the clay courts. Pablo Cuevas currently stands the best chance to take over Fabio Fognini as the new Båstad tennis champion. However, Matteo Berrettini, Christian Garin and Casper Ruud also have good Båstad tennis 2019 betting odds to win. Who will walk away victorious at the upcoming ATP World Tour Swedish Open?
The Swedish Open is an ATP World Tour 250 series clay tournament held in each year in Båstad, Sweden. This year's ATP Tour Swedish Open will run from 15 July to 21 July. These are the top 4 ATP players Båstad tennis 2019 betting odds on 888sport:
Uruguayan 'King of Clay' Pablo Cuevas has the Båstad tennis 2019 betting odds to claim 7th career ATP title win
Uruguayan tennis player Pablo Cuevas is currently favored to win this year's ATP tournament in Båstad according to 888sport. Fortunately with Båstad tennis 2019 betting odds at 5.00, Pablo Cuevas can claim his 2nd Swedish Open title this year. The current world number 43 claimed victory at Båstad in 2014 which was also his first career ATP World Tour title.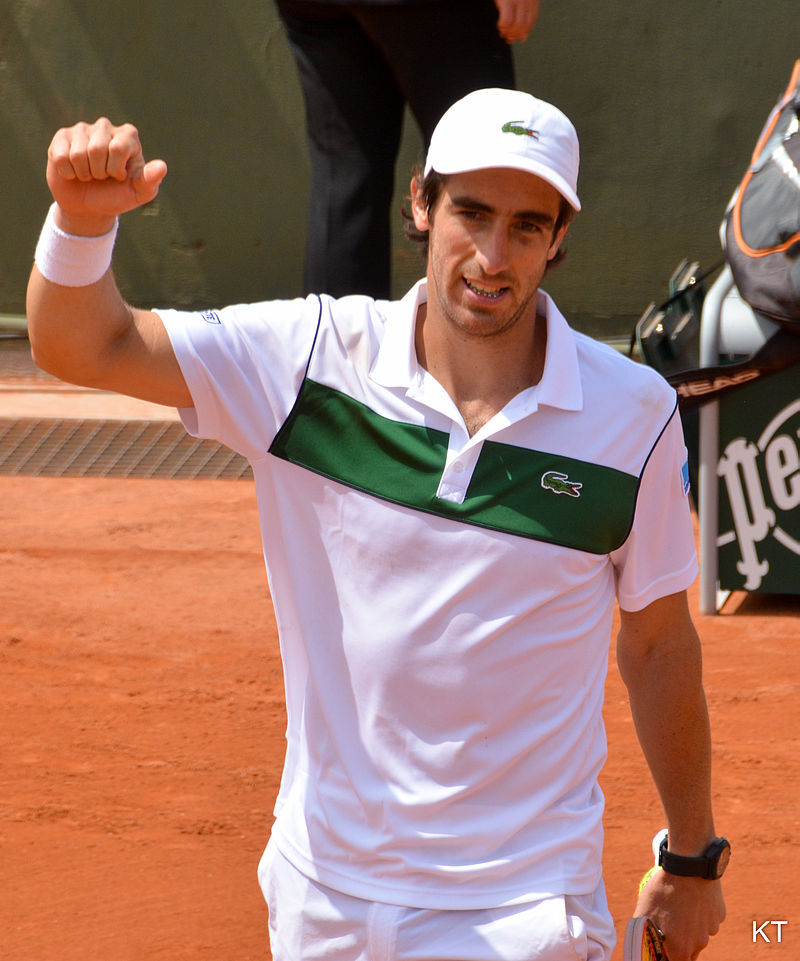 Pablo Cuevas so far has a total of 6 ATP titles from 10 career finals.  All of these 6 wins have been on clay surfaces making him a fierce competitor on the clay courts. So far this year, the Uruguayan has featured in one ATP World Tour Final at the Estoril Open in Portugal. Unfortunately, he lost the April tournament 6–3, 7–6(7–4) to Stefanos Tsitsipas.
Cuevas is currently in the top 20 rankings of serve and return leaders on clay making him a safe bet on 888sport.
World No. 30 Matteo Berrettini could claim his first Båstad title this year
Matteo Berrettini also stands a good chance on 888sport to claim a title this year at Båstad with odds at 6.00.  The world number 30 has claimed one ATP win this year beating Filip Krajinović at the Hungarian Open in April. In the following month, he was a runner up at the Bavarian Open losing 1–6, 6–3, 6–7(1–7) to Cristian Garín. In addition to his promising 2019 start, he was also a semifinalist at the Sofia Open in February.
It's predicted that the Italian will continue his good run of games by claiming this year's Båstad title. Similarly to Pablo Cuevas, Berrettini has a good clay court record as all his ATP finals have been on clay courts. Matteo Berrettini has the potential and Båstad tennis 2019 betting odds on the online sportsbooks in Sweden to cause some upsets.
Christian Garin could feature in his 4th ATP career final
The Chilean is among the top tennis players on 888sport favored to claim the 2019 ATP Swedish Open singles title. His Båstad tennis 2019 betting odds of winning on 888sport currently stand at 10.00. This means a Båstad title win for the Chilean is achievable. Additionally, Garin has gotten 2019 off to a good start featuring in 3 ATP finals all on clay surface.
He claimed 2 wins at the U.S. Men's Clay Court Championship in April and at the Bavarian Championship in May. Last year in Båstad, Garin was knocked out in the round of 32. Luckily with his Båstad tennis 2019 betting odds, he could improve from last years performance and possibly feature in the final.
Garin will be looking to continue his impressive run on the clay courts by claiming a win at the Swedish Open in July.
2018 Båstad quarter finalist Casper Ruud returns with an eye on the Swedish Open final
Norwegian Tennis player Casper Ruud is also one of the top players to win this year's ATP Swedish Open. He currently stands a small chance to win at Båstad according to his Båstad tennis 2019 betting odds on 888sport. However, Casper Ruud's (13.00) poor record of 0 ATP title wins could affect his chances at the 2019 Swedish Open.
According to the online sportsbook news in Sweden, Ruud was the 2019 U.S. Men's Clay Court Championship runner up. However, this might not be enough considering that the top 3 hopefuls have all claimed at least 1 career ATP win. The 2018 Swedish Open quarter finalist will return to in hopes of at least making it to the 2019 final.
Fortunately, the Norwegian has strong 2019 stats on the clay surface that could back up his Båstad title hopes. He's currently ranked in the top 13 for return leaders and top 11 for serve leaders. You can bet on Casper Ruud to claim his first ATP career win at Båstad on 888sport. For more information on the sportsbook, be sure to read our latest review about 888sport.
GAMBLING News -
December 2022