Online sportsbook sites in Singapore favor Leon "Rocky" Edwards (1.55) over Donald "Cowboy" Cerrone (2.40) by a wide margin. But the fight promises to be even. So why do the official betting odds favor Edwards?
Previous Fights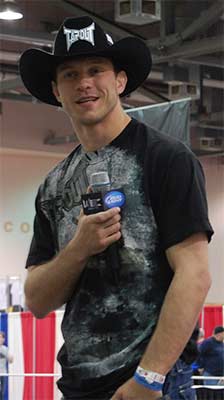 While Edwards enters the event on a five-fight winning streak, Cowboy Cerrone has just put an end on a three-fight losing streak in his last bout. Those statistics certainly had a major influence on the official Cerrone vs Leon Edwards betting odds.
Cerrone's three losses led many UFC fans to conclude that the 35-year-old fighter's career is rapidly declining, but the he still has some tricks up his sleeve. His recent knockout victory in the first round against Yancy Medeiros is a testament of his lasting punching power. Cowboy's ground game is also formidable.
While Edwards also won his last fight with a KO (in the very last second, no less), he has been more comfortable going the distance lately. The result of the upcoming encounter depends on whether Edwards' chin can withstand Cowboy's massive boxing. Because of the age difference, Edwards will probably manage to display better athleticism and land more hits, which could give him the edge if the fight goes to a decision. Consequently, Cerrone will be trying to finish Edwards.
Who to pick when betting on Donald Cerrone vs Leon Edwards?
Whether Cowboy will manage to pull that off divides UFC fans, commentators, and fellow fighters as well. When Fightful.com asked eight MMA pros, the ones picking Cerrone were in (slight) majority:
Cerrone currently ties with Michael Bisping and George St-Pierre for the most UFC wins ever. While the upcoming fight will undoubtedly be a close one, we think Cowboy has what it takes to break the record. If you are also picking him for your bet on Donald Cerrone vs Leon Edwards, visit Unibet Sportsbook for the favorable 2.40 betting odds.