Review About Everygame Poker
Posted: December 20, 2021
The latest review about Everygame Poker. Keep on reading to find out all the important details regarding the popular online poker room.
GamingZion Editor's Rating
4.2
Banking4.0

Bonuses4.0

Games4.0

Presentation4.5

Support5.0
Review about Everygame Poker
In this review about Everygame Poker, we will tell you everything you need to know about one of the most popular online poker sites in the USA. We cover all the important things worth knowing. By the end of this article, you will be familiar with the available payment methods of Everygame Poker, you will know how to open your account and how to make your deposits. You will also know how to download the online poker app, and how to start playing. We also give you all the information yout the Everygame Poker welcome bonus as well as the best poker promotions out there. Keep on reading to find out about all this, and much more!
About Everygame Poker Sister Sites – All You Need to Know
Everygame Poker sister sites include the site's casino and sports betting sections. If you want to learn more about those forms of online gambling, then please feel free to visit the latest review about Everygame Sportsbook or the latest review about Everygame Casino. In this page, however, we will focus on Everygame Poker.

Everygame Poker Terms and Conditions – Who can Join the Site?
Luckily for us, we have pretty good chances of being allowed to join the site. Online poker players from all over the world can certainly do so. However, as always, there are certain restrictions. Unfortunately, the list of Everygame Poker restricted countries include the UK, Australia, Germany and France as well. Please scroll lower to the Restricted countries section to the the full list of restricted territories.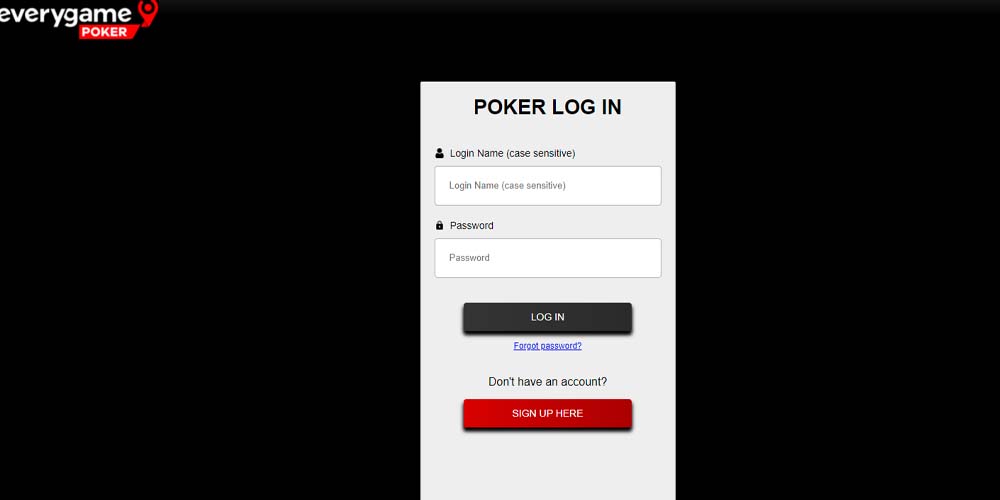 Please also note that all Everygame Poker players must be at the age of at least 18 years, or older. If you aren't of age just yet, then you are not allowed to open an account – as is the case in every legal and fair online gambling sites in the world. Luckily for us, most countries of the world are available. If you aren't living in any of the restricted territories and are a big fan of online poker, then you definitely need to join the rebranded Intertops Poker: Everygame!
Safety and Security – Is Everygame Poker Legit and Fair?
Long story short: yes. You can trust Everygame Poker. It is the successor of the former Intertops Poker, which was one of the most prestigious – and the first – online poker sites. In addition to owning decades of fame, experience and popularity, they also have another great reason that should earn your trust. They have a valid online gambling license registered at the Malta Gambling Authority. The MGA prints out the most prestigious online gambling licenses in the industry. They set the hardest requirements and the highest standards. If a site meets their requirements, you should know, it's a good sign for you.
Online Poker for Beginners – How to Register at Everygame Poker?
Starting to play at an online poker site might be overwhelming at first. It can seem like a hard job. If you feel that way, we are here to help you out! Let's start by clicking here. This link redirects you to the Everygame Poker official website. On the top right corner, you can see the "Sign up" button. Click there, and fill in your data. You must provide the following information:
| | | | | |
| --- | --- | --- | --- | --- |
| Country of residence | Email address | Username | Password (twice) | Preferred currency |
| Title | First Name | Last Name | Date of Birth | Address |
| City | State / Province / Region | Post code | Phone number | Security code |
Once you're done with all this data, click the green Sign Up button in the bottom. With these, you are done with the registration process and you are redirected automatically to continue with the depositing process. You can click Not now, or you can take advantage of your welcome bonus and keep on depositing. Keep on reading to find out about the details of the Everygame Poker Welcome Bonus. Trust us: you will want to claim it!
Everygame Poker Welcome Bonus – 200% up to $1,000
The Everygame Poker Welcome Bonus is basically a first deposit bonus. If you take advantage of this offer, you will be able to triple your first deposit. Meaning, by depositing $500 as your first deposit, you will get $1,000 extra. This way, by investing $500 into your online poker player career, you instantly see $1,500 on your account. Please make sure to use the deposit bonus code 1000EGP while making your deposit. You will need this in order to claim your 200% first deposit bonus up to $1,000! And this is not the only online poker offer at Everygame…

About Everygame Poker Promotions – Never Stop Winning More!
First and most importantly, we need to talk about the Everygame Poker loyalty program. While you play, you can constantly collect Frequent Player Points (FPPs). The more you play, the higher your level rankings are. And the higher your rank is, the more FPPs you can collect. Which is great, because later on, you can exchange your FPPs for cold hard cash. That's pretty much the point of the Everygame Poker loyalty bonus.
However, there are other online gambling promotions waiting for you as well, it's not only the loyalty program. For example, Everygame Poker players can take advantage of a 36% Rakeback Deal. You can claim this offer every day. In addition, you can enjoy many other rewards as well. Win huge amounts of extra cash by winning the best online tournaments, or win entry to the most prestigious poker events. Win free chips, claim your reload bonuses and many other promotions. You have many options, don't miss out on them!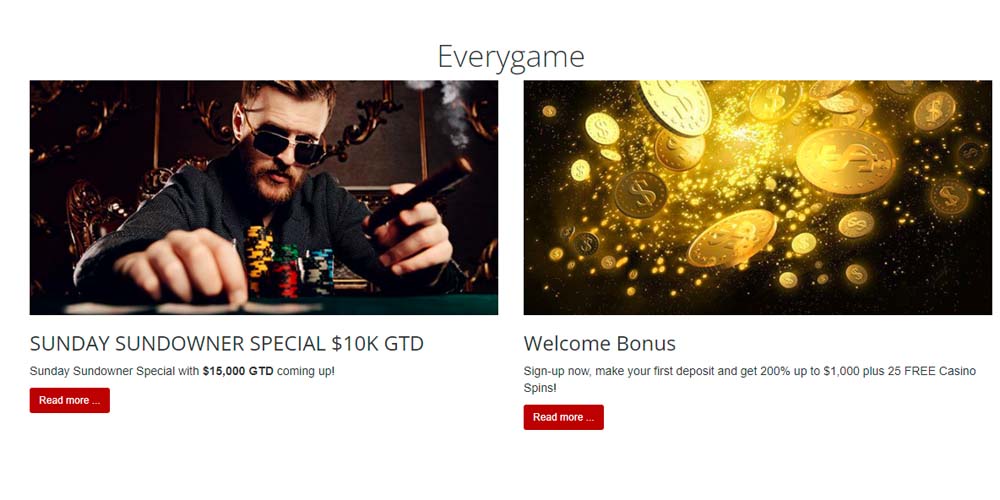 About Everygame Poker Payment Methods – Deposits and Withdrawals
If you og in to your account, you can constantly check your balance. In the top right corner, you can see how much money you have left. You can do the same in the top left corner as well. In that part, you can also click on the Deposit now button to make a new deposit. Select your preferred depositing methods. We must mention that Everygame is one of the best sites for online poker with crypto deposits. For the full list of available depositing methods, please scroll lower to the Banking section in our review about Everygame Poker.
Online Poker Room – How to Play Online Poker at Everygame?
We explained to you in detail how to register at the site, and we also showed how to make deposits. Now it is time to explain how to start playing online poker at Everygame. If you go to Everygame Poker, you can download the online poker software from the main site directly. Download the EVERYGAME Poker Setup.exe file and launch it. Install the file on your computer – Click next, accept the Terms and Conditions, and then wait for the installation to finish.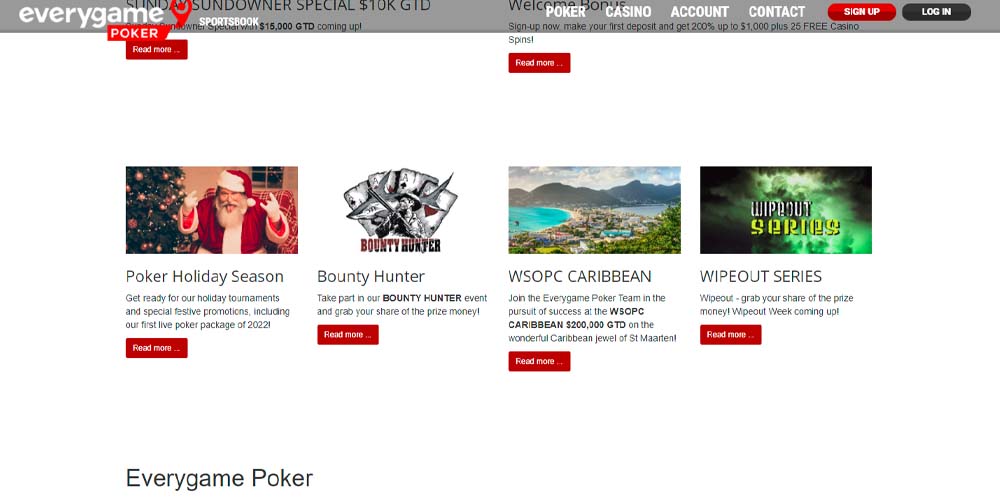 It shouldn't take more than 5 minutes, really – even if you have a really slow internet. Once the poker software is installed, run it. On the top right corner, you can see the blue Login button. Click there and log in with the credentials you created just when you started reading this article ;). Then you get to see all the available tables, tournaments, and everything. Pick whichever you like the most, and start playing!
About Everygame Mobile – Download Online Poker App
At this point, you're probably wondering: how to download the Everygame Poker mobile application. The answer is simple: you don't. You don't need to. First of all, because there is no such thing as the Everygame mobile app. Secondly, because you need no such thing, because the site is 100% responsive. It means that if you load the site from your web browser, the site will automatically fit your screen, no matter what kind of device you use. Hence, Everygame Poker is available on computer, tablet and mobile as well. Your device doesn't matter. It's only your online poker strategy that matters!

Everygame Poker Specifications
Launched:

Live Casino:

Instant Play:

Free Casino Play:

Software:

language:
Everygame Poker Banking
Minimum Deposit Limit:

Maximum Deposit Limit:

Deposit Methods:

Minimum Withdrawal Limit:

Maximum Withdrawal Limit:

Withdrawal Methods:

Withdrawal Time:

instant - up to 4 business days

Currency:
Everygame Poker Bonus
Everygame Poker Promotions
Everygame Poker Customer Service
E-mail:

Skype:

Live Chat:
Everygame Poker Loyalty Program
Everygame Poker Company Details
Related content