The good / Large content of games coupled with exceptional service and promotional offers are the primary reason why players should visit Bet365 Casino.
The bad Withdrawing funds from the account can take longer at times, depending on the circumstances.
Bottom line No matter what your preference is, you are sure to find what you are looking for at this popular online casino. It has all the latest slot titles and also contains classic table games for the players that prefer traditional pursuits.
GamingZion Editor's Rating
4.6
Games5.0

Bonuses4.0

Banking5.0

Support5.0

Presentation4.0
Review About Bet365 Casino
The one thing that everyone in the world knows about bet365 Casino is the fact that they are a leading company. That is the case, all around the world. Whether you live in Canada, India, Australia, France, Egypt, Brazil, or anywhere else, you must have heard of bet365 and its services. Not without a doubt. They are possibly the biggest name within the online gambling industry – and it is quite a huge industry. bet365 are there when it comes to sports events and teams. The most famous sports clubs have their logo on their jerseys and in their stadiums. Now come n a journey with us to learn everything about bet365 Casino.
Who owns bet365 Casino and how did it start?
Currently, the owner of bet365 Casino is Hillside ENC. The company has a registered address in Malta. You can find the exact address if you scroll below – GamingZion's latest review about bet365 Casino tells you all important pieces of information like this. Denise Coates established the bet365 Casino group back in 2001. By today, she is one of the richest businesswomen in the world. Denise Coates is still one of the chief executives of bet365.

Is bet365 Casino safe and legit?
Long story short: yes, very much. Long story longer: As you could have seen above, bet365 Casino is possibly the most famous brand in the online gambling business. They have earned quite a respectable reputation throughout the decades. Not without merit. They worked hard for what they have achieved by today. bet365 Casino makes sure to follow all online gambling rules. Their gambling license is registered in Malta as well as the United Kingdom. The Malta Gaming Authority and the UK Gambling Commission only grant permits to the best of the best. Playing at sites with these licenses is a guarantee for you to get all your winnings on time.
How to play at bet365 Casino?
Now that you know that it is safe and legit to play at bet365 Casino, you must want to know how to. Let me tell you. The first step if obviously registering your new account. You can do so by clicking on the image below. Give all your details right and finish the registration process. Verify yourself and then log in to your brand new account. On the top of the page, click Casino, Live Casino, Games or other bars. It only depends on what you want to play at the given moment. Upon your click, you will see a list of casino games. Choose whichever you like the most, and start playing. Obviously, you need to make a deposit if you wish to play for real money.
About bet365 Casino – the Gaming Portfolio
Is there a specific online casino slot that you are looking for? The chances that you will find it here are quite high. The site features an impressive online gaming portfolio. The best software providers create games to bet365 Casino. These include the likes of Microgaming, NetEnt, Evolution Gaming, and many others as well. You can filter games based on type: card games, table games, slots, video poker, jackpots. These are only 1 click away from you. Win millions of dollars by hitting the jackpot, or beat the dealer playing online blackjack. It is only up to you. And we have not even started talking about the live casino section…
About the Live Casino section
For a real-life casino experience, this is where you need to go. Just click on live casino on the top menu bar and you will instantly see what I'm talking about. The dealers look like they are actually dealing your cards. The gaming software is more realistic than ever. And the gaming portfolio will not disappoint you either. Roulette, blackjack, baccarat, sic bo, poker, and many other live casino slots are all waiting just for you to start playing. You can even choose your favorite dealers.

About bet365 Casino – can they ban you?
All casinos are legally allowed to ban their players. Obviously, they cannot just do it out of the blue. There are strict regulations. These are all in the terms and conditions. If you want to know what are the strict bet365 laws you need to respect, you better read that. Violating those terms might end up in your account being banned. You probably want to avoid that.
However, at the same time, you do not have to worry about being banned for no reason. Especially you will not be banned just because you won too much. Once again, the gambling license by MGA and the UK Gambling Commission makes sure that such cases would not be unsolved. However, as bet365 Casino is one of the trustworthy guys, it is a very unlikely scenario.
Which countries allow bet365 Casino?
We have already suggested it, but we will suggest it once again. Upon signing up for your account, you need to read the terms and conditions for the site. That way, you will surely find out all the hidden details about bet365 Casino. Luckily, we are helping you in our casino review and analysis at GamingZion. If you scroll a bit lower, you will see a list of the restricted countries. Hopefully, you will not find your country of residence in that list!
About bet365 Casino – How to Withdraw Bonus?
Have you registered at the site in hopes of claiming your welcome bonus? That is Step 1. Step 2 is making a deposit and claiming your bonus. Then you will need to fulfill all the requirements on time. You need to check the bonus terms and conditions to see how many times you need to roll over your deposit and bonus amount. In addition, you also need to fulfill this requirement quickly as your bonus expires at some point. Again, you need to check the T&Cs or GamingZion's bet365 Casino Welcome Bonus to find such information. Upon meeting those requirements, you will be able to cash out your bonus. Which withdrawal methods are available? Keep reading!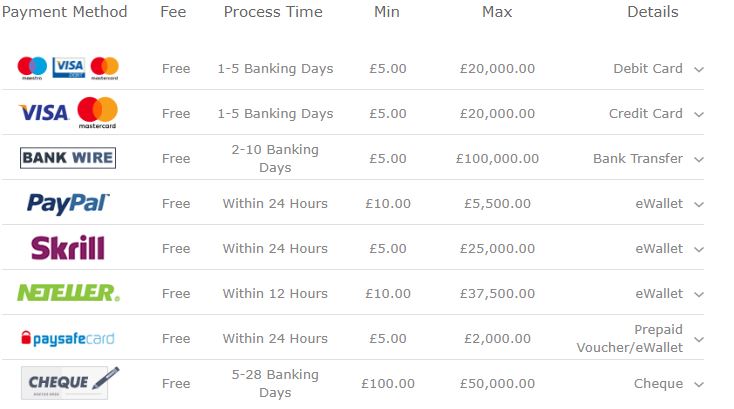 How can I withdraw my winnings?
As an advanced online casino site in the 21st century, you can find several available banking methods at bet365 Casino. For a full list of available depositing and withdrawal methods, you can scroll lower to our review's Banking section. However, to give you a few examples, obviously, you can deposit and withdraw via bank transfer and debit cards. VISA, MasterCard and Maestro cards are all accepted if you choose this latter option. Withdrawal is free of charge. Your money can arrive to your account within 12 hours. However, in some cases, it might take a few working days. The minimum cashout is GBP 5, and the maximum is GBP 100,000.
bet365 for Android, iOS, mobile, PC and MAC as well
First thing first. There is no point in opening Google Play or your App Store. You can't find the bet365 mobile app as there is no such thing. However, the website is totally responsive. It means that you can just open the browser on your portable devices and navigate yourself to bet365 Casino. It will open instantly. Then you can just log in and start playing all the games. It will be the same as if you were playing on your desktop. Bet365 Casino is completely mobile friendly. In addition, all operating systems are supported at the site.
Bet365 Casino Specifications
Casino Group:

Launched:

Number of Games:

Live Casino:

Instant Play:

Free Casino Play:

Software:

Languages:
Bet365 Casino Restrictions
Age:

Restricted countries:

Algeria

,

Angola

,

Benin

,

Botswana

,

Burkina Faso

,

Burundi

,

Cameroon

,

Cape Verde

,

Central African Republic

,

Chad

,

Comoros

,

Congo - Brazzaville

,

Djibouti

,

Congo - Kinshasa

,

Equatorial Guinea

,

Eritrea

,

Swaziland

,

Ethiopia

,

Gabon

,

Gambia

,

Ghana

,

Guinea

,

Guinea-Bissau

,

Côte d'Ivoire

,

Lesotho

,

Liberia

,

Libya

,

Madagascar

,

Malawi

,

Mali

,

Mauritania

,

Mauritius

,

Mayotte

,

Mozambique

,

Namibia

,

Niger

,

Nigeria

,

Réunion

,

Rwanda

,

São Tomé & Príncipe

,

Senegal

,

Seychelles

,

Sierra Leone

,

Somalia

,

South Africa

,

South Sudan

,

Sudan

,

Togo

,

Uganda

,

Zambia

,

Zimbabwe

,

Afghanistan

,

Bangladesh

,

Bhutan

,

Cambodia

,

Hong Kong SAR China

,

Maldives

,

Pakistan

,

Philippines

,

Singapore

,

Tajikistan

,

Turkmenistan

,

Uzbekistan

,

Anguilla

,

Belize

,

British Virgin Islands

,

Cayman Islands

,

Cuba

,

Curaçao

,

Grenada

,

Guadeloupe

,

Honduras

,

Martinique

,

Puerto Rico

,

St. Barthélemy

,

St. Kitts & Nevis

,

St. Lucia

,

St. Martin

,

Turks & Caicos Islands

,

Andorra

,

Belarus

,

Belgium

,

Bulgaria

,

France

,

Isle of Man

,

Kosovo

,

Monaco

,

Montenegro

,

Netherlands

,

Poland

,

Portugal

,

Romania

,

Bahrain

,

Iran

,

Iraq

,

Israel

,

Kuwait

,

Qatar

,

Saudi Arabia

,

Turkey

,

Yemen

,

Barbados

,

Canada

,

Dominica

,

Guatemala

,

Haiti

,

St. Pierre & Miquelon

,

the United States

,

Nevada

,

New Jersey

,

U.S. Virgin Islands

,

Colombia

,

French Guiana

,

Guyana

,

Venezuela
Bet365 Casino Banking
Minimum Deposit Limit:

Maximum Deposit Limit:

Minimum Withdrawal Limit:

Maximum Withdrawal Limit:

Deposit Methods:

Withdrawal Methods:

Withdrawal Time:

Withdrawal Fee:

Currencies:
Bet365 Casino Safety and Security
Privacy policy:

Privacy Policy (Customers)

This Privacy Policy describes the way in which bet365 deal with the information and data you provide to us to enable us to manage your relationship with bet365. We will process any personal information provided to us or otherwise held by us relating to you in the manner set out in this Privacy Policy. Information may be provided via the bet365 website (the "Website"), telephone calls or any other means. By accepting this Privacy Policy you agree that you understand and accept the use of your personal information as set out in this policy. If you do not agree with the terms of this Privacy Policy please do not use the Website or otherwise provide us with your personal information.

Who we are

References in this Privacy Policy to "bet365", "we", "us" or "our" relate to Hillside (Sports) LP, a Limited Partnership incorporated in Gibraltar (Registration number 118) and with its principal place of business at Unit 1.1, First Floor, Waterport Place, 2 Europort Avenue, Gibraltar for Sportsbook products and Hillside (Gaming) LP, a Limited Partnership incorporated in Gibraltar (Registration number 120) and with its registered office at Unit 1.1, First Floor, Waterport Place, 2 Europort Avenue, Gibraltar for Gaming products. We control the ways your Personal Data is collected and the purposes for which your Personal Data is used by bet365, acting as the "data controller" for the purposes of applicable European data protection legislation.

Contacting us

If you have any concerns, or would like more detail about how we process your Personal Data, you can contact us using 

[email protected]

Protecting Your Personal Data

Your Personal Data isn't just protected by the quality, commitment and high standards of bet365, it's also protected by law. The law states that we can only process your Personal Data when there is a genuine reason to do so and it must be one of the following: • To fulfil any contract that we have with you • We have a legal obligation • Where you have consented to the processing • When it is in our legitimate interest • When it is in the public interest • When it is in your vital interests

Legitimate Interests

When we have a business or commercial reason to process your Personal Data this is referred to as a legitimate interest. Your Personal Data is still protected and we must not process it in a way that would be unfair to you or your interests. If we do use legitimate interests as a reason to process your Personal Data we will tell you that we are doing so, what our legitimate interests are and provide you with a method to raise any questions or objections you may have. However, compelling grounds for processing such information may over-ride your right to object.

How long we keep your Personal Data

Whenever your data is kept by bet365 we will ensure that it is appropriately protected and only used for acceptable purposes. We will keep your data for the period that you are a customer of bet365. If you are no longer a customer of bet365, we will keep your data for the minimum length of time required to comply with the purposes set out in this policy and relevant legal or regulatory obligations. Your Personal Data may be kept longer if we cannot delete it for technical reasons.

Why we process your Personal Data

If you choose not to provide your Personal Data it may prevent us from meeting legal obligations, fulfilling a contract, or performing services required to run your account. Not providing your Personal Data may mean we are unable to provide you with products or services.

Information Collected

The information and data about you which we may collect, use and process includes the following: • Information that you provide to us by filling in forms on the Website or any other information you submit to us via the Website or email • Records of correspondence, whether via the Website, email, telephone or other means • Your responses to surveys or customer research that we carry out • Details of the transactions you carry out with us, whether via the Website, telephone or other means • Details of your visits to the Website including, but not limited to, traffic data, location data, weblogs and other communication data. Where it is reasonable for us to do so and not detrimental to your rights and freedoms, we also collect Personal Data from publicly available sources such as internet searches, Companies House, and broadcast media.

Telephone Calls

Telephone calls to and from our Customer Contact Centre are recorded for training and security purposes along with the resolution of any queries arising from the service you receive.

Social Features of Our Products

If you choose to participate in any of the social features that we provide with our products (such as chat rooms) bet365 may store, record or otherwise process this data.

Use of Cookies

To find out more about how we use cookies please see our cookies policy.

Personal Data we share with others

We may share your Personal Data within the bet365 group and with these other organisations: • Law enforcement agencies, regulators and other authorities • Credit reference agencies • Fraud prevention agencies • Identity verification agencies • Sports governing bodies • Organisations that introduce you to us • Third parties you ask us (or permit us) to share your data with • Third parties necessary to provide products or services which you have requested Depending on the products you choose to use we may need to share your Personal Data with the third parties that provide those services. Where your Personal Data are transferred outside of the European Economic Area ("EEA"), we require that appropriate safeguards are in place. We may also disclose personal information to other companies within associated or subsidiary companies and to business partners, or successors in title to our business.

Data Transfer Outside the EEA

We will only transfer your Personal Data outside of the EEA where: • You have given your explicit consent, or • It is necessary for us to set up or fulfil a contract you have entered into with us; or • To comply with a legal duty or obligation If we do transfer your Personal Data outside of the EEA, within the group or to our business partners, we will take measures to ensure it is protected to the same standards as it would be within the EEA by relying on one of the following: • The country that is receiving your Personal Data has been found by the European Commission to offer the same level of protection as the EEA. More information can be found on the European Commission Justice website. • We will use contracts that require the recipient to protect your Personal Data to the same standards as it would be within the EEA • Where the transfer is to the USA and the recipient is registered with Privacy Shield. Privacy Shield is a framework that ensures Personal Data is protected to a level approved by the EU. Read more about Privacy Shield on the European Commission Justice website. In some instances we may be compelled by law to disclose your Personal Data to a third party and may have limited control over how it is protected by that party.

Your rights over your Personal Data

We will assist you if you choose to exercise any of your rights over your Personal Data, including: • Withdrawing your previously granted consent; however, this will not invalidate any previously consented processing • Lodging a complaint with any relevant Data Protection Authority • Access to your Personal Data that we hold or process • Correction of any Personal Data that is incorrect or out of date • Erasure of any Personal Data that we process • Restrict processing of your Personal Data in certain circumstances • Asking us to provide you or another company you nominate with certain aspects of your Personal Data, often referred to as 'the right to portability' • The ability to object to any processing data where we are doing it for our legitimate interests • The ability to contest a decision made entirely by automated processing, to express your point of view and to request that a human review the decision For more information on these rights you can contact 

[email protected]

Changes to our Privacy Statement

We may update this policy from time to time, so please review it frequently. If any material changes are made to this Privacy Policy we will use reasonable endeavours to inform you in advance by email, notice on the Website or other agreed communications channels. We will communicate the changes to you in advance, giving an appropriate amount of time for you to consider and understand the changes before they become effective. We will not enforce material changes to the Privacy Policy without your express consent. If you decline to accept the changes to the Privacy Policy, or otherwise do not accept the changes within the time period, we may not be able to continue to provide some or all products and services.
Bet365 Casino Registration Process
Steps:

Account Verification Time:

Required Documents:

utility bill, passport, ID
Bet365 Casino Games
Types of games available:
Bet365 Casino Live Dealer Games
Types of live games available:
Bet365 Casino Customer Service
E-mail:

Skype:

Live Chat:
Bet365 Casino Company Details
Address:

Hillside, Festival Way, Stoke-on-Trent, Staffordshire, ST1 5SH, UK

Directors:

Denise Coates (CEO), John Coates (Director)

Founded:

Employees:
Bet365 Casino Social Responsibility
Charity:

Sponsorship:

Stoke City (Premier League Football Club)
Discuss Bet365 Casino | User Rating