Messi and co. could find themselves without a manager days before the 2018 World Cup, if sexual harassment claims against Argentina boss Jorge Sampaoli prove to be true.
Replacing the manager now would be a disaster for their World Cup hopes
The sexual harassment accusations against Sampaoli have been brought forward by journalist Gabriel Anello during a radio program Radio Miter, according to online sportsbook news. Anello reports that Sampaoli supposedly tried to rape a chef that's part of the Argentinian FA's entourage – news that FA is yet to respond to.
"The Federation does everything to keep the news, but all those I spoke with confirmed the event. This is something very dangerous for Seleccion and Sampaoli, dealing with justice," said the journalist.
The victim that's involved in the alleged matter supposedly intended to report the fact to the proper authorities, but was silenced by the heads in the FA. It has been alleged that a cash exchange took place to keep the chef quiet, especially as Argentina are preparing to take on the 2018 World Cup in Russia.
As soon as Sampioli's sexual harassment rumours surfaced, the Argentina FA have supposedly looked at his potential replacement with a number of candidates' names springing up just days before the biggest football competition is set to begin. If they were to replace Sampaoli now at this stage, it would surely spell disaster for their hopes of World Cup glory while they still have Messi in their side, which is why we're pretty certain they will keep their current manager, at least until after the tournament, even if the rumours turn out to be true in the meantime.
It must also be noted that Anello – the journalist that came out with this story – is not shy of controversy. He previously said that he saw former Argentina winger Ezequiel Lavezzi smoking marijuana – rumours that turned out to be false, so it's up to you to decide about his latest claims.
Argentina's chances are slim at this stage
Argentina have struggled to qualify for the 2018 World Cup, and it appears that the only reason why they've managed to do so is down to their talisman Lionel Messi. Bet365 Sportsbook is giving them underdog chances for the 2018 World Cup, due to their poor form in the qualifiers. Currently, they're fifth on the list with odds of 10.00 (9/1) to win the tournament outright, while the likes of France 7.50 (13/2), Spain 7.00 (6/1), defending champions Germany 5.50 (9/2) and fellow South Americans Brazil 5.00 (4/1) are ahead of them on the odds chart.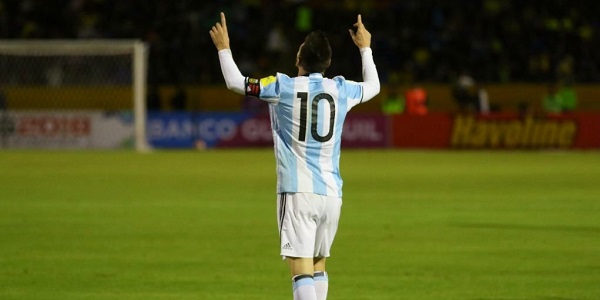 (For more info about the online betting site, check out our Bet365 Sportsbook review.)
Argentina find themselves in a tough group (D) which will see them take on Nigeria, Croatia and Iceland. Although online sportsbooks in Argentina favour them to finish Group D first 1.61 (8/13), we're doubtful how far they can reach considering their disappointing performances in the lead up to the World Cup in Russia.
Iceland have surprised everyone two years when they performed brilliantly at 2016 EURO in France, so they'll be one tough opponent, while Croatia boasts a squad filled with top talents than can surprise on occasion. And then there's Nigeria who seem to be the untested side, so no one knows what to expect from them at the tournament, making them a scary side indeed.