Bet on Logan Paul vs Antonio Brown Potential Matchup
Posted: February 17, 2020
Updated: February 27, 2020
Logan Paul is rumored to fight Antonio Brown

Bookies have come up with predictions
Logan Paul is quickly becoming a household name in the sweet science. Switching to professional boxing, the YouTuber has no shortage of challenges. The NFL superstar Antonio Brown is the latest celebrity to reach out to Paul for an official bout. Both sides seem quite interested to make the showdown happen. Several betting agencies even offer to bet on Logan Paul vs Antonio Brown's potential matchup. Have a closer look at the predictions.
Following the ill-fated rematch with KSI, many celebrities have lined up for a prospective bout against Logan Paul. The American internet personality reportedly plans to have one boxing match and one MMA fight this year. Antonio Brown is rumored to be his opponent on the ring. Several online sportsbook sites in the US have already opened the books for the event, but something stalls the process. Let's go explore the matchup and break down the fight.
Bet on Logan Paul vs Antonio Brown Potential Matchup

| | |
| --- | --- |
| Logan Paul | 1.375 |
| Antonio Brown | 2.975 |
| Draw | 12.50 |
What set off the boxing matchup?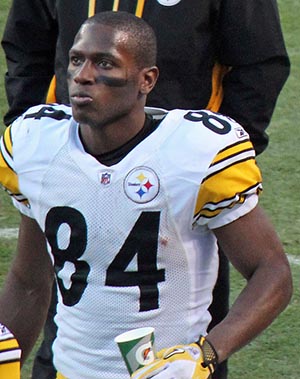 Logan Paul was unenthusiastic about training, after losing the rematch to KSI. He even hinted at plans to switch to MMA and will probably hold on to that intention. However, he never rejects a good challenge and about with an NFL star sounds lucrative.
Antonio Brown was the one to take the initiative and throw the gauntlet. As it is often done these days, the American football wide receiver called Paul out on social media. As soon as the YouTuber took up gage, online sportsbook news in the US started speculating over the potential standoff. The sides crossed paths at a Super Bowl party in Miami and informally agreed to a sanctioned boxing match. The streaming service DAZN confirmed that both camps were in negotiations, but the deal is yet to be finalized.
Despite causing such an uproar, it appears that Brown is backtracking. According to Paul, the former Patriots player has rejected two multi-million dollar bout offers against him. The influencer has even released a diss track slamming the alleged opponent. While it looks like the matchup is falling short, this is a typical move to promote the bout. That is probably the reason, why the 1xBet Sportsbook preserves the market on the event.
Should you place a bet on Logan Paul vs Antonio Brown Matchup?
The standoff between Paul and KSI proved to be worthwhile. It attracted a new audience to boxing and became a huge commercial success on both occasions. The chances are big that another good celebrity matchup will be just as beneficial. Hence bookies expect Paul's clash with Brown to be lucrative.
For his rematch against KSI, Logan attained a professional fighter's license. If the bout with Brown progresses, Paul will enter the ring with a 0-1 professional record. Albeit the vlogger has fought twice before, he has no victory in his arsenal. Regardless, he is drawing ahead as the frontrunner with a 1.375 odds rate.
The 24-year-old already has a ring experience. He stands 6-foot-2 and weighed in at 199.4 pounds in the second fight. People don't give him enough credit when it comes to being an athlete, but the Ohio native takes it quite seriously. He went as far as training with two U.S. Navy SEALs.
While Brown is a sportsperson and in great shape, he has never set a foot on a boxing ring. He stands at 5-foot-10 and weighs 185 pounds. His height and weight apparently put him at a disadvantage. Yet the wide receiver claims Floyd Mayweather Jr. is willing to train him if Paul is serious about the bout. Following rape accusations and sexual assault charges, the NFL star became a free agent. He is in no position to reject a lucrative project, that may bring him back to the positive spotlight. If you bet on Logan Paul vs Antonio Brown's potential matchup, check also our latest review about 1xBet Sportsbook.
GAMBLING News -
December 2022