We collected one of the most infamous gambling gangsters in the history of casino crimes. These names were all important in the early gambling life of Las Vegas and Italy. Therefore, these people are the ones who formed the gangster figure represented in today's pop culture. Las Vegas is still not clear, because we have cases such as the recent news about the Cop Arrested At Casino Robbery. But no one will ever beat the record of getting the most profit out of casino and gambling crimes. Therefore, let's learn more about the most dangerous people in gambling history.
Gambling Gangsters
If you are worried about getting involved with gambling gangsters, then you should switch to online gambling. Because the online gambling sites in the US will always operate from your mobile phone. Therefore, odds are that you are not likely going to run into figures such as the members of the Luciano family or big guys such as Paul Vario. If you are interested in crimes and illegal gambling activities of history. Then check out our other article about the Biggest Ban Scandals in sports history. They are involving sportsbook syndicates and mobsters both.
Charles "Lucky" Luciano – Gambling Gangsters
According to The Mob Museum, the Luciano family name goes a long way in the history of gangsters who gambled. Because Charles Luciano felt the taste of gambling at a young age. He dropped out of school so he can get a job delivering hats to people. Winning $244 in a dice game, and changed the way he viewed life. He started offering illegal defense services in a gang. Therefore, he received his name Lucky, for surviving the fights he lost. Raising in the high-class thanks to Arnold Rothstein, he tasted what it feels like to be a millionaire.
He was caught selling Heroin, so he had to find a way to save his reputation. Therefore, he bought 200 tickets to a boxing match, giving it all away to high-class associates. He died of a heart attack, with an annual mixed income of $4 million just from gambling.
Frank Costello – Gangsters Who Gambled
According to the  Crime Museum, Frank Costello is one of the most infamous gambling gangsters you'll ever hear about. Everyone referred to Costello as "The Prime Minister" due to his political influence. He was perhaps one of the greatest masterminds of crime history. Because he was profiting from both selling drugs, having political connections, and owning slot machines. The Luciano family didn't like the fact that he was friends with Charles Luciano. But the two of them got along well. Costello was called Frankie in his early years, arrested for robbery a total of three times. He was born in Italy, yet he had influence all over the United States. He was a well-known gangster among the casinos and mafiosos of Los Angeles and New York.
Paul Vario – Gambling Gangsters
Paul Vario is one of The Gangsters who fits the typical profile of dangerous gambling gangsters in pop culture. He was tall and strong, connected to every single crime one can imagine. He was arrested for loan sharking, tax evasion, bribery, burglary, vandalism, and assault. But the most interesting thing is the fact that he was an illegal bookmaker. He was the leader of Brooklyn's illegal gambling operations. Therefore, bookmaking and casinos were his suits. Every gambler's coin ended up in his pocket, and people had to pay him to be able to gamble. He was operating private gambling rooms. His last act before his death in prison was taking part in the JFK Airport Heist of Lufthansa. 
Benjamin "Bugsy" Siegel
Growing up in a poor family, Benjamin quickly realized that he needs to find another way to be satisfied. At an early age, he joined a gang and dropped out of school. He was one of the most infamous gangsters who gambled. Started as an illegal protection service with Sedway, forcing people to pay for their safety.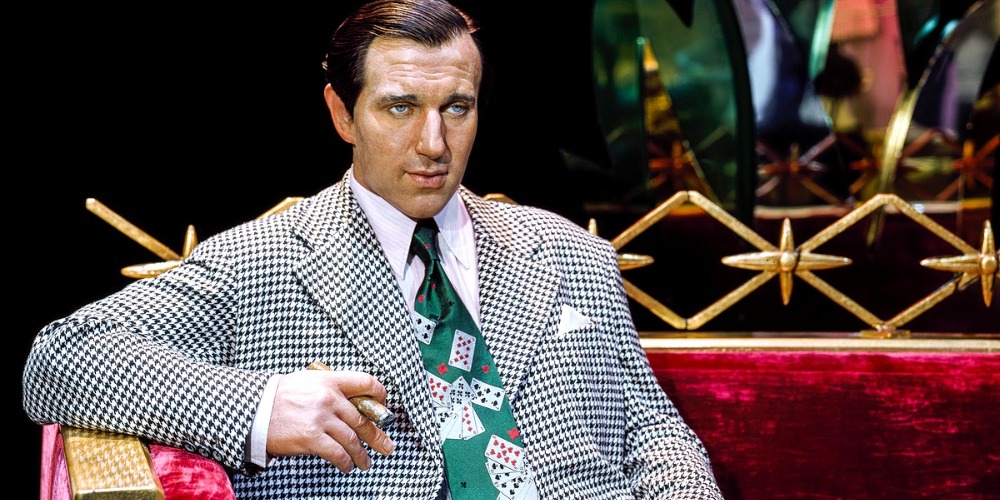 He grew up getting married to his childhood love, having two children. Yet he lost his family due to him courting other women. Therefore, he decided to move over to Las Vegas as a legitimate businessman. However, his business was enhanced by the backing of the local mafia. This is how he managed to build the greatest LA casino, The Flamingo. The business was failing and Lansky took over the ownership. Therefore, the Flamingos is the greatest mafia casino in world history. Today the first Metaverse casino is named after the Flamingo.
Meyer Lansky
If we are talking about gambling gangsters, then Lansky is wearing the crown of Vegas. According to the National Crimes Syndicate, Meyer Lansky is the true godfather of Las Vegas. One of the most infamous gangsters who gambled. Because he started by financially supporting Bugsy's business, the Flamingo. Then he ended up taking full control of the casino. He was born in Russia, moving over to the United States in 1911.
He was friends with Luciano and Meyer, running a gang that protected people from the most violent gangsters. By 1936 he was running 3 casinos in three different states. These are Florida, Cuba, and New Orleans. Therefore, he was a successful businessman-gangster. He opened several off-shore accounts in Switzerland so he can launder money. In 1983 he died of lung cancer, and there was a total of $300 million in his off-shore account that was lost and never found.
Johnny Roselli
Johnny Roselli was not a simple gambling gangster. A true player wanted by the FBI. He was an important person among the mobs of Las Vegas and Chicago. There are many theories about his death. Because he was cheating so many people, it is impossible to find out who did it. He was taking part in a card-cheating system. He was an illegal citizen. Therefore he was deported back to Italy.
Safe Online Gambling
As mentioned before, online gambling is never going to be as dangerous as Las Vegas was in the past. Therefore, if you are interested in top-quality online sports betting and casino games, then you should visit Everygame Casino. Here, you don't have to ask for promotions and bonuses, because you can activate them yourselves by checking out our online gambling promotions and online gambling bonuses pages. Furthermore, you can bet on entertainment props, maybe about upcoming movies featuring the gangsters who gambled.