Golden Raspberry Awards 2019 Odds: Here Are the Worst Movies This Year
John Travolta's Gotti leads by far according to the Golden Raspberry Awards 2019 odds, but there are other outstanding candidates for the worst movie of the year title.
The Golden Raspberry Award Foundation's unique idea was to give awards for failure in cinematic achievements. They have been working hard since 1981 and oh how much we need them! Those who value us enough to create the worst movies of the year, deserve to be acknowledged. Or, well, punished for their crimes. The Razzies will be with us and will be here for us in 2019 as well. And you can bet on Razzies 2019. Check out the best Golden Raspberry Awards 2019 odds for the worst movies of the year! Feel free to read, we're totally spoiler-free.
Not even John Travolta could save Gotti…
Not even John Travolta managed to save this movie from the Razzies. Online sportsbook sites in the UK actually believe Gotti is the title favourite – the Golden Raspberry Awards 2019 odds for Gotti to win are as low as 9/10 at 22BET Sportsbook. I'm not sure if the time is worth talking about this movie. Rotten Tomatoes rated is 0%, maybe that's enough to know about the.. khm… "story."
Fifty Shades of super bad movies
Whenever there is a new 50 shades movie, it means instant nomination for the list of the worst movies of the year. Luckily for humanity, there is a new 50 shades movie once again. Obvioulsy, it's one of the biggest favourites according to Golden Raspberry Awards 2019 odds: 6/1 for Fifty Shades Freed to win the Razzies in 2019. Rotten Tomatoes gave 12% to Mr. Grey and his fetishes, that's much better than Gotti's score points…
The Happytime Murders are funny because you think it's for kids but really it's not?
The main idea of The Happytime Murders is the make movie look like it was made for kids but make it completely inappropriate for kids to watch. "Sex. Murder. Puppets." Says the poster of the movie and that's pretty much what you can expect. Melissa McCarthy investigating puppet cases and smoking purple coke while playing poker with puppet criminals. Because that's what criminals do, they smoke purple coke and play poker. Got it? Neither do I. Anyways, the Golden Raspberry Awards 2019 odds for The Happytime Murders are 7/1.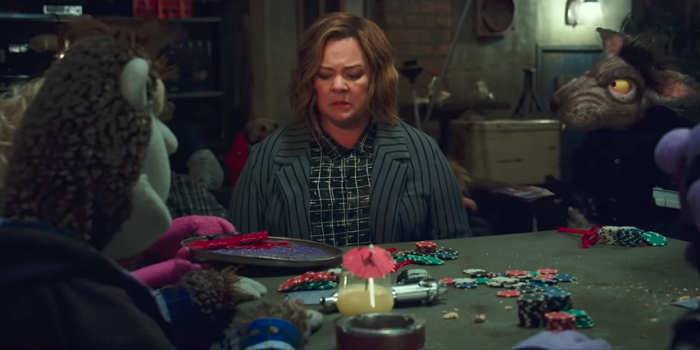 Gnomes rhymes with Holmes, haha, let's make a movie on this!
Just because you can find two famous names that kind of rhyme with gnome, doesn't mean you have to write a screenplay around this joke of yours. Do I seriously have to explain this? It seems so. Ben Zazove wrote an 86-minute-long animated movie just to be able to say Gnomeo and Juliet will be saved by detective Sherlock Gnomes. Bravo, boy. Hope you'll receive your well-deserved prize for which you have 14/1 odds because your competition is just way too strong. Unfortunately.
Venom: at least Eminem was good
Venom is Marvel's latest superhero movie which is not at all connected to the Avengers multiverse. That's important to know. Another important thing to know is the fact that Eminem wrote the theme song for the movie. There is nothing else you should know about it. Eminem's few minutes if perfectly enough, the remaining 110 minutes of the movie is not worth watching – unless you're a time billionaire. Golden Raspberry Awards 2019 odds: 8/1.
Other candidates:
GAMBLING News -
November 2022