Hungarian WSOP Bracelet Winner – Who Is Bélabácsi?
Posted: December 30, 2021
Updated: December 30, 2021
What is a WSOP Bracelet?

Who is the Hungarian WSOP Bracelet winner?

Playing poker online
All forms of online gambling and casino games are getting more and more recognition, safety, and validity with the advancement of technology. Back in 2004, people were skeptical about entering these games. But today it is not rare to see many of the biggest poker tournaments be hosted on the online poker sites in Hungary. But who are the most famous Hungarian online poker players? This article will cover their names, winnings and we even give you an insight into how to start your online poker career. Let's check who is the Hungarian WSOP Bracelet winner.
Péter Traply the Hungarian WSOP Bracelet Winner
The richest Hungarian poker player is Czuczor Márton. Because he is topping The Hendon Mob's poker database list of most successful Hungarian poker players with $ 3,883,296. However, this article is not about him. This article is about the first Hungarian WSOP Bracelet winner. His name is Péter Traply, but he is more recognized as his online nickname: Bélabácsi. Traply was running an honest and successful career as a poker player. Building up winnings that exceed $17,718,014. According to his Wikipedia page, his other online usernames are HungarysHero, kiskutya23, OmeletteduFR. He is on the top of the PocketFives All-Time money list. 
What is a WSOP Bracelet?
WSOP is short for the World Series of Poker. The bracelet is considered to be the highest non-monetary honor for poker players. Each year's WSOP bracelet is crafted by a different design. Usually, it consists of gold, white gold, silver, and gems such as diamond and ruby. By the time of 2013, the world accepted this award as one of the highest acknowledgments of poker winnings. Many players are seeking the prestige that comes with this award. Because of that, Péter Traply is the most prestigious in Hungary.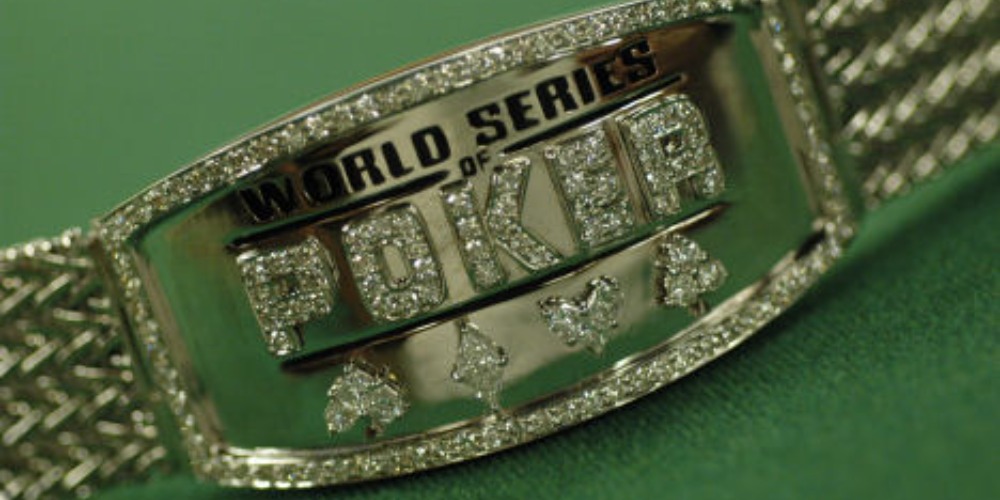 But what did he do to become the Hungarian WSOP Bracelet winner? The answer is very easy. He was working his way up. One can not become a Hungarian WSOP bracelet winner without playing. So he played. And it didn't take much time for him to start playing big.
The Story of the Hungarian WSOP Bracelet Winner
Péter Traply began to build his career up as soon as he became 18. He was grinding, as many would say. He first entered smaller poker tournaments with no entrance fee. With his earnings from these tournaments, he participated in his first live tournament faster than he received his college degree. According to Somuchpoker, he was winning the rather heated competition for the number one spot, held by Chris Moorman at the time. Recently, however, it seems that Péter Traply's spot has been taken by another anonymous player. His online user is lildani9. If you search the internet for him, you can find out a few things about him. He has a deleted Twitch Channel, and there is also a youtube video about an online poker match he participated in.
Strategies and Hard Work
What is good to note about the Hungarian WSOP Bracelet Winner, is that he was not putting on too much high-stakes. Rather surprising, because when we are speaking of big names, usually we assume they are throwing thousands of dollars on the table as if it was candy.
But what is truly admirable in the portfolio of Bélabácsi, is that most of his games are consisting of low-risk stakes. Instead of winning a huge amount of money a few times, he won a small amount of money a lot of times. Of course, he had tournament winnings exceeding six zeroes, but those are prices and not the raises of his stakes during the game. His achievements are a sign of hard work and integrity.
How to Play Poker Online?
If you want to join the grind of online poker. Then you don't need to walk a long way. Back in 2007, players such as Péter Traply had to join live poker tournaments. However, today, the participation of online poker is much easier. You can find no entrance-fee tournaments online. Thanks to that, all you have to do is to visit Everygame Poker. They offer a sign-up bonus of 200% up to 1,000$, plus 25 FREE Casino Spins. Start your online poker career today, and who knows? Three years in, and you might end up contesting for the spot of Péter Traply or Lildani9. We cheer for you to become the next Hungarian WSOP Bracelet winner.