Filipino 8-division champion Manny Pacquiao has an upcoming fight. His 2-year absence from the boxing in the United States is ending. Home-grown all-American professional boxer, Adrien Broner is the contender. The MGM Grand Garden Arena hosts the fight. It is on 19thJanuary 2019, in Las Vegas.  Pacquiao vs. Broner betting tips would be needed since the boxing bout will be difficult to predict.
Pacquiao's warm up for a rematch with Floyd Mayweather might be this fight. Adrien Broner will still offer a challenge. In fact, such an accomplished record Broner proves he is a tough opponent.  One Pacquiao vs. Broner betting tip is to not underestimate Broner in this fight. Broner loves challenges and who offers a better challenge than Manny Pacquiao?
 Pacquiao's former trainer Freddy Roach is Back!
Another Pacquiao vs. Broner betting tip is to factor in the return of Pacquiao's former coach. Freddy Roach left Pacquiao's camp last year for an unclear reason. The split happened in the middle of 2017. But it is reported by online sportsbook news in the Philippines that they worked out their differences. Manny Pacquiao once said, "all those who are around me are the bridge to my success, so they are all important." His coaches return might ensure success.
Pacquiao vs. Broner betting tips
Broner has been on social media and on the press promoting the match. He even taunts Pacquiao. But Broner is reportedly looking forward to the match. He knows if he's able to defeat Pacquiao, he would achieve instant fame. He is clearly the underdog but there's much at stake. Not to mention the cashing in on over a million dollars.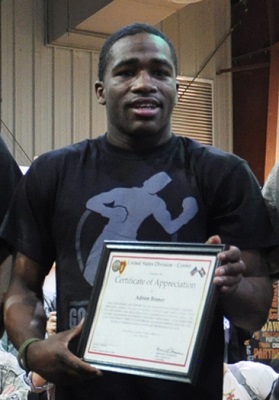 Another Pacquiao vs. Broner betting tip is to factor in experience. Bookies have favoured Pacquiao to win the boxing bout according to online sportsbook sites in the Philippines. His odds are 1.47 while Broner has odds of 3.00. Despite Pacquiao being older, he does have more experience than Broner does. Pacquiao's time as senator may have thought him problem solving skills. He could use this in the boxing ring.
Pacquiao vs. Broner betting predictions
Pacquiao's sharp footwork and experience make the fight difficult to predict. Adrien Broner also has youthful vigour and tenacity. It is uncertain, if Freddie Roach's return would give Pacquiao a boost. A Pacquiao win comes with a higher chance of him fighting against Mayweather again.