Rivalry between some football teams have taken many lives and left many injured throughout history. Al Masry, Wisla Krakow, Cracovia, and Galatasaray clubs have the most terrifying football fans.
Hooliganism in football began in England in early 1960. However, nowadays it's part of football all over the world. Especially in Poland, Turkey, Egypt, Italy, Brazil, Argentina, and some more. Here are some of the football clubs with the worst hooligans.
Europa League outright winner odds:
Al Masry vs Al Ahly, the most destructive riot in football
Al Masry supporters in Egypt are the most notorious fans in football. In February 2012, the worst disaster in football occurred in a match between Al Masry and Al Ahly football clubs.
Following a 3-1 victory in the second half, Al Masry fans invaded Al Ahly team and it's supporters. They used knives, swords, stones, fireworks, and bottles as weapons. Consequently, 74 people were killed and over 1,000 were injured.
Most of them died because police closed the gates of the stadium to trap Al Ahly supporters inside. In addition, no help came to the injured people and they were left in the stadium to die. Fortunately, Egyptian army helicopters rescued Al Ahly players before they die.
Consequently, the Egyptian government canceled the Egyptian Premier League for 2 years.
An Egyptian court sentenced 10 defendants to death
At first, police arrested 470 of Al Masry fans. However, only 47 were charged. On Feb 2017, an Egyptian court sentenced 10 defendants to death. In addition, 37 defendants received 15 to 5 years prison terms including 2 police officers and an Al-Masry club official.
Many of the Egyptian international football stars and coaches decided to retire in reaction to the disaster. Including Mohamed Aboutrika, Mohamed Barakat, Emad Moteab, and Al Ahly head coach, Manuel José.
Wisla Krakow and Cracovia have the most intense rivalry in Europe
Poland is home to some of the most terrifying football fans in the world. Especially, in the city of Kraków. Wisla Krakow and MKS Cracovia are the biggest and oldest clubs in the city. The rivalry between the 2 teams is one of the most intense in Europe.
There is actually a war between their fans known as the Holy War. The two stadiums are only 500 meters far from each other. Therefore, Wisla Krakow and Cracovia supporters are living in each other's neighborhood, but not in peace.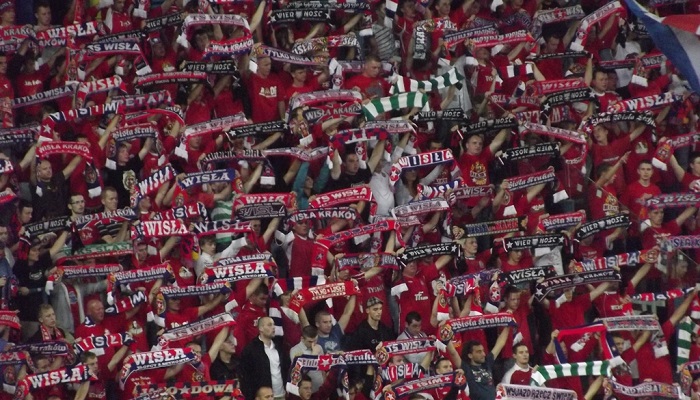 It's an ordinary phenomenon to see a group of fans questioning some people which team do they support. If you ever find yourself in this situation in Krakow, you should answer that you are supporting both teams. Otherwise, there is a 50% chance of getting seriously injured by them. Therefore, in Krakow, it's truly a 24/7 war.
Football fans in Kraków invaded police officers
In 1990, Polish police were brutally breaking up a fight between Wisla Krakow and Cracovia supporters. Consequently, fans made an unlikely union to start a full-scale war against the police. Furthermore, they plundered the Soviet Union embassy as some police officers were hiding in the building.
In 2006, a match between the two teams ended 3-0 for Wisla Krakow. As a result, eight people died in the event and hundreds of scarves and flags were burnt. However, the police were prepared for the day and there were about 1000 officers in the stadium. Imagine what would happen if there were no cops to take care of the game.
Galatasaray have the most violent football fans
Galatasaray, Fenerbahce, and Besiktas are the most popular football teams in Istanbul, Turkey. Riots in Istanbul after derby matches are amongst the worst in football. However, victims of these football fans are not limited to the Turkish people in Istanbul.
In 2000 UEFA Cup semi-finals, Galatasaray and Leeds United supporters had a great conflict prior to the game. Galatasaray fans welcomed Leeds Utd in Istanbul's Taksim Square by fireworks, stones, and knives. Consequently, the riots ended with two English supporters having been stabbed to death. But it was just the beginning of the conflict between Turkish and English hooligans.
2000 UEFA Europa League final riots in Copenhagen
Galatasaray won the match and reached the UEFA Cup final against Arsenal in Copenhagen on 17 May 2000.
They turned Copenhagen City Hall square into a battlefield. However, this time the English hooligans started the conflict to avenge the blood of their countrymen. Fortunately, over 2000 Danish police officers tried to prevent another disaster in football. Eventually, Galatasaray won the 2000 UEFA Europa League final. And the Riots ended after 2 days with 60 arrests and 19 injuries, including 4 stabbings.
Chelsea re favourites for the 2019 UEFA Europa League by Bet365 Sportsbook:
Online sportsbook sites in the UK are backing Chelsea to win the 2019 UEFA Europa League as they have 2.75 odds to win the trophy.