2019 Speedway World Championship predictions are in favour of another title for UK's Tai Woffinden, but other candidates like Bartosz Zmarzlik or Jason Doyle are ready to challenge him this year!
It's about time for 2019 Speedway World Championship predictions to show up at online sportsbook news sites in the UK, as the tournament starts soon: the first race takes place on 18 May in Poland. The best Speedway drivers in the world will keep on battling each other collecting points till the very last day, which is held in Australia. However, the date is still unknown. But we already have a few certain names who will surely be competing. And as such, we also have our own 2019 Speedway World Championship predictions as well!
Tai Woffinden, favoured by 2019 Speedway World Championship predictions
British runner Tai Woffinden knows how to win 2019 Speedway World Championship as he's already been champion several times before. Back in 2013, at the age of 23, he was the best speedway rider in the world. He won again in 2015 and he is the title holder this year. He hopes to continue with such performances later on this year. Online sportsbook sites in the UK believe he has high chances of doing so. The 28-year-old is also hoping for another title, which would be his 4th.
Youngster ready to break through the glass ceiling: Bet on Bartosz Zmarzlik
According to 2019 Speedway World Championship predictions and betting tips, if one does not believe in Woffinden's success, they should pick the Polish instead. Zmarlik has never won the World Championship before, but he still has time to do so. He's 23 and he's already among the top favourite candidates.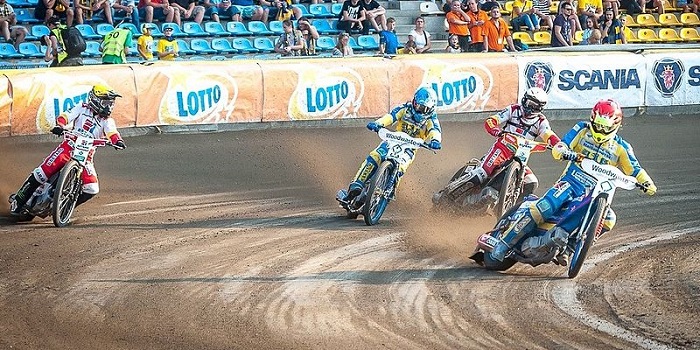 Bartosz has been participating in Speedway Grand Prix races since 2012, when he was the youngest ever racer to compete in the tournaments. He was only 17 back then. Based on 2019 Speedway World Championship winner odds, the youngster is finally ready to triumph.
Check out the latest review about Bet365 Sportsbook if you want to know where to bet on 2019 Speedway World Championship!
Jason Doyle, another favourite by 2019 Speedway World Championship predictions
Similarly to his British colleague, the Australian racer has also been crowned as the King of Speedway before. However, he won "only" 1 World Championship, and not three, like Woffinden did. Jason Doyle was the best speedway driver in 2017 and he hopes for another title in 2019. He could be a great challenger for both Bartosz Zmarlik as well as Tai Woffinden.
2019 could be the last chance for experienced rider Fredrick Lindgren
There are many similarities between Lindgren and Doyle. Both of them are 33-years old and both of them have 9.00 odds at Bet365. So, 2019 Speedway World Championship predictions have high hopes in the experienced racers this year. Lindgren has won the Team World Cup with Sweden in 2015, but he himself has never been the best racer in the world. While 2019 might as well be his year, you might want to pick a younger and success-hungrier competitor…
Greg Hancock still going strong despite his age
But of course, if you don't like the idea of picking one of the youngsters, you can go for the veterans. Greg Hancock is the best of them. The American speedway rider has been World Champion for 4 times before: 1997, 2011, 2014 and 2016 were his years. As you can see, his career has reached the top point upon nearing the end. The 48-year-old is still active and has still ambitions. At he age of 46, he was still the best. Winning 5 World Championships would be better than only four, right? Placing a bet on Greg Hancock to win again is definitely not the boldest move to make.
Leon Madsen, European Champion of 2018
Leon Madsen won the European Championship 2018. Before that, he hasn't really made it on top of any major events. However, he did participate in the 2013 Speedway World Championship, so he's not coming totally inexperienced this year. Will that be enough for him to keep up the great form he showed during the European Championship? Online betting sites in the UK don't give much chances for that, but Madsen might cause another surprise, just like he did last year.
2019 Speedway World Championship Predictions by Bet365 Sportsbook