The World Cup has been rife with surprises and proved that smaller football nations could overthrow well-established stars. France, however, is one of the few favorites of the tournament who lived up to expectations. They were not only effective but also entertaining, as their matches with Argentina, Belgium and Croatia were all among the best games of the World Cup.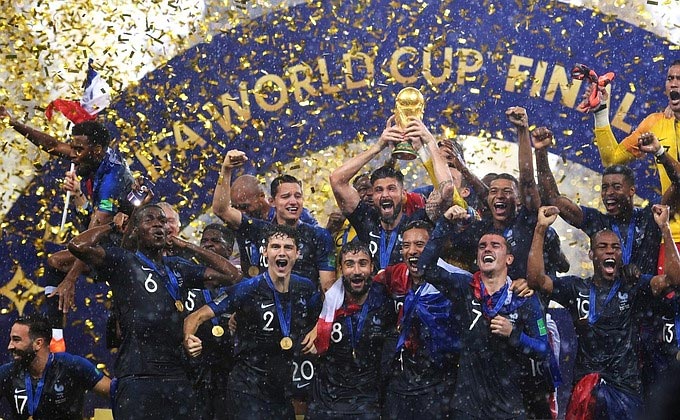 France's future in football looks bright. But can punters indeed put faith in them? Is it safe, for instance, to bet on France to win the Nations League?
The curse of the World Cup winners
Four of the last five World Cups saw the defending champions exit the tournament at the group stage. This year, it was Germany who finished last in their group after winning the previous World Cup. Likewise, defending champions Spain and Italy failed to advance to the knockout phase in 2014 and 2010, respectively. Brazil avoided this fate in 2006 (but not in 1966).
France also had a shock exit in the group stage in 2002 after winning the 1998 World Cup. What will happen to them this year following their moment of triumph? Will their performance start to decrease? Or has France developed an immunity to the curse, and, like Brazil, will be able to avoid a second group stage exit as defending champions?
France's short-term future expectations
France, of course, has ample time to worry about the group stage of the next World Cup. On the other hand, the Nations League (a new European tournament replacing friendlies) is quickly drawing closer. And the statistics suggest they will keep the momentum for that competition.
In 2002, when France became the first defending champion in modern football history to slip on a banana peel in the group phase, they were not an undermotivated team. Following the 1998 World Cup victory, they won the European Championship in 2000 and the Confederations Cup in 2001, and recovered from the 2002 World Cup fiasco by lifting the Confederations Cup trophy in 2003. This indicates that they are not likely to underperform at the Nations League in the next season, either.
The French side's age also gives reason to hope. Their key players are not old: Mbappé is only 19 years old, Pogba 25, and Griezmann 27. Compare this to the German team, where the likes of Philipp Lahm, Per Mertesacker, and Miroslav Klose retired after the World Cup victory. France will have to make far less changes to tactics because of a need to find replacements in important positions.
Betting on France to win the Nations League: the official odds
The best online betting sites in France reinforce one's feeling that we haven't seen the last of this French team. At Unibet Sportsbook, for instance, Mbappé and co. have 6.00 odds to become the heroes of yet another tournament. At the moment, only Spain has shorter odds than them (4.50).
Punters looking for a safer option could also bet on France's Nations League A Group 1 appearance. Didier Deschamps' team has 2.00 odds to win the group, where they will be facing Germany, whose life after the World Cup is hard to predict (which is not reflected in their 2.00 odds), and Netherlands (9.00), whose failure to qualify for the 2018 World Cup was only the culmination of a number of problems they had been facing for a while.
As France will clash with two struggling opponents, putting money on their finishing first in Group 1 is very safe. And if you place your bet before online sportsbook news in France start to attract a wave of gambling enthusiasts, you can get yourself decent returns.