Ex-Casino Employees Embezzlement of $5.3M
Updated: February 5, 2020
The scam was making fake repairs and getting fake vouchers

The wives were kept busy banking and spending

Facing 20 years. Dont do crime, kids.
In a wholesome tale of family values and caring and sharing, eight former employees of the tribal Miccosukee Resort & Gaming property have pleaded guilty to various charges of embezzlement. These charges relate to the casino employees embezzlement of $5.3M.
Introduction: Ex-Casino Employees Embezzlement
The ex-employees of Miccosukee Gaming, namely, Lester Lavin, Leonardo Betancourt, Yohander Jorrin Melhen and Michel Aleu, all plead guilty to conspiracy to steal funds in excess of $1,000. Also money laundering and conspiracy to commit computer fraud. The case is being led by Miami US Attorney Ariana Fajardo Orshan. Their partners in crime are literally, their spouses. Anisleydi Vergel Hermida, Milagros Marile Acosta Torres and Maria Del Pilar Aleu also pleaded guilty to commit money laundering offenses. Last week, Yohander Jorrin Melhen and Milagros Acosta Torres entered guilty pleas.
Fake Gaming Machine Repair
Michel Aleu, Lavin, Jorrin Melhen, Betancourt, where all were working in the video games section of the casino. There they tampered with the computers found in the gaming machines. Between 2011 and 215, they would create and cash out false credit vouchers. According to the US Attorney's office, other conspirators also cashed out the slips at local ATM's within the casino itself and even at the casino treasury. Which was a pretty bold move. Respect! The Miami Herald newspaper reported that the scam involved pretending that a certain electronic gaming machine needed a repair. Luckily it's not something that could happen with online casinos, like Intertops Casino.
Creating False Credit Vouchers
On opening up the machine, the employee would attach a wire to the machines motherboard. "The perpetrator would then attach the other end of the wire to a metal surface inside the EGM. Thereby causing the EGM to generate and record false 'coin-in' amounts totaling thousands of dollars," court documents quoted by the Herald said. The machine would then give out a "false credit vouchers for 'coin in' amounts. And it was these vouchers that were then exchanged for cash.
Casino Employees Embezzlement: Busy Wives
The hard working spouses opened a number of bank accounts and they deposited the amounts within. Later they would withdraw them. The Miami Herald described their plan as a "shell game". The defendants used the money in exactly the way you'd expect them to. They bought a number of investment properties, along with boats and cars. They also paid for exotic vacations. Probably lots of game plays on Intertops Casino. Lots of bling. But being responsible thieves, and embracing their family responsibilities, they actually squirreled some away for a collage savings plan for their kids. It seems like they were on a pretty good thing. There's no word on how they got themselves caught. Or how come the casino didn't twig on to their scheme earlier.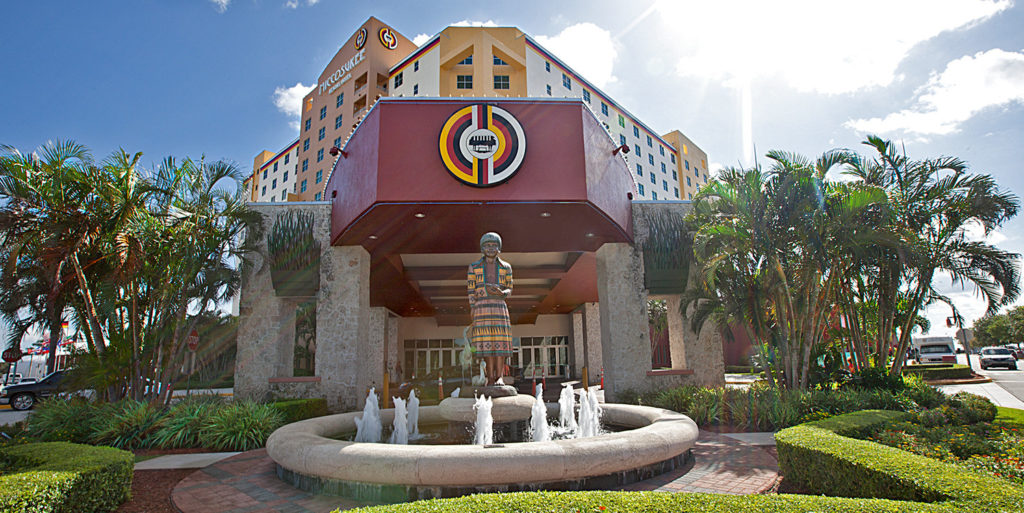 Facing Up To Twenty Years
But, sadly,  it's all downhill from there. Over the next few weeks they will all receive sentencing. They are facing up to twenty years inside for their little games. According to online casino news in the US, the US District Judge Darrin P. Gayles, will imprison them for money laundering. As if that wasn't enough, they are also facing a further five years for conspiracy to steal from Miccosukee Gaming. And then there's the conspiracy to commit computer fraud. The indictment comes in at 63 counts and was filed back in July by the US Attorney's Office for the Southern District of Florida. Being about money laundering, the FBI were quick to get involved, along with the local Miccosukee Police Department.
Miccosukee Resort & Gaming Casino
The casino, the "Miccosukee Resort & Gaming Casino", is located in the Everglades. That's about 20 miles west of downtown Miami. It's a Class II gaming property and features poker, bingo and around 2,000 electronic gaming machines. Like many of these online casino sites in the US. The owners are the Miccosukee Tribe of Indians of Florida. This is one of two Indian groups to operate casinos in the Sunshine State, with the other being the Seminole Tribe.
GAMBLING News -
December 2022