Did you know about cats playing poker? Yes, they actually do. And there are many more cats that play poker than you might even think… So, if you thought that poker is a game for humans only, you were so wrong, my friend.  
What is one of the main rules of playing poker? Your poker face, right? And that's what cats can definitely do. Just remember every time you tried to show some love to your buddy and then its face "full" of emotions… You will never know what's on this cute creature's mind. They know when to hold the cards and when to hold – maybe they have better tips for poker games than we do?
In any case, all cats play poker and they do it better than us. Thus, if you think no one can beat in poker, we dare you to challenge yourself by playing poker with your cat.

Cats Playing Poker – a Small Dream of Steve
Here is Steve who is aspired to become a professional poker dealer in the future. You can see how good he is at controlling the game. We think he has a bright future in poker, don't you agree?
All Professional Poker Players Know This About Poker
We have always said that poker is a game of skill. Hence, luck is not the main winning criteria for poker, but your skills and knowledge. No matter which cards you have, you can win if you have some good poker strategies in your arsenal. Cats playing poker already know that.
Cats Playing Poker Train From the Very Childhood
Sometimes it takes years to master your skills. That is, the poker pro with many years of experience will surely be better at it than those who have been in it for a few months only. Thus, small kittens start playing poker from childhood to become poker experts in the future.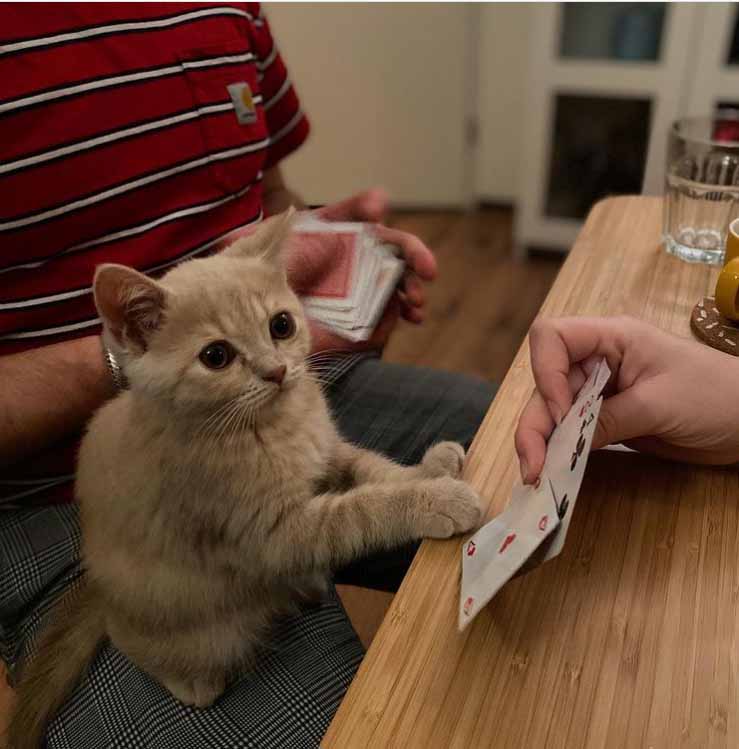 Even Cats Playing Poker Cannot Sometimes Handle the Excitement From Playing Poker
Poker is a stressful game though. We all get some sort of emotional and excited when it comes to poker. This cat could not handle it either.
Can You Beat the Cat in Poker?
An important thing to remember about poker and other gambling games – don't underestimate your opponents. Even if it's just a cat playing poker. The game can switch the way that you don't even expect. So, stay alert no matter who is playing against you.
 Poker Is a Social Game
In the end, one of the reasons to play poker is that it's a social game. You can play poker in live or online casinos in the US with your friends. Just as these cats playing poker do.
Cats Are Not Afraid of Playing High Stakes
Yes, playing high stakes in poker is risky but we know – high risk, high reward. It takes courage to risk but the desire for potential reward justifies it all. Thus, some of the cats playing poker love risks and playing at high stakes.
And just as we said in the very beginning, they keep perfectly-trained poker face!
Play Poker Together Online!
Now that we revealed the truth about cats playing poker, you know that you have a poker-playing mate. This also means that you can play poker at online casinos. Just get your cat a smartphone or a laptop. Or you can play together, and it will tell you what the next move should be.
What is important here is to choose the best online gambling sites in the US so that you both enjoy the experience. Gambling at a reputable website ensures your safety while gambling and the entertaining gambling session.
Try Intertops Poker out! One of the safest online casinos with the best betting odds, great poker variants to play as well as many other games!
At Intertops Poker you will not have to worry about security, customer support, payment, or any other issues. You can also find great bonuses and promotions to try!