Germany defeated Sweden 2-1 with a last gasp free-kick strike by Toni Kroos, but the losing nation's manager Janne Andersson complained the world champions took it a bit too far with their celebrations, per online sportsbook news.
Are the World Cup champions actually sore winners?
"Some of Germany's leaders celebrated by running in our direction and rubbing it into our faces," protested Andersson. "That got me angry. We fought it out for 90 minutes and when the final whistle blows you shake hands and you leave so I was very angry with that."
Defending champions started off their 2018 World Cup adventure with a scary start, after losing 1-0 in their opening game to Mexico they continued their shaky performances against Sweden as well. Toivonen opened the scoring in the 32nd minute which must have seriously scared the Germans, as they responded with a strike themselves right after the break; Reus made the scoreline level in the 48th minute, but the result remained at 1-1 all the way until the very end.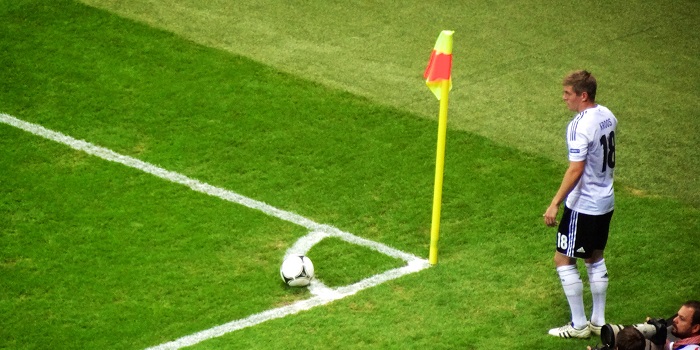 With the match about to come to a close after 5 minutes of added time, Germany were awarded a free-kick right outside Sweden's box close to the corner. Real Madrid's midfield maestro Kroos took the responsibility knowing that only a shot directly aimed at the goal will give them hopes of overturning the scoreline. It proved to be successful as he scored a sublime goal giving Germany the all-important 3 points that increased their chances of making it to the round of 16 of the World Cup.
Will Germany make it to the knockout phase of the 2018 World Cup?
Andersson went on to comment on the game itself, claiming that Sweden needed luck against a side like Germany, who are one of the World Cup favourites, per online sportsbooks in Russia.
"We played excellently and scored a beautiful goal. We won't cast any blame but we have spoken to those who say it was a penalty on Berg, and that is maybe what we needed against a team like Germany. If we have the system it's very unfortunate that (the referee) doesn't feel he can go and have a look. If that's his decision we have to live with it. The whole group is still alive so we will have to lick our wounds and come back for the last game."
With Mexico sitting comfortably in Group F with 6 points – they need a draw against Sweden to ensure their qualification to the next round, both Germany and Sweden are level on points with both nations having 3 points. What's even more striking is that their stats are the same – 2 goals for and 2 goals against – so both nations will be looking to secure a victory in their final group games.
We're backing Germany to qualify for the knockout phase of the tournament due to their overall quality; currently Bet365 Sportsbook is ranking them one of the favourites to reach the quarter-finals of 2018 World Cup with odds of 1.83 (5/6), so it's worth considering placing a bet on Joachim Low's squad. Bet on Germany with Bet365 Sportsbook!
(Check out Bet365 Sportsbook review for more info about the online betting site.)