The WBSS second season will feature eight fighters who will battle it out for the Muhammad Ali Trophy in Bantamweight division. Four of them are already world champions with the rest being either former champs or mandatory challengers. According to Pinnacle Sportsbook, the Japanese prodigy Naoya Inoue, with his explosive power and technique may well come in as the favourite. His WBSS Bantamweight betting odds stand at 1.613. Do you think Inoue deserves to be seen as the odds-on favourite, or you would rather place a bet on other fighters who could have a chance as well?
WBSS Bantamweight betting odds favor Inoue
According to best online betting sites, Naoya Inoue (16-0, 14 KOs) has been terrorizing the lower weight classes since his debut, winning titles at light flyweight, super flyweight, and most recently bantamweight after an absolute thrashing of Jamie McDonnell. He has been winning titles at 112, 115 and now he vows to prove himself at 118-pound tournament.
Naoya Inoue has been terrorizing the lower weight classes since his debut.
It is beyond doubt that Inoue will try knocking anyone who stands in his way, but a few other fighters in the tournament could push him harder than anyone before. The newly crowned IBF Bantamweight world champion Emmanuel Rodriguez, holding a record of 18-0 with 12 KOs, enjoys the second best WBSS Bantamweight betting odds at 6.040. He is determined to unify the division. Right on Rodriguez's heels, the undefeated WBA world champion Ryan Burnett (6.550) has also signed up to compete in the tournament, and he has arguably decent boxing skills.
Other Fighters to Compete but Less Favourite to Win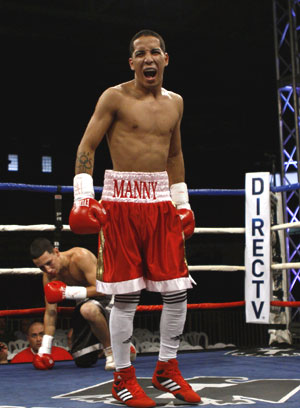 Zolani Tete (7.050) is young and has a great punching power. He could win some fights and move on in the sensational season 2 bantamweight division. The unbeaten Australian Jason Moloney (51.370) is joining the field as well. He is one of the biggest prospects in Australian boxing with a record of 17-0, 14 knockouts. Yet is he going to pose a serious threat? We shall wait and see.
Former four division world champion Nonito 'The Filipino Flash' Donaire (38-5, 24 KOs) has officially entered the WBSS tournament. His odds value at 34.240, as it is hard to see him strong at the weight like he was when he was in his 20s. In addition, Juan Carlos Payano (51.370) is the latest addition to the tournament. 34-year-old Payano (20-1, 9 KOs) of Las Vergas, Dominican Republic is a former WBA and IBO bantamweight world champion. But he seems too old to dominate younger fighters like Inoue and Rodriguez who have the pace and power to reach the finals.