Griezmann could revive Barcelona's chances in Europe
When Messi was asked about Griezmann joining him up front in Barcelona's attack, the Argentine stressed that it's up to the technical secretary at the club, but also said that if you want to win the Champions League you need the best players around, and the Frenchman fits the bill.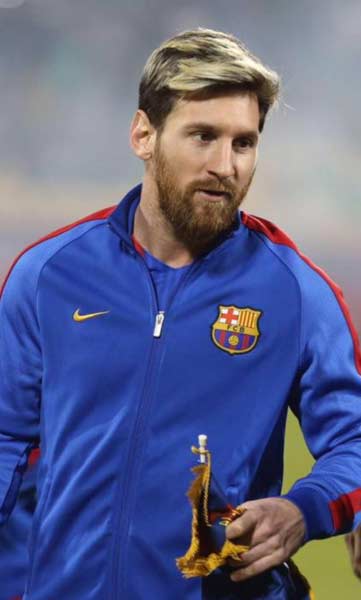 "I don't know if he's a priority," said the 30-year-old forward. "I'm in agreement that to get back to winning the Champions League we have to have the best players. And Griezmann is one of them. If the club sign him, brilliant. I don't know if he's the priority. It depends on the technical secretary and coach. I'm just saying that to win the Champions League you need to have the best. And he is very good!"
Griezmann joined Atletico Madrid in the summer of 2014 for a fee believed to be around €30m, replacing striker Diego Costa who left for Chelsea that year. Since then he's enjoyed marvellous success with the team being their main attacking threat which saw him find the back of the net 112 times overall in four seasons.
Atletico Madrid even reached the Champions League final in 2016 with him in their side, where they faced cross-town rivals Real Madrid in a repeat of the same final two years prior, but sadly for them the end result was the same as they succumbed to yet another defat to Los Blancos. The only bigger accolade the Frenchman has claimed with the club was the recent Europa League title, after they defeat Marseille 3-0 in the final, in which Griezmann scored a brace.
But just like other cases involving players of his stature, there comes a time when they seek bigger and better things, no matter who much they're loved at their current club. And the time is ripe for the attacker to take on a greater challenge at a bigger club that regularly competes for the biggest trophies, namely a club that plays in La Liga and is not a bus ride across town in Madrid.
Barcelona could ironically face problems if they sign Griezmann
But there still could be a few stumbling blocks involving a potential move to the Nou Camp. Firstly, there's the price tag which would easily pass the €100m mark with add-ons and then there's the hefty salary that could exceed €300,000 per week, which is standard for a player of his caliber, per online sportsbooks in France.
Although this is Barcelona we're talking about – a club that rakes in hundreds of millions through various sponsorship deals every year – they still have to cough up an eye-watering sum for a deal of this magnitude. Since they're shelling out millions in wages on the likes of Phillipe Coutinho, Luis Suarez and the bulk on Lionel Messi, Barcelona would have to find space in their salary structure without crippling the club, despite recording among the highest revenues in football.
But the far more pressing question is where would Griezmann fit into the starting line up? Currently they have Messi, Suarez, Coutinho and Dembele as forwards that all want to start each game, which means that in a 4-3-3 formation Messi would be guaranteed a starting spot, which leaves only two more positions free for four top players, provided the Frenchman would join. The other option is that some players are shuffled around; Coutinho could take Iniesta's place in attacking midfield, so more places are freed up in the front for the more direct forwards, but then he could have to be willing to do so and hope that his performances are not affected by such a switch on the pitch.