NASCAR South Point 400 Predictions Favor Larson for the Victory
Posted: September 24, 2021
Updated: September 24, 2021
NASCAR South Point 400 race is held this Sunday at Las Vegas Motor Speedway

It is the first race of the Round of 12 of the Playoffs

Kyle Larson is the top favorite ahead of Kyle Busch and Denny Hamlin
The 2021 NASCAR Cup season continues with the first race of the Round of 12 in the Playoffs. Which is the 2021 South Point 400 race in Las Vegas this weekend. The NASCAR South Point 400 predictions favor the current leader, Kyle Larson to get his second win in a row. But his main rivals, Martin Truex Jr. and Denny Hamlin are in great form as well and have big chances of winning. 
Only 12 drivers are left with a chance of winning this year's NASCAR Cup series after the first round of the Playoffs. We find at the bottom of the table, in 12th place Kevin Harvick. He would need another great performance to secure his place for the next rounds. Harvick can do it now at the Las Vegas Motor Speedway in the 2021 South Point 400 race this Sunday. This is only the fourth edition of this event after being moved to this track from New Hampshire in 2018. Kurt Busch won the race here last season but he is already out from this year's championship. This is led by Kyle Larson who has been driving brilliantly all season and won the previous race in Bristol too.
NASCAR South Point 400 Predictions Expect Another Victory From Larson
Online sportsbooks in the US favor the current championship leader, Kyle Larson, to win this Sunday. They offer the smallest odds, +300.00 for his victory. Which makes sense after Larson's great form this season and good results at this track in the previous races. The Hendrick Motorsports driver won the race in Las Vegas in the spring and has four top-five finishes. It is one of his favorite tracks, where Larson can get the seventh win of his season. He has never reached the last round in the Playoffs yet. But if he can keep his form, he has a good chance of doing it this year.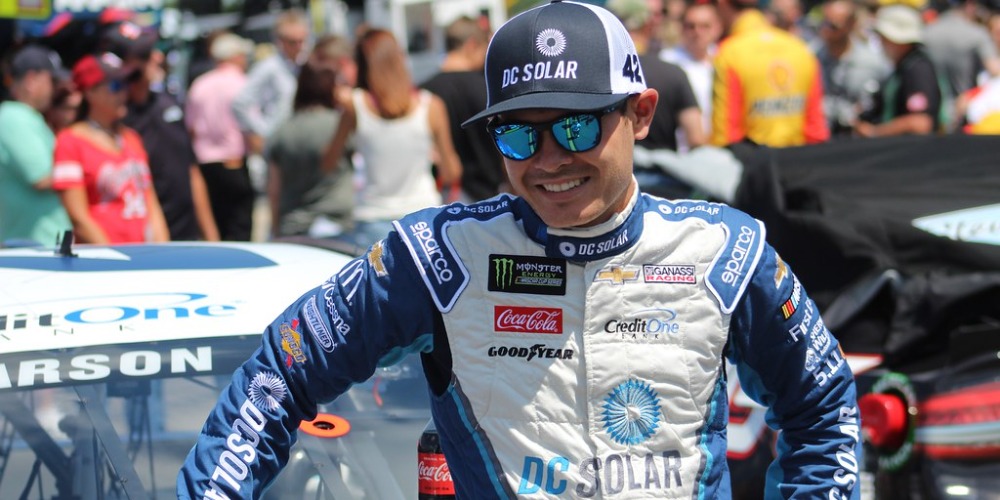 Just like the two-time NASCAR Cup series champion, Kyle Busch who has the odds of +600.00 to win the race in the NASCAR South Point 400 predictions. The Joe Gibbs Racing driver hasn't been too lucky in the previous races. After suffering an accident in Darlington and a cut tire in Bristol. But he is doing well in 1,5 mile-tracks like this. He finished five times in the top 5 and he was third in March here. Which can be a promising sign ahead of this race. The former leader of the championship, Denny Hamlin is currently in third place. Finally, he got the first win of his season at Darlington three weeks ago. But he was only 9th in the last race in Bristol. Now he has the odds of +700.00 for another win on Intertops. 
Chances of Other Top Drivers
Martin Truex Jr. is in second place in the standings after a win and two top 10 finishes in the last three races. The 2017 NASCAR champion should also do well in Las Vegas where he won the race in 2019. He is great in general in 1,5-mile tracks where he has won 12 races since 2016. Following his latest form, Truex can continue his impressive list this weekend now with the odds of +850.00. Another former winner of this race, Brad Keselowski has much smaller chances for a victory according to online gambling sites in the US. Thanks to his erratic season with lots of finishes outside of the top 10 and only one victory.
Even though Keselowski is the most successful driver in Las Vegas with three wins. In addition, he also finished as a runner-up behind Larson this March. His odds to win again are +1400.00. A more likely option for finishing on top is Joey Logano who has a good record in this track as well. The Team Penske driver has won here twice and finished six times in the top 10. But this season he is not that convincing in intermediate tracks. And he is only in 9th place in the overall standings. But Kevin Harvick is in even bigger trouble after standing in 12th place at the moment. The 2014 champion performed well in the last three races though with a runner-up finish last weekend. Now his odds to get the win are 1000.00.