The Arena is ready to host the athletes. Image source: Flickr
Nathan's Hot Dog eating contest is held every year at the Coney Islands, on Independence day. The contest became famous due to its fine athletes, Joey Chestnut and Takeru Kobayashi. Last year, Joey ate 71 hot dogs but keeps the record with 74. However, Nathan's Hot Dog eating contest odds are showing that Joey can take home the mustard belt once again, there could be someone tossing him off his throne.
He's going to put his Mustard Belt title on the line in 2020. You can already place your bets through online sportsbooks in the US. Of course, Joey is the most favorized amongst bookies. 
The price of the contest is huge
The first prize in the contest is 10.000USD. It's the third of the annual income that most Americans earn. Read our previous article on how to spend a huge amount of money. While it sounds good first, you drop out of your mind as soon as you hear that it's not the only prize. Besides the ten thousand dollars you will get on the hall of fame of Nathan's. Furthermore, you will win the Mustard Belt title, which is the most precious prize in competitive eating contests. 
But it's not so easy. To do this you have to end the reign of Joey Chestnut who is an 11-time contest winner and world record holder for many years. Nathan's hot dog eating contest odds are not too high for you to win. 
Nathan's hot dog eating contest odds – The secret of Joey Chestnut
If I were about to give a detailed list of Joey Chestnut's amazing accomplishments, I'd run out of my storage on my drive with this document! As we can know from online sportsbooks news sites in the US he is an 11-time winner and title-holder of the Mustard Belt and many world records of eating a lot during a short period of time. Let's see if he can keep his belt for the 12th time.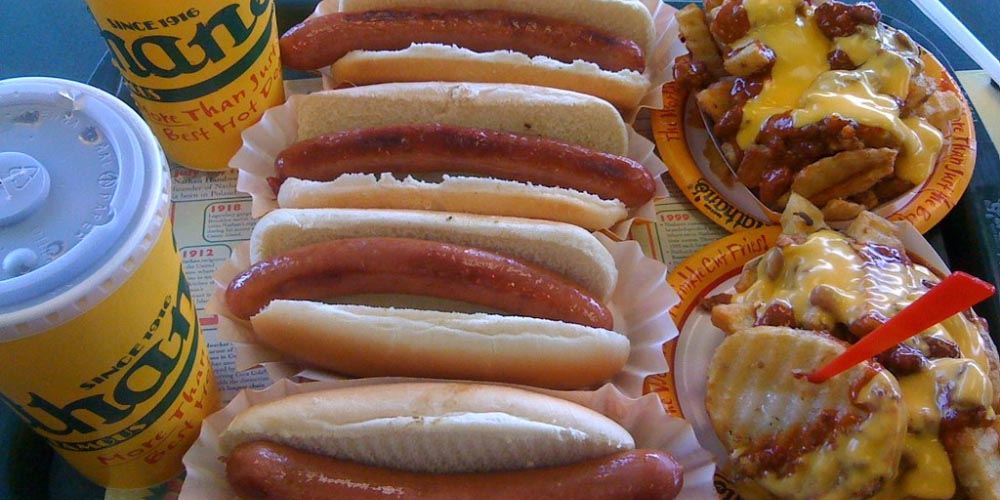 As we can know from some of his interviews, he trains during the whole year, every day, with passion and courage. He runs on a weekly basis to keep his endurance and breathing under control. He participates in different eating contests and tries his best to win them. Even if he would collapse at one of the tables, he would still keep going. No matter if he sweats blood from his skin. This man is the Muhammad Ali of hot dogs. The Terminator of food – and He'll be back!
Athletes of competitive eating are accepting high risks
While you might think that eating 74 hot dogs is just fun and happiness, I'd like to inform you about the health risks coming with competitive eating. In boxing, if you get hit too hard too many times over the years or also during just one fight you can build up some permanent brain damage. I am telling this because the same can happen in competitive eating. If you eat too much during a short period of time your blood cells might be full of fat and chemicals and won't be able to carry oxygen to your brain. It can result in loss of consciousness, choking, or permanent brain damage.
The liver can be damaged as well. It's not only to save you from poisons, but it's also dealing with the fat you eat. If you use your liver excessively for a longer period of time you will have some problems with it.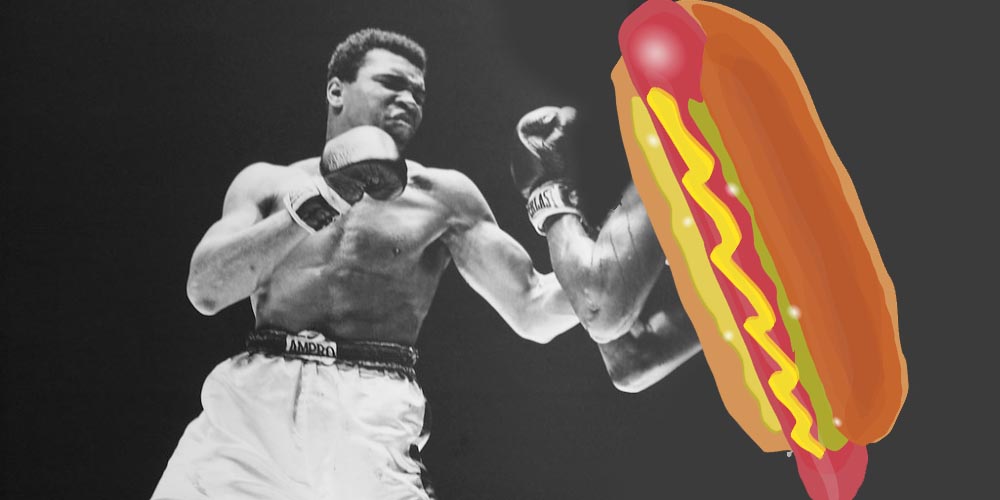 Nathan's hot dog eating contest odds are showing that Joey is the ultimate favorite. Most of the sites are not even mentioning other contenders. But knowing the health risks how long can he hold his title. If Muhammad Ali quit his last fight, maybe he would have the chance to live a more fulfilling life before his death. But the world of sports would be a lot less.