Real Madrid's Odds to Win La Liga is Way Lower than Clinching a Mind-blowing Deal with Adidas
Adidas initially began sponsoring the club in 1981

Los Blancos to pocket €120m per season

Real Madrid La Liga Betting Odds: great odds for Madrid derby
The Spanish giants Real Madrid's odds to win La Liga in 2019 seems way lower than their chance of getting a hefty check from the German sportswear manufacturer Adidas. The rumored deal is around €133 million/year.
The biggest deal for the biggest club in the world
Having won the 4 of the last 5 editions of the Champions League (including 3 in succession), Real Madrid are preparing to sign an extension deal with their kit supplier Adidas, that has significantly improved terms. According to online sportsbooks news, it's set to be worth a staggering €1.6 bn over 12 years.
It is believed the German sports manufacturer will pay the Spanish giants a base of €120m per season, with the remainder of the money coming in the form of performance-related bonuses, which amounts to another €13.3m annually.
Real Madrid have seen their commercial revenues rise significantly over the past few years, and that's due to their huge success in Europe's elite competition – the Champions League. They've won their 10th trophy in 2013/14, before going on to claim their 11th, 12th and 13th European title in a row.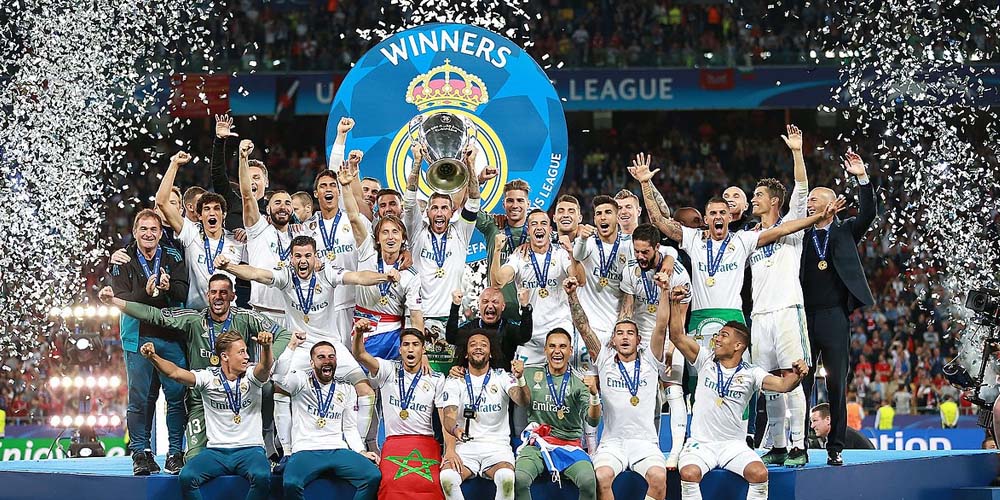 Thanks to their recent successful campaigns in Europe and with their agreement expiring in the next 15 months, it's understandable why Adidas were keen to hand Real Madrid a new, lucrative deal.
Once the two parties iron out the details of the new contract extension, it will be the biggest sports sponsorship deal in history, surpassing that of Barcelona's Nike deal worth €100m per season.
So far, the most that Adidas have agreed to pay a club to wear their 'three stripes' is Manchester United, for whom they shell out close to €90m every year, after penning a £750m 10-year deal ahead of the 2015/16 season.
Adidas first sponsored the Bernabeu side between 1980 and 1985, before being taken over by Hummel and Kelme. The 'three stripes' returned on Los Blancos' shirts in 1998 and have remained there ever since.
Real Madrid's odds to win La Liga 2019 don't reflect their prestige 
With 80 points to their name, Real Madrid's biggest rivals Barcelona are on course to secure another La Liga title; they hold a 12-point advantage over second-placed Atletico Madrid who have a game in hand.
Real Madrid are in third position on the table with 64 points, but with there being 5 more rounds until the end of the campaign, Los Blancos could still make some progress and finish in second, with a bit of luck.
Zidane's men take on Getafe on the road tomorrow evening, a local side from the outskirts of Madrid and are 10 points below them on the table. This should be an easy victory for them, having just come off a 3-0 thrashing of Athletic Bilbao at the Bernabeu. Online sportsbooks in Spain are giving them favourite status for the match, but the odds are still good enough to make a quick buck.
Getafe v Real Madrid – H 4.10 (31/10) D 3.60 (13/5) A 1.90 (9/10)
(Check out Bet365 Sportsbook review for more info about the online betting site and Real Madrid La Liga betting odds.)