Romania vs Sweden Betting Predictions: Fight for the Second Place
Romania vs Sweden in the 9th round of the Euro 2020 qualifiers

Both teams are fighting for second place, Spain has already qualified

Romania needs to win, for Sweden a draw is enough
Romania-star Keserü will play a tough battle. Image source: Rolandhino1 [CC BY-SA 4.0] / Wikimedia Commons
In Group F, Spain have already qualified for Euro 2020 but there is a big fight for second place between Sweden, Romania, and Norway. Romania will host Sweden in the 9th round on the 15th of November, and try to get the crucial points. 
At the moment Sweden is in second place with 15 points, but Romania is only one point behind. What's more, even Norway can reach the second spot with two wins and if the other teams are not winning their following two games. 
[suggested_topics title='UEFA Euro 2020 betting predictions' topics='141151′]
Romania vs Sweden betting predictions Sweden is favorite
Bookmakers are giving Sweden 2.66 odds for a win, while Romania has 2.94. Not much between the two teams and it's true for their performances as well. Sweden has four wins, three draws and one loss against Spain. Romania got four wins, 2 draws and 2 losses against Sweden and Spain. In the previous round, both teams had important games, and they ended in similar ways. Spain scored an equalizer against Sweden in the 92nd minute, while Norway also scored a goal in the 92nd minute against Romania, which meant both teams got only one point from their home games.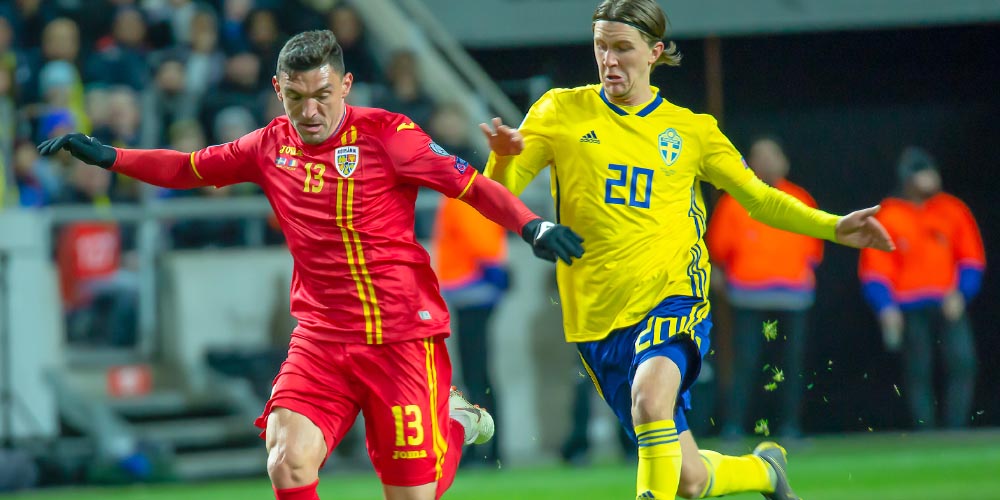 But this game will be life or death for the Romanian team as they need a win to have any chance to qualify. In case they got the win against Sweden, they will also need at least a point from Spain in their last game, which will be a very difficult task, even though Spain has already qualified. If they managed to do all this, they will finish in second place and qualify for Euro 2020. 
A draw is possible, it would favor Sweden
In the last game of the two teams in Sweden in March the Scandinavian team won 2-1. They scored the goals within seven minutes, using the disturbance of the guests.  In the second half the Romanian team was more aggressive and had more options, they could only score one goal.
Online sportsbooks in Romania are giving less chance for a draw with 3.24 odds. As the Romanian team needs to win, they wouldn't be satisfied with a draw and should concentrate on their attacks. But for Sweden, a draw would be enough with the remaining game against Faroe-islands. In our Romania vs Sweden betting predictions, we think the game actually might end in a draw after the hosts risking everything for a win.  
GAMBLING News -
November 2022