Stefanos Tsitsipas Grand Slam Betting Predictions Foresee a Fruitful Year Coming
Updated: October 31, 2019
Stefanos Tsitsipas aims for Grand Slam victories

Bookies weigh in his chances to win majors
He's one of the best underdogs. Image source: Keith Allison from Hanover, MD, USA [CC BY-SA 2.0] / Wikimedia Commons
Stefanos Tsitsipas is one of the most progressive young players on the ATP tour at the moment. His absolute confidence on the court is unparalleled but he has yet to win any Masters and major tournaments. The bookmakers already ponder over his chances for the next season. Let's see what Stefanos Tsitsipas Grand Slam betting predictions hold.
Currently ranked as World's №7, Tsitsipas is impressive, all-round player, with no obvious weakness to his game. While the "Big Three" keep winning all the main tournaments, the Greek works on improving on all fronts. Several online sportsbook sites in Greece even see him winning a major title as early as next year. Is his skillset good enough to score a Grand Slam triumph though?
Stefanos Tsitsipas Grand Slam betting predictions:

| | |
| --- | --- |
| Stefanos Tsitsipas to win a Grand Slam in 2020 | 6.00 |
| Stefanos Tsitsipas to win Australian Open in 2020 | 15.00 |
| Stefanos Tsitsipas to win French Open in 2020 | 19.00 |
| Stefanos Tsitsipas to win Wimbledon in 2020 | 15.00 |
| Stefanos Tsitsipas to win US Open in 2020 | 17.00 |
Breaking down the 2019 season
In comparison with other young players on the tour, Stefanos seems, to have a better mental disposition in tough contests. He started his season on a very impressive note, reaching his first major semifinal at the Australian Open. The Athenian-born made headlines in online sportsbook news in Greece by prevailing over Roger Federer in the fourth round. However, Rafael Nadal stopped him on 1/2 finals with a three-set victory. Despite winning only five Grand Slam singles matches the previous year, Tsitsipas advanced on another three rounds at the French Open. He reached the last 16 but lost to Stan Wawrinka in a 5 set thriller that lasted over 5 hours.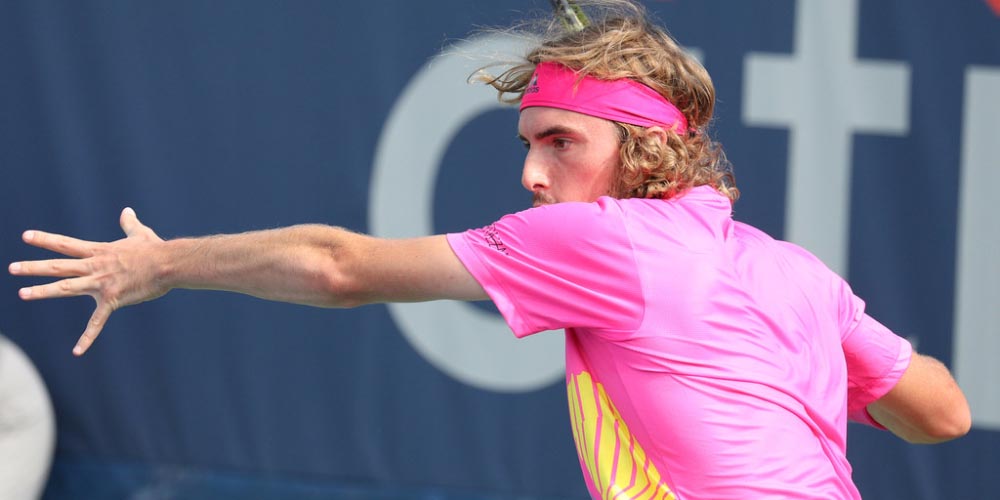 Then 20-year-old Greek had a hard time finding his form throughout the grass court season. He exited Wimbledon after losing his first-round match against Thomas Fabbiano. Tsitsipas was also in a poor form through the American hard court season, losing his opening match at the US Open. Nevertheless, the 1xBET Sportsbook oddsmakers regard him as a potent Grand Slam contender. Stefanos broke his drought on the Asian leg of the ATP Tour. It was as if he changed overnight. The Greek regularly reaches semifinals of every event and nearly won the China Open. Along with Daniil Medvedev, Tsitsipas is currently the most perspective NextGen alumni.
What majors are in the cards according to Stefanos Tsitsipas Grand Slam betting predictions?
Stefanos is an aggressive baseliner. He aims to hit powerful groundstroke winners and sports a strong forehand. The Greek also has a big serve and goes to the net more often than typical baseline players. This is certainly an advantage for the clay season. Moreover, the 21-year-old acknowledges that he maintains his best performance on that surface. However, with 19.00 odds rate Tsitsipas is only the sixth contender to score a victory at the French Open in 2020. If anyone can dethrone Rafael Nadal from claiming his 13th "Roland Garros" title that would be Dominic Thiem. The Canadian player is on his best game on clay.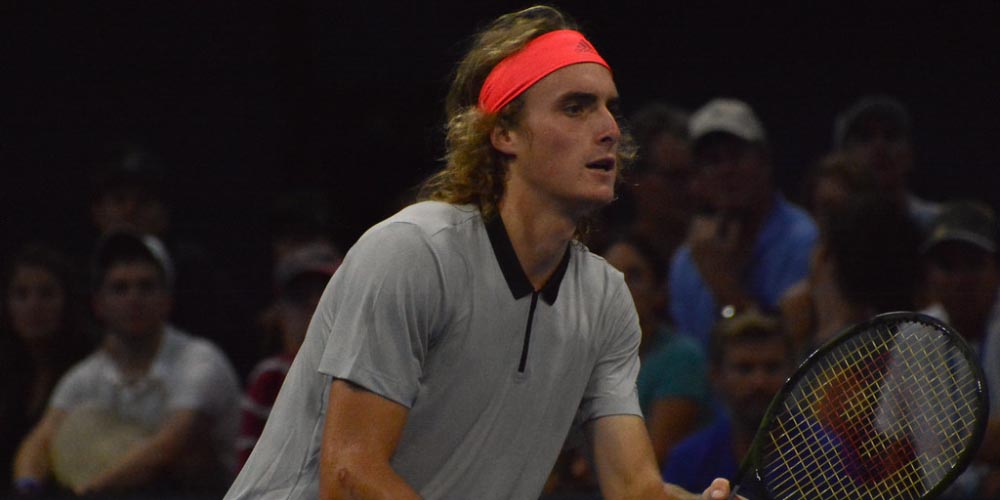 Considering how far he advanced at the Australian Open this year, this tournament might be his best shot at majors. The bookmakers seem to think alike, scaling his chances at 15.00. Albeit, Novak Djokovic shows no signs of slowing down in his pursuit of success. The Serbian was rather confident at the start of the season and landed his first victory at the opening Grand Slam tournament. He will probably dominate through the event in 2020 too.
Tsitsipas' favorite surface is grass and Wimbledon is his favorite tournament. Despite that, he failed the grass season, losing his opening match at Wimbledon. At this point, he is regarded as the sixth contender who can potentially win the oldest tennis tournament. He has done well on hard courts, reaching a Masters final and numerous semifinals. Yet his performance on US Open was no better than on Wimbledon. His chances to win it next year are even scarcer. Make sure to check the latest review about 1xBET Sportsbook before indulging in Stefanos Tsitsipas Grand Slam betting predictions.
GAMBLING News -
December 2022