The Top 5 Weirdest Surfer Names in 2019
Coco Malia Camille Hapaikekoa Ho the longest and quirkiest name on the list

Wiggoly Dantas is not your typical Brazilian and tops that with a quite untypical name
Now that the WSL Championship Tour is just around the corner, it's beneficial to take a look at the competing surfers. Some of them are actually having somewhat hilarious names what would be hard to forget. Just to be sure, here you find the list of weirdest surfer names in 2019. Moreover, on Unibet Sportsbook you will find the full list of the all the contenders, the ones with regular names as well.
#5. Kolohe and Dino Andino certainly has the surfing gene
Dino Andino, the surf legend who won all the American contests possible, is the former pro surfer who influenced the lives of many. Certainly, most of all he inspired his son, Kolohe Andino. No surprise, the son of the legendary athlete became a surfer himself.
Kolohe (51.00) has always been immersed in the whole surfing-scene since a really young age. He was lucky enough to join his father at a job for the Oakley brand. So from the beginning, he had the possibility to develop his water-related skills.
https://www.instagram.com/p/BrtOd94B0-d/
According to his father, Kolohe is really focused, dedicated, and spends most of his time training. I think he was blessed with a huge amount of talent, though that was always apparent. But talent is only as good as it is without work, so if you combine the two, with dedication and hard work and sacrifice, with talent, the water has no limits says Dino.
#4. John John Florence busy after injury
John John's (5.00) name is certainly memorable: once you hear it, just can't forget it. The professional surfer suffered an injury in June 2018, what makes him a wildcard in the 2019 season. However, the two-times world champion took a decision which left most of his fans in despair.
https://www.instagram.com/p/Bt38gSnAlRM/
The athlete has chosen to withdraw from the 2018 Billabong Pipe Masters. However, he was keeping busy while recovering. After seven years of being fully on tour, the champion could use some time off. Mainly, he spent his extra time paddling and sailing.
#3. Conner Coffin just rules
Having a rather morbid surname, Conner Coffin (41.00) couldn't care less. Coffin belongs to the newest surf-generation, however already managed to achieve a lot. Following the footsteps of many pro surfers of Santa Barbara, California, Conner did not have to go far to find the best beach.
https://www.instagram.com/p/BvaBNTpFHWZ/
Besides surfing, Conner is trying to establish himself as a musician. That is great as a hobby, but let's hope he won't give up his board for a guitar. He is quite a favored surfer according to the online sportsbook sites in the US.
#2. Wiggolly Dantas has the coolest name in surfing
No question, Wiggolly Dantas is not so much a typical Brazilian surfer. Started surfing at three years old, as her mum owned a little beach shop, selling coconuts, drinks, and food. At the age of 6, when he entered his first ever competition on his sister's board, he got the third place.
https://www.instagram.com/p/BthR_ZdF9Gs/
That was the moment he realized this what he really wants to be is a professional surfer. Wiggolly's father always dreamed of having a surfer son, so the family support was not a question. Now, surfing at the Qualifying Series, Wiggolly is having a blast.
#1. Coco Ho comes from a strong surf dynasty
Actually, Coco Ho kinda wins this list. Her full name is Coco Malia Camille Hapaikekoa Ho. Born in Honolulu, she is a true Hawaiian. Coming from the family of Michael Ho, Derek Ho, Mason Ho, she discovered the joy of surfing quite early. Her surfing matches her personality, fast-paced, bold and sharp.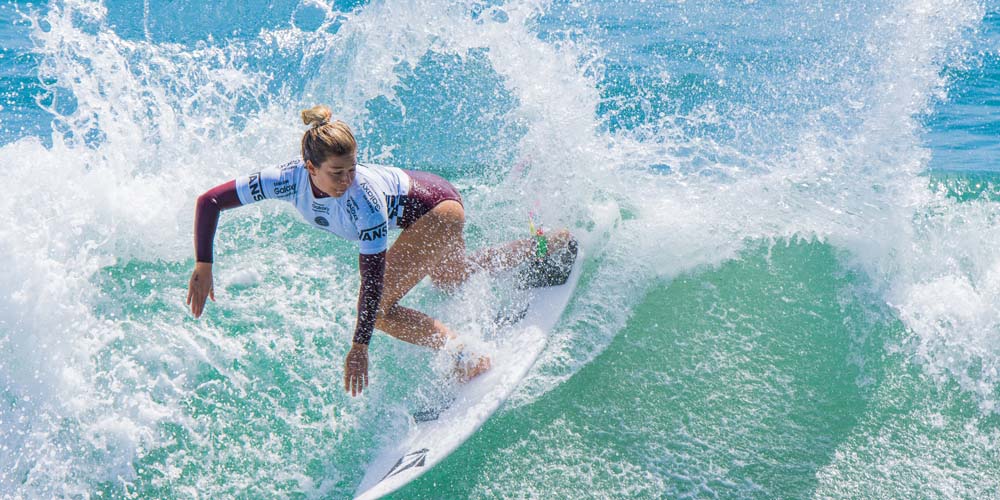 Earned her first sponsorship at 8, Coco's life was pretty much set at that young age. Even though the female surfing scene is extremely competitive, she achieved over 25 surfing victories throughout her career.  Certainly, she will be riding the waves for years to come.
2019 Championship Tour Schedule
The Championship Tour has 11 stages all around the world, challenging the best athletes from April to December, at different locations
#1 Gold Coast, Australia: April 3 – 13

#2 Bells Beach, Australia: April 17 – 27

#3 Keramas, Indonesia: May 13 – 25

#4 Margaret River, Western Australia: May 27 – June 7

#5 Rio de Janeiro, Brazil: June 20 – 28

#6 Jeffreys Bay, South Africa: July 9 – 22

#7 Teahupo'o, Tahiti: August 21 – September 1

#8 Lemoore, US: September 19 – 22

#9 Landes, France: October 3 – 13

#10 Peniche, Portugal: October 16 – 28

#11 Oahu, Hawaii: December 8 – 20

Which ones are your favorite weirdest surfer names in 2019? Certainly, it's recommended to keep an eye on these surfers during the following months. The major surf event, the WSL Championship Tour is just about to start. Follow the betting possibilities on Unibet Sportsbook (Read the Review about Unibet Sportsbook).
GAMBLING News -
November 2022