The Monaco Grand Prix is the jewel in the crown of the season, a race not just steeped but practically embedded in the traditions and history of the sport itself. It is the single fixture on the calendar they all dream of winning. Shame it's a terrible impractical race that ends after the first corner, eh? Also a pity that at these prices it's only by taking up the 2019 Monaco F1 GP odds on Robert Kubica retiring first at Unibet, best of the online betting sites in Monaco, you can profit.
It has a certain something, the Monaco Grand Prix, but the passing of F1 legend Niki Lauda has hung a pall over the race this weekend and the glitz and glamour won't sparkle quite as bright in the playground of the rich and famous (and their accountants). Not that this will damage the racing, there's rarely any of that in Monaco, a track ill-suited to cars 5.7m long and 2m wide. That's why the 2019 Monaco F1 GP odds on Robert Kubica tempt more than those on Hamilton.
Sure, Hamilton is favorite at 11/10 with Bottas just behind at 5/2, and with their speed this year another 1-2 finish looks on the cards unless they run each other off the track at turn one or make a complete mess of qualifying ("Doing A McLaren" as that will now be called). This is why instead of pointlessly backing their rivals at Ferrari or wager on Max Verstappen to get a winner it's a better bet on sports in Monaco to take up the 2019 Monaco F1 GP odds on Robert Kubica.
Unibet Allows Wagers On Both Winners And Losers In Monaco
Once you drag your mind away from the scenarios in which a Red Bull or a Ferrari might make it into the first corner ahead of everyone else (you dreamer, you) there are far more attractive wagers at the other end of things. A wager on the first retirement might seem a tad gauche but you'll get far better prices. The 2019 Monaco F1 GP odds on Robert Kubica going out first are just 11/1, the shortest on offer, and with Williams' luck that's a dashed tempting little punt.
Monaco F1 Grand Prix

Date: May 26th2019
Track: Circuit de Monaco
Location: Monte Carlo, Monaco
Type: Street
Distance: 161 Miles
Laps: 78
Length: 2.074 Miles
Surface: Tarmac
Just clear of that bottom rung status the 2019 Monaco F1 GP odds on Robert Kubica bestows RomainGrosjean, the man who binned it under a safety car for no reason at all, gets 12/1 to exit the race first on Sunday, the same price as Daniil "The Torpedo" Kvyat and the regularly unfortunate Nico Hulkenberg. Any of these bets is well worth taking advantage of Monacan gambling laws to take up at Unibet, certainly better than the short prices on picking a winner.
2019 Monaco F1 GP Odds On Robert Kubica Winning? 7000/1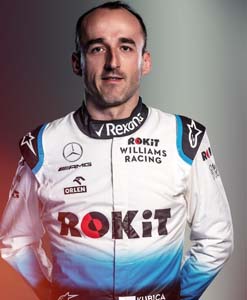 Perhaps all too tellingly last year's winner, Daniel Ricciardo is also 12/1 to retire before everyone else. His move to Renault thus far a catastrophe. This looks even worse when you realize noobs like Alexander Albon, Antonio Giovinazzi and George Russell all cop a slightly better 14/1 in the first retirement stakes. The 2019 Monaco F1 GP odds on Robert Kubica then are not the only wager at this end of the spectrum worth having, it just depends who you think will bin it on lap 1.
Monaco F1 GP Winner Odds at Unibet Sportsbook

Anyone Else – 1250/1+
Kevin Magnussen – 750/1
Daniel Ricciardo – 750/1
RomainGrosjean – 750/1
Sebastian Vettel – 16/1
Charles Leclerc – 16/1
Pierre Gasly – 12/1
Max Verstappen – 14/5
ValtteriBottas – 5/2
Lewis Hamilton – 11/10
Driving in Monte Carlo is like riding a bike in your house, according to Nelson Piquet, and he'd know, and that, frankly is why taking up the 2019 Monaco F1 GP odds on Robert Kubica at Unibet, one of the best online sportsbook sites in Monaco, is the only sensible option. No one wins in Monaco, the sport looks silly, the parties will be downbeat and a lot of the talk will be of the passing of one of F1's biggest legends, something the Monaco GP should probably emulate.
Monaco F1 GP 1st Retirement

Alexander Albon – 14/1
Antonio Giovinazzi – 14/1
George Russell – 14/1
Daniel Ricciardo – 12/1
Nico Hulkenberg – 12/1
Daniil Kvyat – 12/1
RomainGrosjean – 12/1
Robert Kubica – 11/1