AS Monaco are set to receive another €10m bonus payment from Man United after their former player Anthony Martial scored a goal against Newcastle last week.
Man United could be liable for even more bonus payments in the future
Man United have managed to secure the all-important 3 points in their victory 3-2 victory over Newcastle in round 8 of the Premier League, but they've also been dealt with a €10m bill towards AS Monaco after the final whistle was blown, online sportsbook news report.
That's because Anthony Martial – for whom Man United paid €50m for in 2015 – scored a goal in the match, which triggered a bonus clause in the transfer agreement that the two clubs negotiated when the striker moved to Old Trafford back in the summer of 2015. The clause stipulates that once Martial scores 25 goals in the Premier League, Man United will have to cough up a €10m bonus payment, which brings the total value of the transfer to €60m, for now at least.
And that's because there are other clauses that could yet be triggered; when Martial makes 25 appearances for France (he's now on 18), Man United will be liable to pay another €10m, while a Ballon d'Or win before 2019 would cost yet another €10m payment, thus potentially bringing his transfer to a whopping €80m.
Martial has failed to flourish under Mourinho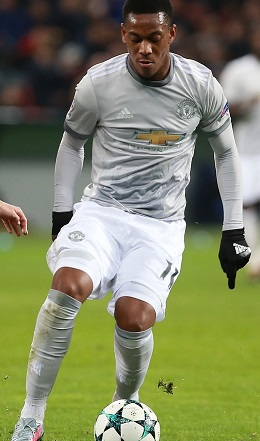 Before his switch to Man United, Martial was touted as one of football's hottest young prospects, thanks to his overall skills that include great dribbling ability coupled with impressive speed and tactical awareness in attack, per online sportsbooks in France.
In the season preceding his transfer to the Premier League, the young forward scored 9 goals in Ligue 1, while adding another 3 in other competitions, which only went to highlight that he could be destined for greatness in football.
And the form that he enjoyed while in France was certainly reflected in his maiden season in England; Martial found the back of the net 11 times in 31 Premier League appearances, while overall his tally stood at 17 goals in 40 outings in 2015/16. Red Devils supporters thought his staggering price tag was duly justified considering his impressive first season with the club, and thought he would continue to flourish later on.
But unfortunately, that wasn't the case once Jose Mourinho took over the club in the summer of 2016. Despite bagging 17 goals the season before, Martial found himself on the fringes as the Special One used him mainly as a backup to then strikers Zlatan Ibrahimovic and Wayne Rooney. That season saw him score only 8 goals across all competitions, while the subsequent campaign in 2017/18 his number improved just slightly – 11 goals in 45 appearances.
So far, under Mourinho, the Frenchman has failed to realize his potential (which we have previously witnessed), which begs the question – should he move on from Man United to fulfill his ambitions?