Eden Hazard Admits to 'Dream Move' to Real Madrid
Updated: October 15, 2018
Eden Hazard is looking to fulfil his long dream of playing for Real Madrid, as his time at Chelsea potentially comes to a close.
Real Madrid's Galacticos could welcome Eden Hazard as the latest star in the imminent future, as the Belgian winger sets his sights on personal glory with the Spanish side.
Hazard in the pursuit of the Ballon d'Or
Eden Hazard has confirmed the rumours by online sportsbook news that he could soon be on the move to Real Madrid – a transfer that would a 'dream come true' for him. Real Madrid – which are backed by billionaire Florentino Perez and his famous 'Galacticos' policy – would hand the speedy Belgian a big shot at the Ballon d'Or, as they're the ones that are known use their might in pursuing individual awards for their players.
Asked by reporters about his current contract negotiations with Chelsea, Hazard asserted that he would like to help out the Blues any way he can, before sealing a highly likely move to the Bernabeu in the near future.
"I don't want that," asserted Hazard. "I want what's good for me, but I want what's good for the club because the club has given me everything. I don't want to say, 'Yes, I am signing a new contract' and then in the end I don't end up signing. So I will see. Sometimes in my head, I wake up in the morning and think I want to go. Sometimes I think I want to stay. It is a hard decision. It is my future. I am 27 and I will turn 28 in January."
"Real Madrid is the best club in the world. I don't want to lie today. It is my dream since I was a kid. I was dreaming about this club. We will see. I don't want to talk about this every day. I don't have time but we will talk about my future soon. I think so."
How much would the deal cost Real Madrid?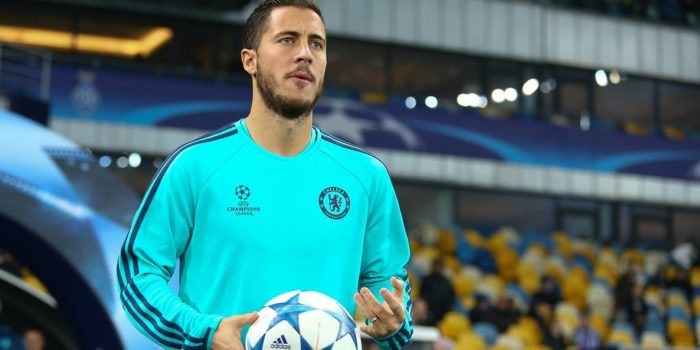 According to Transfermarkt, Hazard is currently worth a staggering €120m, but we're willing to bet Real Madrid would have to fork out even more than that by adding a few tens of millions to convince Chelsea to let him go. It's doubtful that he would leave the Stamford Bridge side in the coming transfer window in January, which leaves open the following summer, at which point he would have only 1 more year left on his contract with Chelsea (his current deal runs until the summer of 2020).
This could help progress the negotiations between the two clubs, but Chelsea will hold most of the power as Real Madrid have also hinted at singing the Belgian before, so they won't relinquish him for anything lower than his current market value, per online sportsbooks in Belgium.
If a deal were to go through next summer, it would be interesting to see what shirt number would Real Madrid hand him. His preferred No. 10 is occupied by midfielder Luka Modric, so would the club perform what big sides are known to do when attracting fresh recruits and offer up the Croat's number just to sign the Belgian, or would they offer an alternative number, like the '17' that he previously used to have at Chelsea?