It's not easy to predict sumo wrestling results, but for sure you can give it a try – and you should, so don't hesitate to place a bet on Nagoya Basho 2018!
Online sportsbook news sites in Japan always get overly excited when sumo wrestling tournaments are launched, and it's not a different case this time either: take a look at some of the best odds to bet on Nagoya Basho 2018 fights – who is the best sumo wrestler in 2018? Make money out our your sumo wrestling betting predictions!
What is Nagoya Basho?
Nagoya Basho is one of the 6 Honbasho tournaments. Honbasho tournaments decide about promotion and relegation for rikishi, which is the Japanese expression for professional sumo wrestling. Tokyo hosts three of the Honbasho events, while the remaining three are divided among Osaka, Fukuoka and Nagoya. In July, it's Nagoya time
Where to bet on Nagoya Basho 2018?
If you want to bet on Nagoya Basho 2018 matches, you should check out the sumo wrestling betting odds at Unibet Sportsbook. They offer you odds for each upcoming match in the next few days. Nagoya Basho lasts for 15 days, we are already past Day 6. So if you want to bet on sumo wrestling, you better hurry up!
Nagoya Basho 2018 betting preview
Nagoya Basho 2018 goes on for 15 days straight, which means you have two weeks of pure sumo wrestling betting previews and odds. You should bet on sumo wrestling as soon as possible and turn your expectations into cold hard cash – to do so, you need to understand the best odds to bet on sumo wrestling.
You can find many matches to bet on sumo wrestling for tomorrow. Online sportsbook sites in Japan usually have an idea of which wrestler is better and is more likely to win, you can easily read that from the Nagoya Basho 2018 betting odds. However, in certain cases, making sumo wrestling betting predictions is not at all easy.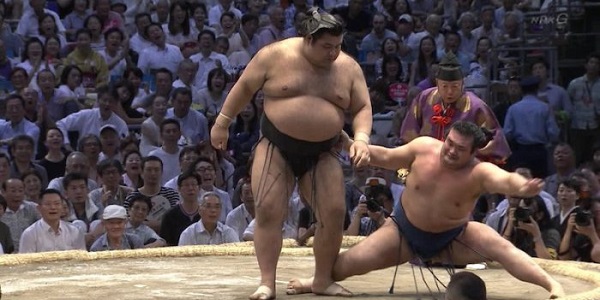 For example, Takarafuji will fight Kagayaki tomorrow. The odds are 1.85 for both fighters, which means that Unibet Sportsbook cannot differentiate between the strengths of the two wrestlers, they are at the same. Shortly before their match, Daieisho will fight against Yoshikaze, where the odds for Daieisho to win are 1.47, while those for the latter one are 2.50.
Now you see my point. Tomorrow you will see some sumo wrestling matches at Nagoya Basho 2018 that will be the Real Madrid vs Barcelona of sumo wrestling: completely unpredictable. Still, will you join any of the best online betting sites in Japan in order to bet on Nagoya Basho 2018 matches?