Betting Predictions on Conor McGregor's Next Fight in 2019
Updated: December 1, 2018
Conor McGregor's last fight was with the Russian fighter, Khabib Nurmagomedov. He is the current undisputed UFC lightweight champion. McGregor lost in the fight in the 4th round. McGregor has faced many UFC stars and even the likes of Floyd Mayweather. Pundits wonder what Conor McGregor's next fight in 2019 will be.
Conor McGregor was always popular since he is the former UFC featherweight and lightweight champion. However, his popularity skyrocketed in 2017 when he fought Floyd Mayweather. Despite losing, he gained a lot of fans and followers. McGregor is the biggest pay-per-view draw in MMA history as reported by online sportsbook sites in Ireland. Hence, his next fight is important since the world will be watching and betting. Who will be th other half upon Conor McGregor's next fight in 2019?
Betting predictions on Conor McGregor's next fight in 2019
Bookmarkers have listed the possible opponents for Conor McGregor's next fight in 2019. One of these possibilities is a rematch. The last time McGregor fought Khabib Nurmagomedov, he lost. But the UFC tie drew 2.4 million pay-per-view buys. That was the most ever for an MMA fight. A rematch with Khabib Nurmagomedov seems only natural since McGregor would be challenging for his former title. The odds of this happening are 2.23.
The next possible matchup is with Nate Diaz. Diaz has also defeated McGregor before. So it is natural that McGregor might want revenge. Recently, the fight planned between Diaz and Dustin Poirier was called off. Both McGregor and Diaz have lost that one fight in 2018. Another encounter between them might be what is needed to break this hiatus. The odds of that are 2.875.
According to online sportsbook news in Ireland, the most unlikely opponent will be Floyd Mayweather. Despite, their boxing match serving as his boxing debut there's doubt there will be a rematch soon. The reason for this includes the fact that Mayweather has bankable opponents of his own. Mayweather might be fighting Tenshin Naukawa, Manny Pacquiao or Nurmagomedov soon. The odds of another Mayweather Vs McGregor fight stand at 26.00.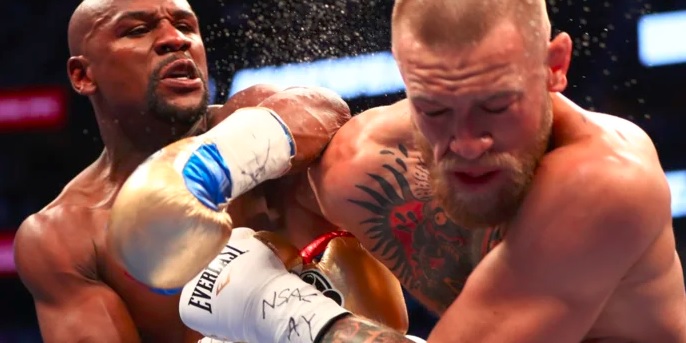 Odds for possible boxing opponents
Other fighters like Tony Ferguson, Anderson Silva, Georges St-Pierre and Tyron Woodley will all make great opponents. Many of them have been considered the best in UFC at some point in time. Anderson Silva is nicknamed The Spider. He had the longest UFC Middleweight champion title reign. It lasted 2457 days.
Tony Ferguson is a former interim UFC lightweight champion. He is also the record-holder for most back-to-back wins in that division. Even though Tyron Woodley raps, he is the current UFC welterweight champion while Georges St-Pierre is a three-time former UFC Welterweight champion as well as a middleweight champion.
Despite their pedigree, these fighters would not bring as much media hype as those above. In the table below, the odds of these fighters are summarised. Meanwhile, the media reports that the fight between Ferguson and Nurmagomedov kept getting postponed. This was due to injuries.
Although a potential rematch with McGregor versus Khabib Nurmagomedov seems likely, it won't happen immediately. Therefore, it would not be surprising for McGregor to take on Tony Ferguson or Nate Diaz before that. Certainly, the next McGregor fight will definitely have a lot of media buzz. Who do you think the next opponent would be for Conor McGregor's next fight in 2019?
| | |
| --- | --- |
| Khabib Nurmagomedov | 2.23 |
| Nate Diaz | 2.875 |
| Tony Ferguson | 3.38 |
| Anderson Silva | 11.50 |
| Georges St-Pierre | 12.00 |
| Tyron Woodley | 17.00 |
| Floyd Mayweather | 26.00 |