Copa América 2019 Predictions and Betting Tips: Top 7 Teams to Bet on
Updated: September 3, 2019
Brazil have been the top favorites by Copa América 2019 predictions since the beginning

They reached the final upon knocking Messi's Argentina out

Peru trashed Chile in the SF

They want to avange the 5-0 humiliation of the group stages
Copa América 2019 Final Predictions: Brazil vs Peru
Brazil have beaten Argentina in the Superclaásico and hence, the Brazilian national team are the first team to reach the final in the Copa América 2019 tournament. Their opponent could be either Chile or Peru, depending on the outcome of the other semi-final. Brazil blossom without top class stars like Marcelo, Neymar or uprising talent Vinicius Jr.
[suggested_topics title='Win money on World Cup betting as well' topics='140417′]
Yet another Argentina vs Chile derby is coming up at the Copa América, but this time, the winner will only get the bronze medal. Chile were crashed by Peru in the SFs and hence the Copa América 2019 underdogs will hope to strike back against Brazil. They already met in the group stage. Brazil won that game 5-0, so we're probably up to some exciting final.
| | | | | |
| --- | --- | --- | --- | --- |
| 1.30 | Brazil | VS | Peru | 11.00 |
Copa América 2019 Semi-Finals predictions and betting tips
Surprisingly enough, Uruguay lost to Peru in a penalty shootout after a goalless draw. Hence, Peru will face Chile in the Semi-Finals.  Chile are hoping to get their back-to-back-to-back victory in the South American continental tournament as they beat Argentina in 2015 as well as 2016 in the final. Chile are the clear bookie-favorites: their odds to qualify for the final for the third consecutive time are 1.45, while the odds for Peru to reach Copa América 2019 final are 2.70 at Unibet Sportsbook. The two teams face each other on 4 July, 2:30 AM CET.
Updated Copa América 2019 predictions and betting tips after QFs

| | | |
| --- | --- | --- |
| Rank | Team to win Copa América 2019 | Odds |
| #1 | Brazil | 1.75 |
| #2 | Chile | 4.00 |
| #3 | Argentina | 5.00 |
| #4 | Peru | 10.00 |
What's even more interesting is the first Semi-Final: Argentina will face Brazil in the super derby which is without a doubt the most expected clash of the entire tournament. The bookies believe that the Brazilians are way stronger, as the odds for Brazil to knock Argentina out are 1.40, while Argentina's Copa América 2019 final odds are 2.80. However, we should never forget about the fact that Argentina has the worst weapon in the universe: a Lionel Messi seeking international success. Can he finally make it?
2019 is the year of continental tournaments. 2019 AFC Asian Cup is going on at these very moments, while 2019 African Nations Cup predictions are also out for the tournament that starts on June 15. A third continent is choosing its best football nation this year: South América. The tournament lasts from 14 June until 7 July. Here are our Copa América 2019 predictions and betting tips.
Copa América 2019 Quarter-Finals Betting Tips

| | | | | |
| --- | --- | --- | --- | --- |
| 1.08 | Brazil | vs | Paraguay | 7.00 |
| 3.70 | Venezuela | vs | Argentina | 1.28 |
| 1.60 | Colombia | vs | Chile | 2.30 |
| 1.38 | Uruguay | vs | Peru | 3.00 |
Copa América 2019 predictions and betting tips:
Neymar's team tops Copa América 2019 predictions
Brazil went on to last year's World Cup with high hopes and ambitions. However, Belgium was too strong of an opponent. They won't face Belgium but teams like Chile, Colombia and Argentina will definitely have a chance against a squad led by the Qatari Prince Neymar Jr. Still Copa América 2019 predictions rank Brazil as #1 South American football team. We suggest if you want to win money betting on Copa América, you go for other teams!
(update: Neymar will miss Copa América 2019 due to an ankle injury he took on a friendly game against Qatar)
Brazil are still the #1 favourite at online sportsbooks. They won Group A and remained undefeated as they tied Venezuela after beating Bolivia by 3-0 and just before trashing Peru by 5-0. Brazil will face Group B's third-placed Paraguay in the Quarter-Finals on 28 June.
Will Messi finally win something for his nation?
No, he won't.
Lionel Messi has been trying hard to impress his compatriots: he reached the Copa América final twice, and even the World Cup final once before. Lost all three of them. Is 2019 finally the year when he gets to make it? Online sportsbook sites in the US believe so. As of today, Argentina are the second greatest favourites to win Copa América 2019. However, after two consecutive finals they lost, you might want to put your money elsewhere!
Last chance for Luiz Suarez to triumph with Uruguay
The biggest achievement – with the national team only – for Luiz Suarez is still his march with his fellow Uruguayans till the World Cup semi-finals. That's where they lost to the Netherlands and the Barca-forward wasn't there to help his nation because of his memorable red card against Ghana. He doesn't have Forlán by his side anymore, but his team still features veterans like Cavani, Godín as well as youngsters like Torreira and Valverde. They seek to win Uruguay's 16th Copa América. Can they make it?
Uruguay were clear favourites to qualify for the Semi-Finals according to all online sportsbook sites in the world. All they had to do was find a single goal against Peru. They did, but the VAR interfered and helped Peru stand still till the penalty shootout. Peruvians didn't miss a single shot, while Uruguay's biggest star put hisLuiz Suárez put his nation into a disadvantageous position right after the very first penalty. 4-5, Peru are in the SFs, Uruguay: OUT!
Chile to win for the third consecutive time?
Winning the most important trophy three times in a row is not impossible – ask Real Madrid fans about that. Chile are aiming for that achievement at the Copa América 2019 as they won the previous two tournaments. Both on penalties, both after goalless draws, both against Argentina. Alexis and Vidal hope to make it to the final again this year. And what better opponent could they face if not Messi and his mates? Bet on Chile to win Copa América again: 12.00 at Unibet Sportsbook!
Copa América 2019 predictions underestimate Colombian chances
You can see relatively high outright Copa América 2019 odds for Colombia to win if you look at Unibet Sportsbook. However, the Colombian national team is still among the best football teams in the world. They proved that several times. They were champions in 2001, that's their only victory in the history of Copa Américas. It might be time to get that second. With the experience of Radamel Falcao and David Ospina, and with the class of players like James Rodríguez, Juan Cuadrado and Davinson Sánchez, it's not impossible…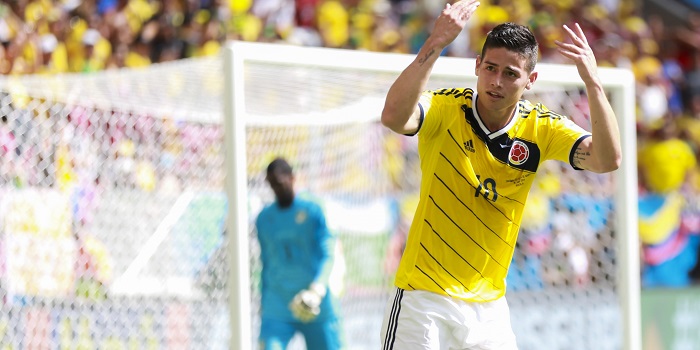 Colombia were knowcked out of Copa América 2019in the Quarter-Finals. They were matched up against title-holders Chile and held out for a goalless draw. However, Chile are experienced penalty-shootout winners: they didn't miss a single penalty and won 4-5.
Is it rude for a guest to win? Bet on Japan!
Japan is one of the guest members at Copa América in 2019. They already participated in 1999 and were invited in 2011 as well as 2015. They accepted both invitations and withdrew later on, due to scheduling problems. However, it seems they won't have troubles joining the tournament this year. Nor Copa América 2019 predictions, nor online sportsbook news sites in the US put them among the favourites to win, but they were great at the World Cup last year. Repeating that performance could help them go far…
Qatar hope to be champions of 2 continents…
Qatar have been the black horses in Asian Cup 2019. Should that happen, they will get a 100% morale boost, which could last until the end of summer. And that could result in outstanding Copa América performances as well, because the World Cup hosts are invited for the South American continental tournament. However, they are the least likely team to win, according to Copa América 2019 predictions. How far do you think they will go?
Copa América 2019 underdogs
GAMBLING News -
December 2022