Everything About Usain Bolt: The Fastest Man in the World 
How the fastest man in the world won at a distance of 100 meters

All the victories and failures of Usain Bolt at the Olympic Games

Beijing 2008: Bolt wins 100m with the world record
The fastest man in the world, eight-time Olympic champion Usain Bolt won the 100-meter distance at the Olympic track and field tournaments in Beijing, London, and Rio de Janeiro. He set phenomenal world records in the 100-meter race. And he almost always reached the peak of his form precisely at the most important starts. At the same time, the phenomenon from Jamaica began to specialize in the short sprint only at the age of 21. Earlier he preferred other, longer distances. In this article, we are going to discover everything about Usain Bolt. Let's get started!
First 100m and Breakthrough at the Beijing Olympics 
Bolt first made his mark at the age of 14 when he won the 2001 World Junior Championships at a distance of 200 meters. But until 2008, he combined running 200 and 400 meters, like the legendary Michael Johnson in his time. The first official international 100 m start was the 18 July competition in Rethymno – he won them with a good but not outstanding result of 10.03 seconds.
But in the next Olympic year, Usain finally began to combine 100 and 200 meters. Perhaps he would have given up on this venture, but the results came almost instantly. In his second official start on March 8, 2008, at a tournament in Jamaica, he repeated 10.03, and on May 3 in Kingston at Kingston Jamaica International he ran out for the first time out of ten seconds. And he immediately showed the second time in history – 9.76. On May 31, at a tournament in New York, he surpassed the world record of compatriot Asafa Powell, running the 100m in 9.72. True, with a tailwind, it is almost on the verge of permissible (1.7 meters per second). This was followed by victories at the Jamaican Championship and competitions in Stockholm, and there Bolt did not run out of 9.80.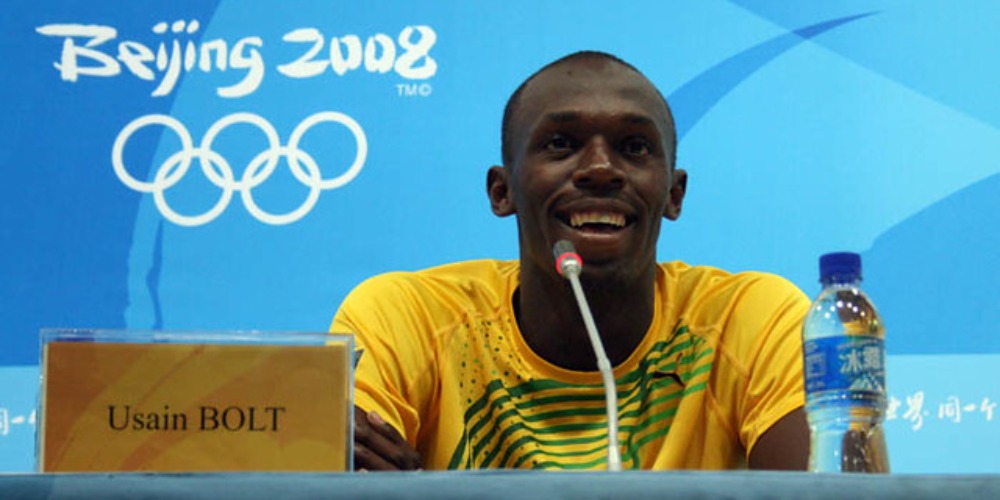 But in Beijing, at the Bird's Nest stadium, we first saw Bolt in all his glory. He not only won the final with a new world record of 9.69 in total calm (wind 0.0 meters per second) but also allowed himself to slow down at the finish line. He also won the 200m gold medal. The Bolt era has begun! And his signature "lightning" gesture has become one of the most recognizable in the sports world.
Usain Bolt Phenomenon: Career Peak at the World Championships in Berlin
As in 2008, Bolt has run the 100m in official starts 14 times, including preliminary runs. He started the season in March with 9.93, then in June in Ostrava showed 9.77. In July, in Paris, he excelled with a time of 9.79, and in London, 9.91 was enough for him to win. It might seem that Usain is not in perfect shape and may even lose at the World Championships in Berlin to his main rivals – Tyson Gay and Powell.
But in the final of the 2009 World Cup, Bolt turned on space speed. There is even specific data – 37.58 km / h for the entire distance and 44.72 km / h between 60 and 80 meters. A tailwind of 0.9 meters per second also helped him. Usain did not slow down, dropping 11 hundredths from his world record at once. Even the new US record of 9.71 didn't help Gay. After all, Bolt's 9.58 second time was amazing, and his run with the grace of a cheetah is fantastic. It is not surprising that the Berlin world record has not been broken so far.
Everything About Usain Bolt: Drama in Daegu
There were no major tournaments in 2010, so Bolt limited himself to just four tournaments and a 9.82 best time. On August 6, 2010, he suffered his first defeat in two years. He lost to Gay in Stockholm, which, given the time shown by the Jamaican (9.98), was not surprising. In 2011, before the World Championships in Daegu, the Jamaican also had only three official starts, and his best result was only 9.88. Nevertheless, the magic of Bolt's name made one believe that at the World Cup, the lightning-fast Jamaican would again outstrip everyone with a clear advantage. But no, there was a dramatic false start in the final and disqualification. The world champion was Johan Blake, who ran the 100m for 9.92. Bolt was undoubtedly hurt. Almost three weeks later, he raced in Brussels for 9.76, proving that he is still good.
Everything About Usain Bolt: Olympic Gold in London
For the Olympic season, Bolt came up much more collected. Before the 2012 Games, he played in five tournaments and had a 9.76 time. True, in the Jamaican championship, he lost to Blake. However, in the final of the Olympic Games, he took convincing revenge from Blake, ahead of him by 12 hundredths of a second. Usain ran in 9.63 seconds (1.5 meters per second tailwind) – the second-best in history.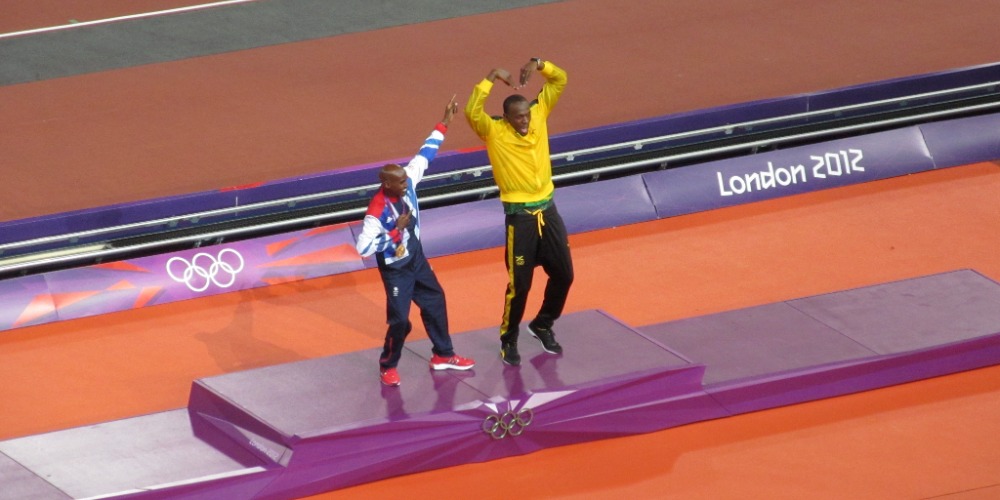 He won three golds in London, after which he assumed the status of a "living legend". Online sportsbook sites in the US will provide you with the best games and matches of all sports. Check out Intertops sportsbook for the best odds.
Golden Shower in Moscow and Beijing
Not to say that Bolt spent the next Olympic cycle carelessly. But he turned on to the maximum only at the main starts. Even heavy rain did not stop him from winning the 2013 World Cup at Luzhniki in Moscow with his best time of the season – 9.77. Due to a hamstring injury, he almost completely missed the 2014 season. He only ran the 100-meter race once, in August in Poland he showed 9.98. In 2015, he also did not indulge in his appearances at competitions.
Before the 2015 World Cup in Beijing, he performed only in Rio de Janeiro and London, with 9.87. But in the final of the world championship at the hundred-meter distance, he was not prevented even by a headwind of 0.5 meters per second – 9.79 and another gold. However, this was, perhaps, the most difficult victory in Bolt's career. He was ahead of the silver medalist Justin Gatlin by only one-hundredth of a second!
Everything About Usain Bolt: 100m Olympic Gold Hat-Trick
Every year Bolt performed less and less. Before the Games in Rio de Janeiro, he limited himself to three starts and the best result of the season 9.88. In the final of the 2016 Olympic Games, with a wind of + 0.2, the Yamayan managed to show a time of 9.81, eight-hundredths ahead of Gatlin. He became the first person to win three gold medals in the 100m at the Olympics.
In total, he has eight Olympic gold medals. If you want to find more about the fastest athletes, check out our article about the best sprinters of all time. And do not forget to place your bet on Intertops, when watching the fastest runners in action.
Defeat at the World Cup and Retirement
Usain announced back in 2015 that he wanted to retire after the World Championships in London. It was assumed that the tournament in the capital of the 2012 Olympic Games would become a fat golden point of his career. But the bright ending of a beautiful fairy tale did not work out. Bolt arrived in London after only three starts in 100 meters and with a personal best time of the season of 9.95. It was this result that he showed in the final of the 2017 World Cup (0.8 headwinds). This allowed him to become only third after Gatlin and Christian Coleman. Then there was an injury in the relay and an official announcement of his retirement from athletics. Although even a failure in London still cannot rob Bolt of his status as the best sprinter of all time. 
We covered everything about Usain Bolt: the legendary sprinter of all time. If you want to find more, check out the online sportsbook news in the US.