However, everyone knows Dostoyevsky's Gambler, but the story of gambling and literature goes far beyond this. Gambling and poetry have always had some connection. Many poems and novels were inspired by gambling. While you can find many cases where gambling is used as a metaphor for life,  sometimes the writer leads you right in front of the casino table. We have collected some amateur aswell some famous gambling poems.
You can't expect to hit the jackpot if you don't put a few nickels in the machine. – Flip Wilson Writing a poem is similar when you are riding the chariot of fortune. "While some are visiting online casinos in the UK, to try their luck, / others are gambling with words and thoughts."
A collection gambling and poetry – Modern award-winning amateurs
There are many sad stories about gambling addiction. Losing all your property and landing in poverty is really a bad scenario. However, an artist, a poet to the bone can separate his boiling soul from his belongings. 
No Fruit Machine

Will Get The Better of Me
Like a bee to nectar,
I am drawn to the scene.
Spending my money
in the fruit machine.
I love the sight
and the sounds,
the colours
on the screen.
And
when winning
a jackpot,
I yell and I scream
with delight.
I grin and I beam,
Adrenalin flowing,
through my
hot bloodstream.
I'm captured
n the moment –
hypnotic delight.
Spending my money
by day, and by night.
The sounds,
and the colours,
and the flashing lights,
always draw me in.
And when
the money
gets tight,
I never panic.
Oh, don't you see?
that no fruit machine
will get the better of me?
Copyright
©2019
No Fruit Machine Will Get The Better of Me
Wayne Leon Learmond
However, gambling and poetry are not always about addiction
There are other cases when the inspiration of gambling is leading the author into a historical environment. Here follows a western story from L G Maece, a member of the Academy of American Poets.
Way, way back in the days of old in the Wild, Wild West.
Men would gather in the saloons-drinking their whisky
playing cards and putting their luck to the test.
Well one night Slim Whiskers and the Gambler
played poker all through the night.
The kitty was building up-gold & silver, cash, spurs,
ranch deeds – oh what a sight!
The people in the saloon, including Josie the high
steppin' saloon call gal, gathered round the table to
share the excitement and suspense.
Those cards kept getting dealt-the kitty increased
the suspense was intense.
All the other players sitting round the table too,
cowpokes mostly,Roudy,Poker-Face,Hoss,Curly,
and little Joe had dropped out of the game-
lost their pokes to the kitty oh what a shame!
It was left to Old Slim Whiskers and the gambler,
a stranger with no name.
He was dressed up all neat in a hat, tie, white
starched shirt, and a fancy Easterner's suit.
Right down to his well trimmed mustache,
the expensive Cheroot and custom made boots.
As last Slim called the gambler's hand, it was
the high light of the game!
When Slim found out the Gambler had
been cheating-he rose up accused out loud,
the Gambler rose up too-but when the hidden ace
was found- the  gambler pulled a small derringer
but Slim  was faster and with his six gun shot him dead,
the card they later found on the body read
James Charles Harkington II from San Francisco
from a wealthy family it proclaimed.
Moral to the story is:if you're not fast enough at
switching cards-cheating, you better not play.
'Cause if you're found out and caught-it will
be the very last thing you do on that fateful day!
Since we have online poker sites in the UK, we don't have to go through western-style gun-fights in order to find our best tables. 
When gambling and poetry has a happy ending
However, sometimes the outcome or the morals of the story are not that dark. Or are they? Here is a story from Robert William Service. 
Roulette
I'll wait until my money's gone
Before I take the sleeping pills;
Then when they find me in the dawn,
Remote from earthly ails and ills
They'll say: "She's broke, the foreign bitch!"
And dump me in the common ditch.
So thought I, of all hope bereft,
And by my evil fate obsessed;
A thousand franks was all I'd left
Of that fair fortune I possessed.
…I throw it on the table there,
And wait, with on my lips a prayer.
I fear my very life's at stake;
My note is lying on the Red . . .
I know I'll lose it, then I'll take
My pills and sleep until I'm dead . . .
Oh God of mercy, understand!
In pity guide the croupier's hand.
My heart beats hard, my lips are dry;
I feel I cannot bear to look.
I dread to hear the croupier's cry,
I'll sit down in this quiet nook.
The lights go dim, my senses reel . . .
See! Jesus Christ is at the wheel.
* * * * * * *
Kind folks arouse me from my trance.
"The Red has come ten times," they say.
"Oh do not risk another chance;
Please, Lady, take your gains away,
And to the Lord of Luck give thanks –
You've won nigh half a million franks."
Aye, call me just a daft old dame;
I knit and sew to make my bread,
And nevermore I'll play that game,
For I've a glory in my head. . . .
Ah well I know, to stay my fall,
'Twas our dear Lord who spun the ball.
If you want to tempt your luck with some
roulette
you can do it from the comfort of your home.
As famous Janett Winterson said, "Gambling is not a vice, it is an expression of our humanness. We gamble. Some do it at the gaming table, some do not. You play, you win, you play, you lose. You play." Here are Charles Bukowsky's thoughts on the similarities between gambling and life. While we like to think that we are free from any bad habits, living a human life is not black or white.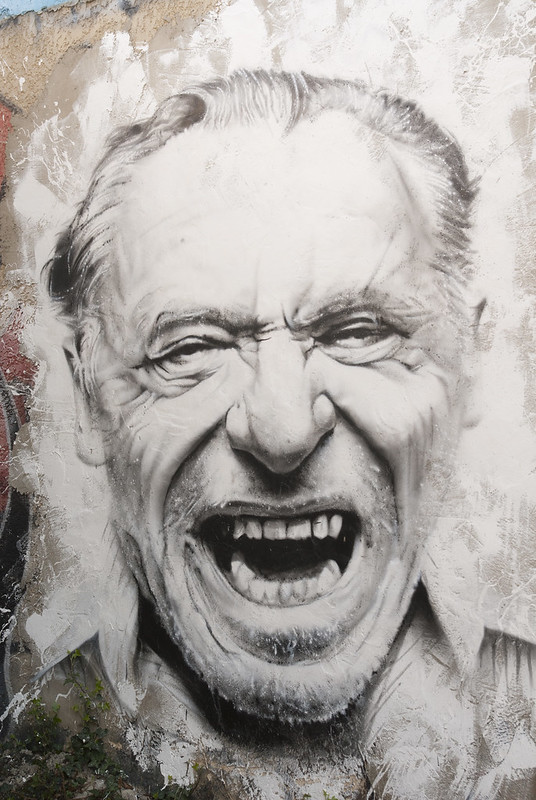 sometimes you climb out of bed in the morning and you think,
I'm not going to make it, but you laugh inside
remembering all the times you've felt that way, and
you walk to the bathroom, do your toilet, see that face
in the mirror, oh my oh my oh my, but you comb your hair anyway,
get into your street clothes, feed the cats, fetch the
newspaper of horror, place it on the coffee table, kiss your
wife goodbye, and then you are backing the car out into life itself,
like millions of others you enter the arena once more.
you are on the freeway threading through traffic now,
moving both towards something and towards nothing at all as you punch
the radio on and get Mozart, which is something, and you will somehow
get through the slow days and the busy days and the dull
days and the hateful days and the rare days, all both so delightful
and so disappointing because
we are all so alike and so different.
you find the turn-off, drive through the most dangerous
part of town, feel momentarily wonderful as Mozart works
his way into your brain and slides down along your bones and
out through your shoes.
it's been a tough fight worth fighting
as we all drive along
betting on another day.
Gambling and poetry are closely related things, if you write a poem you bet your time of work and expect it to return to you somehow. While gambling has its dark side, sure does an artist's lifestyle with its self-consuming rapid emotion bursts and self reveals. Since finding the balance between a boring and an extravagant life is very hard, we face drastic fates amongst great people many times.