Sometimes we want to combine and enjoy several of our loved activities at the same time. This can be very easy or it can be impossible. Especially if they include huge riverboats. The modern world widens the panorama of chances. The gamblers and the whole gambling industry also enjoy these chances. In fact, the gambling casino boats solve one of the most bizarre combinations of the favorite activities. These activities can include river-sailing, gambling or enjoying a luxury hotel. The gambling boats in the USA provide all the above mentioned and much more. Gambling boat casinos offer the classic sets of table games and slot machines. Further, we will explore each of our top choices and whether you like to gamble in the online gambling sites in the US or like to spend your time in offline casinos, you should check our list.
Casino Queen Marquette is one of the top gambling boats in the USA
Casino Queen Marquette is the most famous riverboat casino in Iowa. Located among the beautiful banks of the Mississippi River, it is a 17,514 square feet riverboat casino and just gambling heaven.
The riverboat Miss Marquette was bought from Sodak Gaming in November 1999 for $41.67 million. 1999 is also the year that the casino was established.  
You will find more than 540 slot machines and many classic table games here. Also, there are some new games like Wild Lepre Coins, Volcanic Rock Fire, Gold Bars 7's, and others.
There are also several dining options available in the territory of the casino. 
Belterra Casino Resort
We continue our list with other top gambling boats in the USA Belterra Casino. It is the primary riverboat casino in Indiana and located on the Ohio River. 
The Belterra riverboat casino opened in October 2000, seven years after Indiana legalized riverboat casinos. 
In its huge 47,201 square feet gaming space casino offers different kinds of gambling entertainment. In detail, it has 1,277 gaming devices, over 45 table games, also 2 poker tables.
Also, if you find yourself in the state of Indiana and are in the mood of gambling, you can visit online sportsbook sites in the US, as Intertops. 
Amelia Belle casino
Amelia Belle riverboat casino is located in Amelia, Louisiana. 
The history of this riverboat casino dates back to 1994 when it had the name Bally's New Orleans Casino and owned by Caesars Entertainment. Currently, it belongs to Boyd Gaming. 
On the two floors of this beautiful boat, there are more than 800 slot machines. Also, the casino offers 15 table games like blackjack, craps, roulette, Three Card Poker, Ultimate Texas Hold'em, and Mississippi Stud.
There is also a restaurant on the first floor of the casino, so you can enjoy your dinner without leaving the casino. 
Harrah's Metropolis
The next riverboat casino in our list is another casino on the Ohio River in Metropolis, Illinois Harrah's Metropolis.
In fact, it is one of the first casinos opened in the state. It opened back in 1994 with the name of Players Island. 
Nowadays this casino can surprise you with the variety of slot machines and table games it offers. So, you can find over 1,200 slot machines and 25 table games here. Also, there is a high-class hotel with 258 rooms, a showroom, and five restaurants.
A dose of Vegas in the Victory Cruise Casino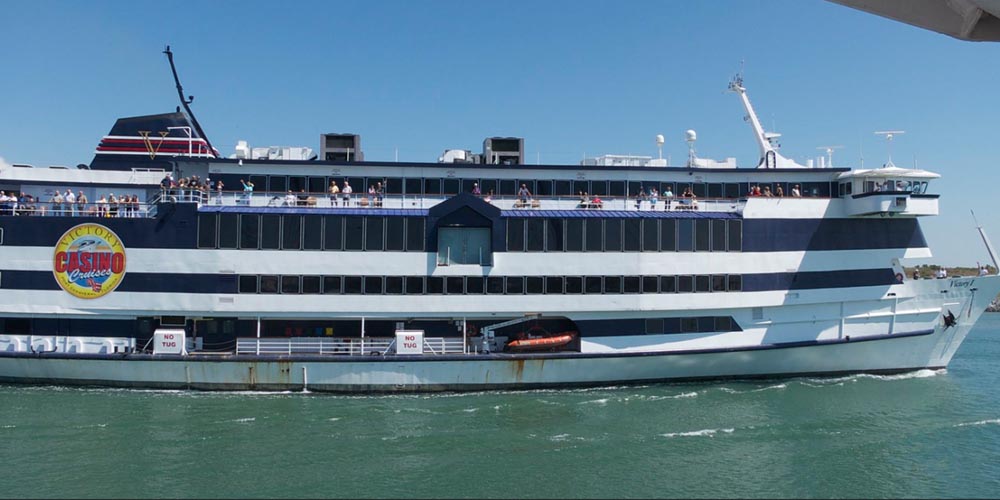 Victory Cruise Casino doesn't need an introduction – it is the most famous riverboat casino in Florida and also one of the top gambling boats in the USA. The cruise ship offers Vegas-style gambling experience to its passengers. Moreover, the cruises are available every day of the week twice a day.  
 The casino has over 630 popular slot machines and the only live Sportsbook in Florida. Also, you can play 29 table games on a spacious, 4-deck ship. 
Victory Cruise Casino is the only place in Florida where you can find roulette and craps tables, multiple Blackjack tables with liberal rules and limits as low as $5.
In addition to all that you get free entertainment during your cruise. Anyhow, if you are in Florida and didn't have the chance to get into this cruise ship, you can play at the online casino sites in the US. Free Spin Casino will be a great choice. 
Treasure Chest casino one of the most beautiful gambling boats in the USA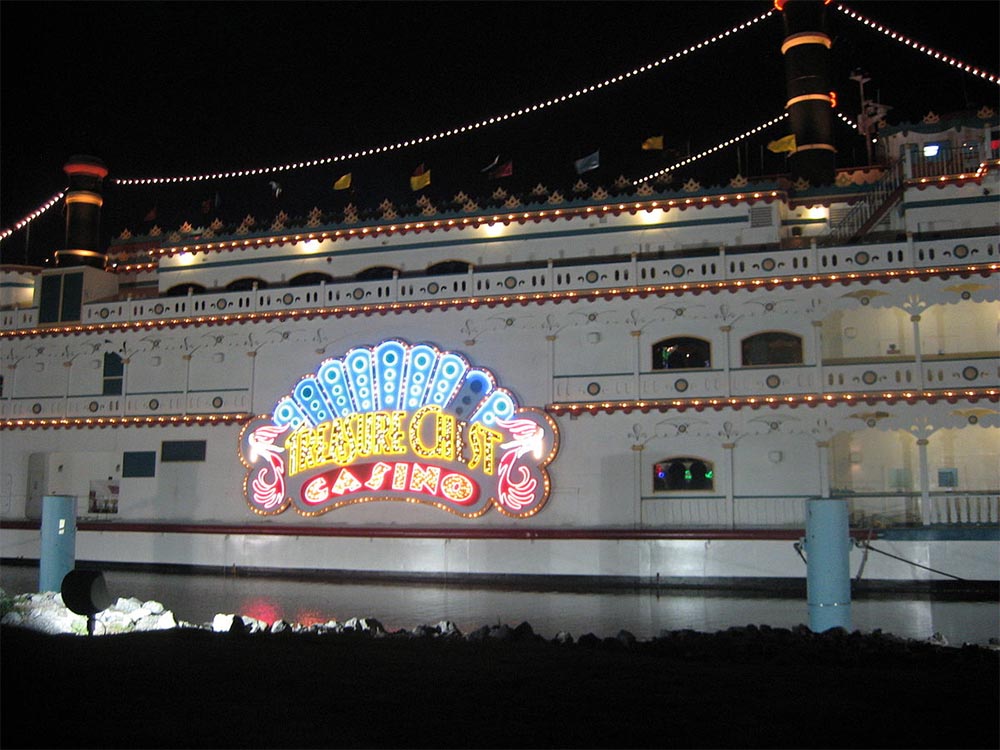 The next on our list is a riverboat casino in New Orleans Treasure Chest casino. 
Due to its luxurious interior and exterior design, it attracts passengers from all around the world. 
The casino is open until 5 am. You can find a big number of different kinds of slot machines and 36 table games. They include variations of poker, roulette, blackjack, craps, Fortune Pai Gow, and Mississippi Stud.
Grand Victoria Casino Elgin
Another gambling boat in the USA that offers Vegas-style gambling experience is Grand Victoria Casino in Elgin, Illinois. 
In its 29 850 square feet space casino offers over 1,100 video poker and slot machines. Moreover, you can play 36 table games here. 
The Grand Victoria has traditional exterior design and very elegant interior design. The casino also offers a variety of dining options for every taste. 
River City Casino
We continue our list with the riverboat casino River City Casino. It is located in Lemay, Missouri, in the greater St. Louis area. It will catch your eye with its big 90,000 square foot gambling space. 
The casino offers over 2000 slot machines and 55 gaming tables. 
Ameristar Council Bluffs
More specifically, Ameristar Casino Hotel Council Bluffs is another great riverboat casino that will give you amazing gambling experience on the water. It is situated on the Missouri River, Iowa. 
There is a 35,000 square feet gambling space on three levels. The casino offers 31 table games and 1,651 slots.
Ameristar also offers you a high-class stay in its hotel, which has 160 rooms and 8 eight luxury suites, and 32 whirlpool rooms.
There are also restaurants and a bar in the territory of the casino. 
Harrah Joliet
And we are closing our list with Harrah Joliet – a riverboat casino just 30 miles from Chicago (Joliet, Illinois). 
It is a casino on a barge docked on the Des Plaines River. Harrah Joliet casino offers 1,138 slot machines and a variety of table games. 
On the shore side, Harrah Joliet also has a luxury hotel with 204 hotel rooms and 4 restaurants.