Griezmann's La Liga Betting Specials: Could He Become No.1?
Antoine Griezmann is already one of the most successful players in the Spanish tournament, but could he become the No. 1? Here's what Griezmann's La Liga betting odds suggest.
La Liga has just begun and the best online betting sites in the United Kingdom have opened bets on the tournament. Some, like Unibet Sportsbook, offer specials on one of of the most popular players, Antoine Griezmann. The question is, then: what achievements can we expect from the French superstar?
Top Goalscorer (10.00)
Remember when he became the the top scorer in the 2016 European Championship? Could he win that title in La Liga?
Perhaps, but he's not the bookies' favorite. That would be Messi, who earned the trophy in the last two seasons and leads the all-time scoring records in the tournament. Still, Griezmann should not be underestimated: he is the fourth most prolific La Liga scorer, having found the net more than Suárez, who grabbed the award three years ago. Messi's reign in the competition has been interrupted, and could be interrupted again this season. If anyone has the power to do that, it's Griezmann.
Still, the French striker was only the sixth best scorer last season with 19 goals. This option is a bit of an inside bet—you probably shouldn't place high amounts on it, but betting a few Euros could earn you generous returns in case Griezmann has an explosive season.
Top Assists (6.00)
His chances are more realistic to become the player to give the most assists. He gave 9 in the previous season, which is not far from the award-winning Messi's 12. Moreover, he shows a steady improvement in this area: every year, he gives more assists for his Atlético teammates. He could very well outperform Messi and co. if he continues that tendency.
Number of Goals Scored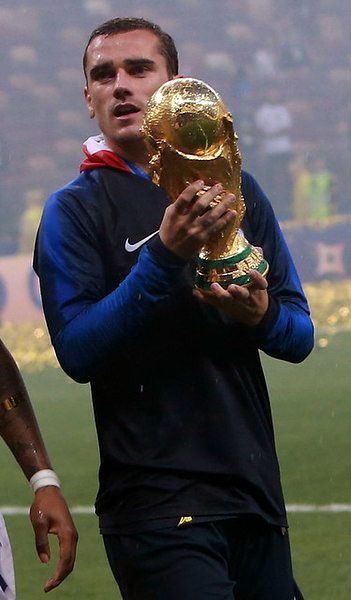 This is the safest of Griezmann's La Liga betting specials. Nevertheless, predicting whether he will surpass his scoring records from last term requires a bit of thought. There were two seasons between 2014 and 2016 when he scored 22 goals. In the following years, his goal output diminished a little, undoubtedly because he had to preserve some energy for the World Cup qualification matches and then the actual World Cup.
He will not have much time to rest this year, either. The newly-founded UEFA Nations League begins on Sep 6 and France will be in the spotlight, as they are playing the inaugural game with Germany. Punters are expecting a lot from the French national team at that tournament, so Griezmann will have to bring his A game there, especially since an early qualification for the European Championship will be at stake.
However, transfer rumors linking him to different teams have been circulated in the summer. They proved to be wrong when he wrote a message on social media where he called Madrid his home. But Griezmann will probably want to confirm his loyalty to Atlético with more than this post. That extra motivation could help him improve on his records and score at least 20 goals.
Which one is the best option among Griezmann's La Liga betting specials?
We are seeing his becoming the top assist-giver as the best pick. Griezmann has been close to winning the title last season and the betting odds for this option are very favorable. Do you agree with us? Do you think Griezmann has what it takes to make online sportsbook news in Spain? Let us know in the comments below!