Gyor Audi ETO Have the Best 2019 Women's Handball Champions League Odds
Posted: November 21, 2018
Updated: November 21, 2018
This articles explores the 2019 Women's Handball Champions League odds for the 4-time title holders, Gyor Audi ETO taking into consideration main contenders like the CSM Bucuresti and Rosov-Don.
Every year the best top-flight teams in European Women's Handball face off in this exciting handball event. It is a very competitive and prestigious tournament. The competition will be hosted in a country with a lot of handball history, Hungary. Hungary's Papp Laszlo Budapest Sport Arena gives venue to the event in 2019.
According to online sportsbook sites in Hungary, the reigning champions are Hungary's own Gyor Audi ETO who have won the competition 4 times! They would certainly be looking to win the competition on home soil and with support from Hungarian fans. It is also reported by online sports betting in Hungary that the Gyor Audi ETO team has the best 2019 Women's Handball Champions League odds.
Interesting overview of the 2019 Women's Handball Champions League odds!
The competition is separated into 5 stages, the qualification tournament, group matches, the main round, the quarterfinals and then the Women's EHF Final 4 where the semi-finals are followed by the 3rd place match and then the final!
Last season, it was Russia's Rostov-Don, Romanian's CSM Bucuresti, Macedonia's HC Vardar and Gyor Audi ETO KC which made it to the final. The 2 latter teams won the final in a tight match. Where the Gyor Audi ETO KC won by a slim 27-26 margin in overtime.
The best competing teams in all of Women's Handball!
Rostov-Don placed fourth last year but this season they might have better odds to win. Their odds are 6.50. They recently won the Russian Super League and are in great form, they have already beaten teams like Denmark's København Håndbold and Sweden's IK Sävehof.
While Brest Bretagne drew 29-29 with Rostov-Don. They are a great team from France and were 2nd in the French Women's First League. Their odds now are 9.00 to win the EHF Champions League. Unlike other teams, they are now making their first European outing so all the handball journalists would be following their progress to see how well they do.
CSM Bucuresti is never the wrong pick…
CSM Bucuresti is ranked among the world's most valuable women's handball teams. The team established itself in Europe and in Romanian hearts by winning the EHF Champions League in its debut season in 2016 by beating Gyor Audi ETO KC. After their initial win, they keep reaching the semi-finals year after year.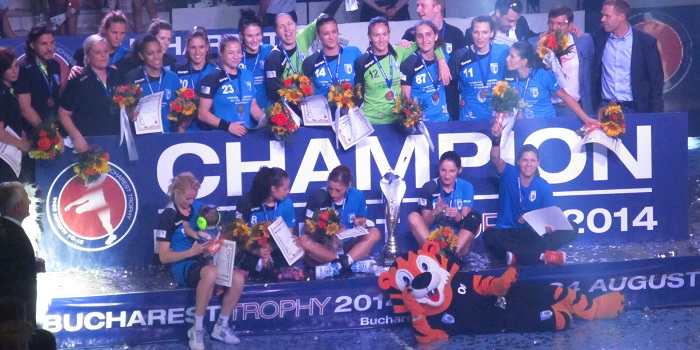 They have also won Romanian's national league, for a record, four consecutive times. They are 2-time winners of the Bucharest Trophy as well. Their odds to win the competition this season is 3.10 and they stand a good chance of winning.
Gyor Audi ETO, the 4-time Defending Champions!
A lot has been said about Gyor Audi ETO KC already. Their impact on women's handball in the last 10 years can not be understated. They are one of the teams that might have the longest list of notable former players throughout its history. Its star-studded team has the best chances of winning with the odds at 2.35.
Its current players are some of the best in handball today. They have centre back and Norwegian captain, Stine Bredal Oftedal, star players like Czech's Jana Knedlikova and Hungary's Anita Gorbicz and 3 different quality goalkeepers each of whom plays for their own country's national team!
2019 Women's Handball Champions League odds

Gyor Audi ETO
2.35
CSM Bucuresti
3.10
Rostov-Don
6.50
Brest Bretagne
9.00

All odds to be found at 1xBET Sportsbook
GAMBLING News -
December 2022