US Powerball has paid out billions of US Dollard to the luckiest players over the decades. One of the most popular lotteries in the world has been going on since 1992. Currently, one single jackpot winning ticket would mean almost half a billion dollars. Winning that would change your life, so now would be the perfect time to start playing. And we're here to help you, even if you don't live in the States. Especially then, actually. Keep on reading if you want to find out how to play Powerball outside the United States of America.


Where to Buy Powerball Tickets Online – The Best Online Lotteries
First things first: if you don't live in the USA, walking off to the streets of New York City and buying a lottery ticket can be quite tricky. However, life becomes way easier when you are a GamingZion reader who wants to play. Check out our list of online lotteries and pick your favorite. For US Powerball, we recommend theLotter. Click the play button, let the page load, and sign up for a new account. All you need to register is an email address, a password, and your country of residence. Accept the Terms and Conditions and click Sign Up. If you already have an account, just log in. Once you're done with the registration process, it's time to move forward. Now you can finally buy your US Powerball ticket online!
How to Buy US Powerball Ticket Online – A Guide to theLotter Online Lottery
Now that you logged in to your account, it's time to pick your Powerball winning combinations. Find US Powerball and click Play now. It will be easy to find, it's on the main page at all times as everyone loves winning hundreds of millions of US Dollars. You can buy Standard, Syndicate, or Bundle tickets. For the simplicity of this article, we will explain how to buy Standard Powerball tickets from abroad. The most important thing you need to know about the other two options are that they cost more to buy, but they also give you much better chances to win the lottery jackpot. After clicking Standard, you can select your Powerball winning numbers. Pick 5 numbers, plus an extra. This extra is the so-called Powerball. If you want to select randomly, simply click Quick Pick on the top right corner.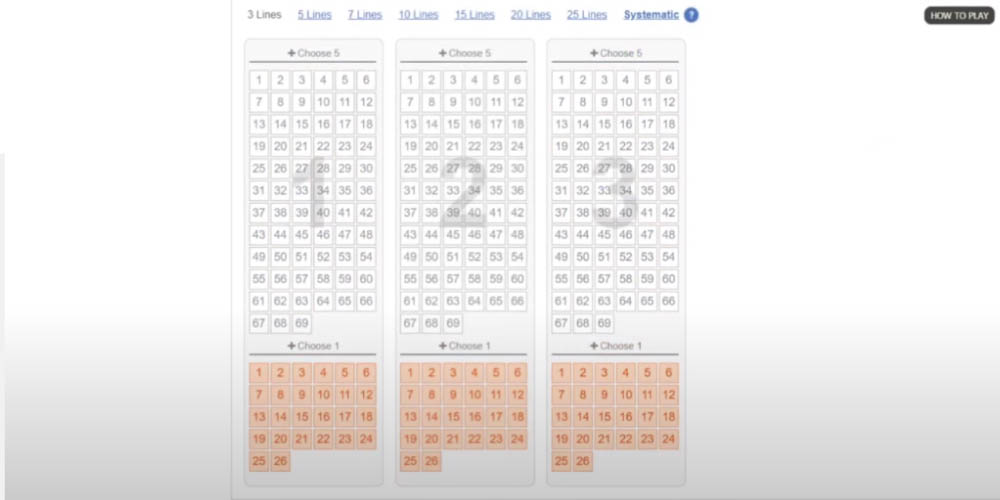 Deposit Money at theLotter and Purchase US Powerball Tickets Outside the United States
You chose your numbers, so you should click Play. Add your details: First name, Last name, Birthday, Street Address, City, ZIP Code, and Phone number. Set your deposit limit for Gamble Awareness reasons. Accept the Terms and Conditions. Select your preferred depositing method and add your banking details. (Read our review about theLotter to see it is a trustworthy site with lots of safety encryptions in place!) Submit your purchase, and you're done, the ticket is yours. All you have to do is wait for Thursday's drawings and see if you won. You can visually see all these steps in our US Powerball video guide:
 How Powerball is Paid Out – A Guide to Claim Your Millions
At this point, you already know how to play Powerball outside the United States. The only question is what happens when you win the Powerball jackpot. Well, then you get rich. You'll have two options for payday: you can either get the whole sum in cash. Another option is that you get it annually in a total of 30 installments for 29 years. This way, your yearly jackpot is increased by 5% which is better than the USA's average yearly inflation rate. You need to know that income taxes apply in both cases. It's also important to know that you can choose to remain anonymous if you win the Powerball in Delaware, Kansas, Maryland, North Dakota, Ohio, and South Carolina. However, in the rest of the states, US Powerball winners must reveal their identity. Nevertheless, I think it's a price we are all willing to pay.
Rules and Powerball Winning Combinations – Can You Win with 2 Numbers?
As you can see in the video, there are two pools of numbers in US Powerball. In the first one, you select 5 out of 69 numbers. Then you select one out of 26. If you get the Powerball right, you already win, without any other hits. However, without the Powerball, you need at least 3 out of 5 correct numbers to win. Here are the winning Powerball combinations, together with your US Powerball winning odds:
| | |
| --- | --- |
| Powerball Winning Combinations | Powerball Winning Odds |
| 5+1 | 1 in 292,201,338 |
| 5 | 1 in 11,688,053.52 |
| 4+1 | 1 in 913,129.18 |
| 4 | 1 in 36,525.17 |
| 3+1 | 1 in 12,494.11 |
| 3 | 1 in 579.76 |
| 2+1 | 1 in 701.33 |
| 1+1 | 1 in 91.98 |
| 0+1 | 1 in 38.32 |
Is There a Strategy to Winning Powerball?
The Internet is full of online lottery guides, and of course, scams. Powerball predictions and strategies often promise you the hidden information that definitely turns you into a billionaire in an instant. They promise to hack the system. To feed you with information only they can hand over to you. They claim to know ways to win Powerball. That they revealed the secret Powerball patterns. They reveal the winning secrets for you. You shouldn't trust those guys. Chances are, they are just trying to get a few dollars out of your pockets. As US Powerball is a fair and random game, there is no way to find its glitches. Powerball winning secrets lie in one thing only: luck. However, you can always turn luck in your favor, by trying to increase your odds.
How Can I Increase My Chances of Winning the Powerball?
There are certain online lottery winning strategies that may or may not work. However, there is a sure way to increase your chances, and in this case, you can mathematically prove it. That is by buying Syndicates, instead of Standard tickets. As you know, we only showed you how to buy Standard tickets in our guide before. Now, if you want better chances to win the Powerball jackpot, it might be about time that you buy Syndicates. It means that instead of playing alone, you join a group of players. This way, you can buy more lines for a discounted price. In addition, if all your lines lose, but one of your partners in crime's lines wins, then you're also a winner. So, your Powerball winning odds get better this way.
How to Play Powerball Outside the United States – A Quick Guide by States & Countries
In the vast majority of the USA, you can simply just walk into the gas station, grocery store, or any other shop that sells lotteries, and buy your tickets. Unfortunately, 6 of the states are not this lucky. In addition, people from all over the world want to claim the hundreds of millions of Dollars that the Powerball offers. It's a bit more difficult for us who live abroad. Let's see what we can do! Let's take a look at some things on where and how to buy tickets in the forbidden states.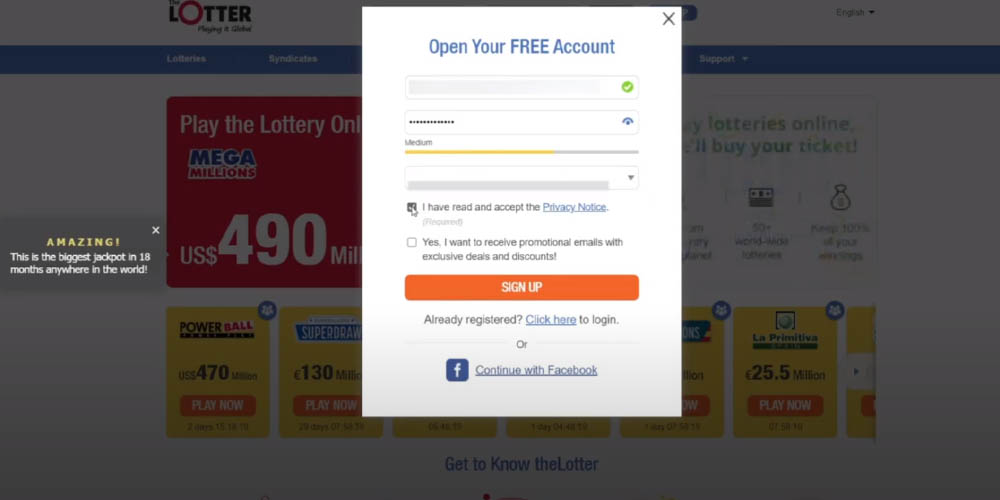 How to Play Powerball in Forbidden States?
Alabama, Alaska, Hawaii, Mississippi, Nevada, and Utah. If there is one thing that's in common between these states is the national tragedy. In other words, it's the lack of US Powerball tickets to buy. Needless to say, there is a solution to such a problem. Players from these states need to use a VPN. Please read our guide to get familiar with the best VPN providers. With the help of a VPN, you can pretend to be living in another country, basically. This way, you can easily register at theLotter through GamingZion. This is how you can play Powerball outside the allowed states. But how to play Powerball outside the United States?
Play Powerball Outside the USA – Is Powerball legal in India?
Long story short: yes, US Powerball is a legal online lottery in India. You won't even need to install a VPN extension to play US Powerball online from India. All you need is a registered account at theLotter. If you need further instructions on how to do it, well, go to the top of this very page, and read again. If you, for any reason, have doubts about theLotter, you should check out the available online lottery sites in India. There are quite a few of them, all providing top-quality services with many national lotteries to buy easily and quickly.
Can I Play US Powerball in South Africa, Australia, Germany, and Canada?
The case is similar to these countries as well. Well, most of them. If you live in South Africa, Australia, or Germany, your only task to do is what you see above. Go to theLotter, register, deposit, play, and win. That's it. Of course, we understand if you want to see more options. Please visit GamingZion's online lottery section to see which lotto site you like the most. On the other hand, Canadian players are, unfortunately, not allowed to open an account at theLotter. For them, we recommend to take a look at the Canadian online lottery directory.