Cash in Jake Paul vs KSI Betting Predictions
Posted: February 21, 2020
Updated: February 28, 2020
Jake Paul opens up as bookies' favorite over KSI

Battle of brothers is next in the store
British rapper and internet personality KSI is rumored to face off the youngest Paul brother. Making a successful pro debut against AnEsonGib, Jake issued a challenge to Logan's former rival, vowing to avenge his sibling. Several betting agencies have even set up Jake Paul vs KSI betting predictions. Let's puzzle out the situation.
Following his controversial victory over Logan Paul, Olajide Olatunji has been concentrating on his music career. Yet he has unfinished business on the ring and with the fans' expectations on the line, another crossover may happen soon. The leading online sportsbook sites in the UK have already opened the books for the potential matchup. Will the YouTube stars keep up with the grudge match though?
Jake Paul vs KSI Betting Predictions

| | |
| --- | --- |
| Jake Paul | 1.80 |
| KSI | 2.10 |
| Draw | 12.00 |
The American leads Jake Paul vs KSI betting predictions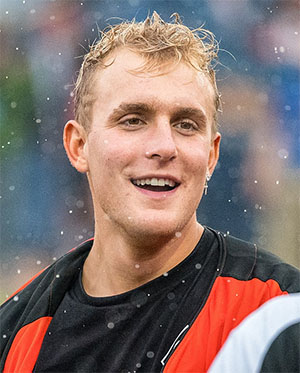 In the wake of Logan's arguable loss, Jake promised to take revenge from Olatunji. The British influencer agreed to step back into the ring against the younger Paul brother if the latter proves his worth. KSI dared Jake to defeat AnEsonGib, if he wanted to have a shot at him.
The Ohio native went on and knocked Gib out 2 minutes into the first round. However, it wasn't his victory that made headlines in online sportsbook news in the UK. Having his hand raised in victory, Jake called KSI out. The YouTubers had a tense stare down on the ring, engaging in a war of words.
It's not clear if the Brit accepted the challenge, but Jake kept on taunting him in his vlogs. The 23-year-old even revealed that their managers were gearing up to discuss plans for a tentative boxing match. The process has since been stalling. Jake thinks his words fell on deaf ears because KSI fears to be eventually defeated by a Paul.
Seems like Coral Sportsbook tipsters share his point of view. Currently, the American YouTuber is drawing ahead as the frontrunner of the matchup. He came forward as a stronger boxer, winning his first professional fight. He is more collected and good at focusing on his opponent. Considering the ring experience, Jake has more advantages. He has already defeated KSI's brother Deji in a white-collar boxing match, leading the opponent's team to throw the towel. Unlike KSI, Jake prefers finishing rather than going the distance.
A lead-up to the Battle of Brothers
While another KSI vs Paul matchup sounds enticing, there is an odor of publicity campaign cleverly conducted by the Pauls. Usually, there is some kind of a lead-up to their content that gains as much of an uproar as the main storyline. This time, experts suspect that the brothers are gearing up to cross gloves if the KSI bout comes into fruition.
Despite trading at the odds of 1.80 against Olatunji, nobody knows whether Jake can prevail over his brother. Pal YouTuber Ben Phillips has not ruled out a showdown between the siblings. He recalled their rigid feud, accompanied with diss tracks and verbal exchanges on social media. Both are naturally competitive and it will be quite lucrative to take it to the ring.
If they master up that bout, Jake will probably come forward as the underdog. Regardless of his loss to KSI, Logan is always in the center of attention. There is a constant hype around him and a lot of pressure as well. He may be the frontrunner but Jake can come out as the winner. Nevertheless, the bout with Olatunji is a priority. If you intend to follow Jake Paul vs KSI betting predictions, make sure to check our latest review about Coral Sportsbook.
GAMBLING News -
December 2022