Ozil remembers where he comes from, but asserts he's German
Ozil, the German World Cup winning player of Turkish origin, has released an open letter on his social media accounts in efforts to defend himself from backlash due to him posting a picture with Turkish president Erdogan, per online sportsbooks in Turkey.
"Like many people, my ancestry traces back to more than one country," said the current Arsenal player, who has made his start with Schalke – having been born in Gelsenkirchen – before moving on to Werder Bremen and later on Real Madrid. "Whilst I grew up in Germany, my family background had its roots firmly based in Turkey. I have two hearts, one German and one Turkish. During my childhood, my mother taught me to always be respectful and to never forget where I came from, and these are still the values that I think about to this day."
He stressed that all they talked about was football, and nothing related to politics. Erdogan himself was a football player in his youth so it's not surprising they would have touched upon those topics, although it's also undeniable the Turkish president used this sessions as a photo opportunity to get support his way, considering Ozil enjoys a large fan base in Turkey.
"My job is a football player and not a politician, and our meeting was not about endorsement of any policies. In fact, we spoke about the same topic that we do every time we have met – football – as he too was a player in his youth."
The highest paid player of Turkish origin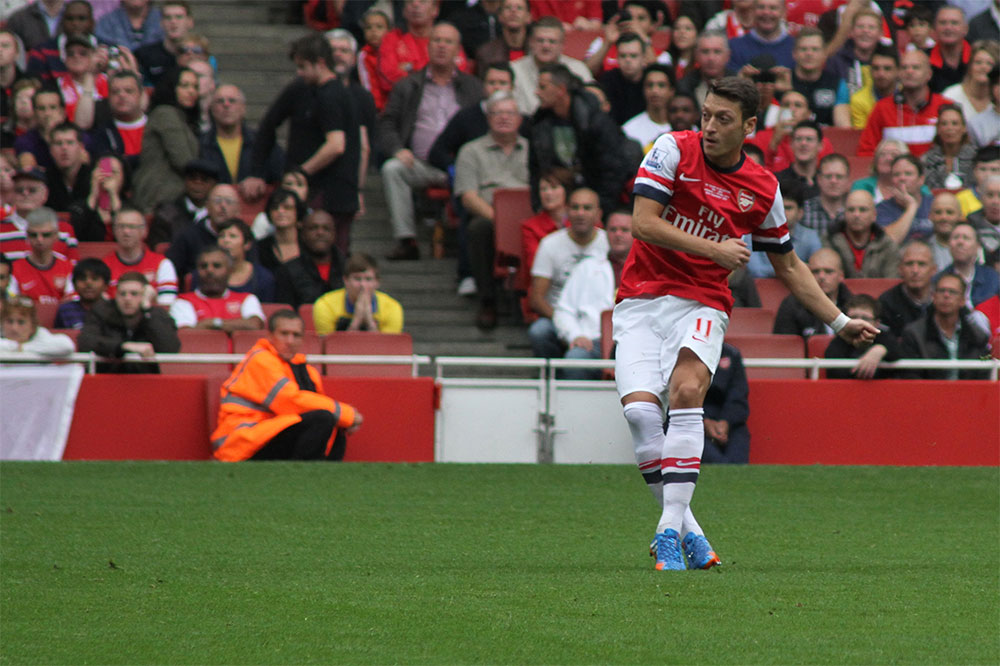 Ozil has been playing for Arsenal since 2013, when he moved from Real Madrid on transfer deadline day for a fee believed to be around £42.5m – the most that expensive transfer for Arsenal at the time, until it was first broken by Lacazette's move (£53m) and then by Aubameyang's (£60m).
After signing a contract extension with the Gunners until 2021, the former Real Madrid midfielder has become the club's highest paid player with his earnings coming in at £350,000 per week, which equals over £18m per season. Despite receiving flack from the press and German supporters, Ozil is regarded as one of the finest players in his position in the modern game, and that's why he has been rewarded with the hefty new contract deal, providers of internet betting in Turkey report.
Ozil will soon 30 years of age (October 15), so this will have been one of his final big contracts; once a player hits the 3-0 mark, his form and performances normally start going down. But we can expect to see the 29-year-old still represent Germany at the 2020 Euro and very likely at the 2022 World Cup, which is likely to be his final big tournament for the country that's heavily criticizing him at the moment.
He was one of the big stars that helped Germany clinch their fourth World Cup title in 2014 Brazil, so it seems somewhat unfair from the German supporters to be criticizing Ozil for his picture with the Turkish president. But it's also worth noting that his performances during the more recent 2018 World Cup in Russia were below par, which perhaps served as an excuse to attack the midfielder even more.