All mixed martial art fans must be familiar with the PFL 4  on July 11, 2019, at the Ocean Resort Casino in Atlantic City, New Jersey. This will be the fourth Regular Season event of 2019 and include fights in the welterweight and women's lightweight divisions. Let's see the Kaufman vs. Samad betting prediction!
| | |
| --- | --- |
| PFL 2019 #4: Regular Season | Odds |
| Sarah Kaufman | 1.33 |
| Roberta Samad | 3.00 |
The Women's Lightweight Main Card event will present Canadian Sarah Kaufman fighting Brazilian Roberta Samad, according to the online sportsbooks in the United States. The winner of the fight will receive 3 points. If the fight ends in a draw, both fighters will receive 1 point. Place your bet on 22BET Sportsbook today!
Sarah Kaufman has come a long way
 Kaufman started doing Muay Thai with her coach, Adam Zugec, in late 2002. She had never watched a fight or even been interested in combat sports, but it seemed like it might be fun to take. Indeed, it was and the newbie immediately became addicted.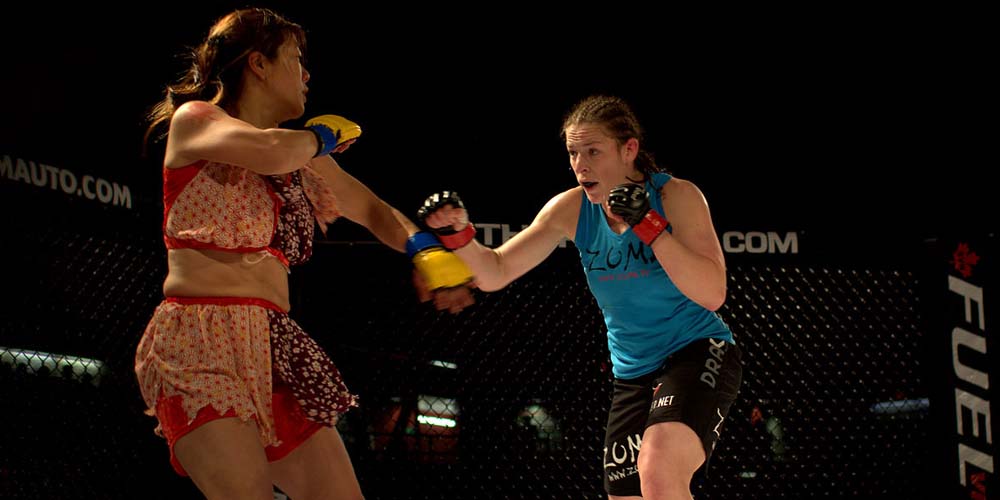 Back then, she only took one class per week, due to commitments with dance, school, and work. However, a year later she was already taking as many classes as possible. Then another year later she started grappling. Still, with no ambition of fighting, she just wanted to achieve her best.
Kaufman has always admitted being an extremely competitive person. So, no surprise, as her technique improved, just wanted to try participating in some local tournaments. Her first ever tournament was in late 2004 and it was so much fun that she kept on going. 
Kaufman dominated her first fight this season
Kaufman had her lightweight debut earlier this year and it went about as smoothly as possible. Fighting against Morgan Frier, she dominated her first fight to earn six points in the women's lightweight standings. Kaufman submitted Frier with an arm-triangle choke in the opening round at PFL Week 1.
The fighter clearly wants to be the best in the field and is aware of her speed and strength as well. Only 33-year -old, she is having a pretty good record of 21-4-0 (win-loss-draw). Canada's top female mixed martial artist has come a long way, she is in the sport for 13 years already. By now, she is one of the most successful female fighters at the moment.
The comeback was not easy
Kaufman has struggled to find fights since she parted ways with the UFC in December 2015. However, winning her last game gave her a boost of motivation. In order to be in her best possible shape, Kaufman puts a lot of effort into her training. She even trains with men bigger than her. During spring she was training with men who were competing at the amateur nationals for MMA
The former Strikeforce women's bantamweight champ moved up to 155 pounds for the first time and was able to use her experience to take down the larger Frier before advancing into position to finish the fight.
Samad recently became a professional mom
On the other hand, Samad knows how to fight hard as well. In fact, she had no choice but to be a fighter. As a kid, she would fight too much in school and her dad put her to judo. So, what started as a discipline, ended in a black belt, according to the online gambling news in the United States. 
What started as a discipline evolved into a black belt in Jiu-Jitsu. Samad was busy training in her home country when a fighter from Cincinnati walked into her gym to train. In the meanwhile, she became a mother and after taking three years off work she returned to her passion.
Now, that she is back, she is training daily, and already the payoff has been big. The 31-year-old Samad is fresh off a victory over Moriel Charneski. It's her first pro bout since the arrival of her daughter. So, she has a good reason for what to be enthusiastic about. Preparing for a fight take hours of training each day. And in order to prepare, Samad brings her toddler to the gym each day, she is training her daughter to be a strong and confident woman.
Better follow the event and place your bet soon. According to the latest review about 22BET Sportsbook, July 11 is going to be a night worth waiting for!