Pro Kabaddi League odds predicted Bengaluru Bulls' victory, and they were wrong. In this article, we explain to you which teams you should back in the future if you are to bet on kabaddi, and which site offers you the best kabaddi betting odds.
Pro Kabaddi League matches are played every week. By now, we are at Week 6, which means halftime of the season. The winner of Pro Kabaddi League is officially announced on 5 January. Bengaluru Bulls and Fortune Giants are seemingly the strongest teams today – based on Pro Kabaddi League odds as well as previous performances.
However, they still have a lot to achieve if they are to win the league. For example, Bengaluru Bulls faced U Mumba last night. The Bulls were clear favorites to win with their 2/3 odds at Betrallyindia Sportsbook. Bengaluru Bulls won 6 out of their 7 games before, and they are the leaders in Zone B. Pro Kabaddi League odds suggested that they were going to keep on winning.
Pro Kabaddi League odds upset by U Mumba…
The odds for Bengaluru Bulls to tie U Mumba were at 6/1. That is because Mumba tied only once till last night, while Bulls had no draw at all. One team was going to win the derby, as suggested by Pro Kabaddi League odds as well. And online sportsbooks in India were perfectly right when suggesting not to bet on a draw.
Yet the odds were upset by the underdogs. U Mumba had 27/20 odds to beat Bengaluru Bulls and they did manage to defeat their opponents. The game ended 32-29 in favor of U Mumba, meaning the Bulls lost for the 2nd time this season. However, the teams have no time to rest…

Will U Mumba keep on winning?
U Mumba doesn't have much time to celebrate their surprising but glorious victory against the Bulls. They have yet another kabaddi match later on tonight. They will play against Tamil Thalaivas. This time, online sportsbook news sites in India talk about them as favorites for the match. They have 10/19 odds to win, while those for Tamil are 27/20.
Bet on Fortune Giants v Bengaluru Bulls
The greatest derby of Week 6 will definitely be the one between the two of the strongest teams in Pro Kabaddi League. Fortune Giants will host the Bulls at TransStadia Indoor Arena in hopes of keeping the win at home. Both teams will need all points because while Fortune Giants hope to reach the top spot in Zone A, the Bulls try to retain their leading position in Zone B.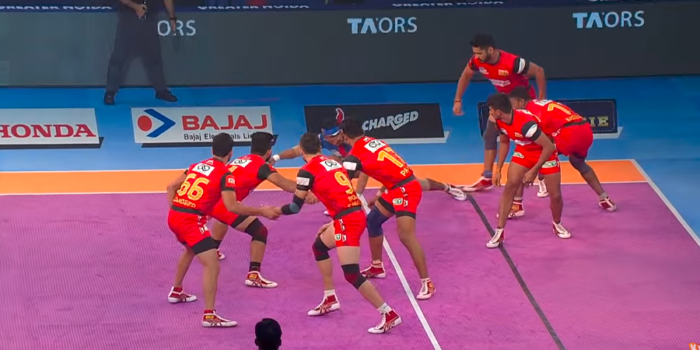 Which won't be easy, especially now that opponent see they are not invincible. Their loss against U Mumba not only gives more confidence to the winning team. It will also break their myth of being unstoppable. However, should the Bulls lose, they'd still be among the favorites to win Zone B according to all sites in the online sportsbook directory.
Where to find the best Pro Kabaddi League odds?
The above-mentioned odds are all from Betrallyindia Sportsbook. They offer the best Kabaddi betting odds in 2018, by far. You should sign up for a new account if you want to bet on kabaddi – and make money out of your predictions. It won't hurt to see the latest review about Betrallyindia Sportsbook either. Knowledge is power, and you can find a lot of information here. Don't miss out!