As if people don't have better things to do. This week saw yet another round of criticism over the lewd and sexy outfits at ICE London Trade Show. There were over 600 exhibition tables with many performers and models helping out in the various booths and tables.
Introduction: Sexy Outfits at ICE London
But no sooner had some photos appeared in the mainstream media, then various politicians and (God help us) religious leaders started tearing their hair out. It's true that organizers had promised to "clean up" their act from the days of more explicit shows from a couple of years ago. And I thought they did a good job. Luckily, online gambling sites in the UK don't suffer this sillyness. The UK Gambling Commission confirmed that they are aware of these criticisms, but insist that it's for the individual organizers to enforce a dress code or code of conduct. They also added that most of the exhibitors were not working under a UK gambling license. Quite rightly….they don't care. And nor should they.
Sexist? Moi?
Last year photos appeared showing women in various stages of undress. These saw publication in the Daily Mirror and the Guardian….so no surprise there at the moral outrage. Online gambling news in the UK pointed out that Bugaria's EGT Gaming, you could see models in stereotypical Egyptian and East Asian clothes. OMG…did someone say cultural appropriation? Another gaming business, Kajot from the Czech Republic saw a parade of models wearing gorgeous leather catsuits. I'm sure a number of cats were upset at their feline image being available for the purposes of gambling promotion. Won't anyone think of the poor cats? Apparently, yes. It turns out that Kajot was in violation of the dress codes and the models were to change attire. Another online presence was with Partypoker.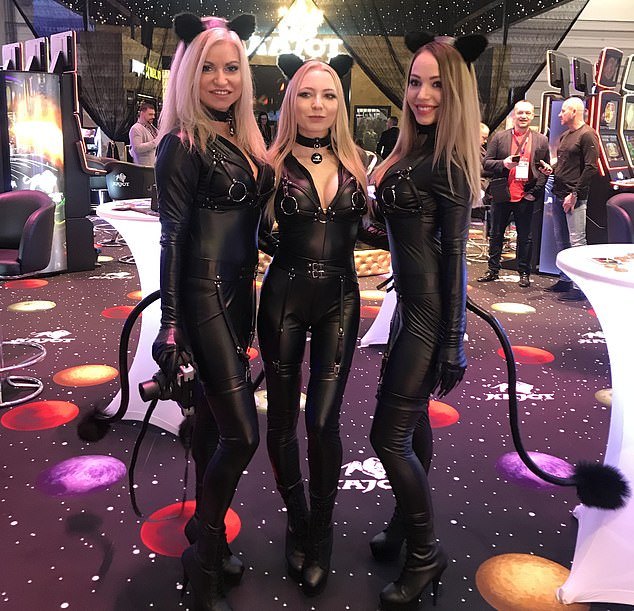 Code of Conduct
The organizers said, "ICE has a full commitment to providing a safe, respectful and appropriate environment for all of our attendees. Our Code of Conduct makes this clear, and includes specific dress requirements for stand staff." The manager director of ICE London, Kate Chambers, said that the code of conduct was a joint project with with the help of a cross-industry Diversity Working Group. We treat any breach with the utmost seriousness. There's no doubt that a cultural shift has been required in our industry for some time. And the overwhelming majority is supportive of the importance of inclusion and diversity. I believe we're seeing progress, but there's no room for complacency.  We stand by our commitment to providing a safe working environment for everyone across our events."
The Attendants Are Happy
Other businesses were treading a fine line between acceptable and not. For example, Interblock, which makes automatic casino tables are in partnership with Playboy. So it follows that the models were dresses as Bunny Girls. There were a plethora of mermaids, Bavarian barmaids and angels. Many of the models were sporting mini-skirts. A large number of the 35,000 conference attendees took time to pose with the girls. It was all a long way from the explicit and sultry clothing (or lack of) that the girls wore a couple of years previously. The UK Gambling Commission CEO Sarah Harrison, said at the time that, "men representing their companies wearing expensive suits whilst their female colleagues were to wear nothing more than swimsuits." Sounds good to me! In 2018 there were pole dancers and hostesses with a more adult theme. And to think, I missed that show!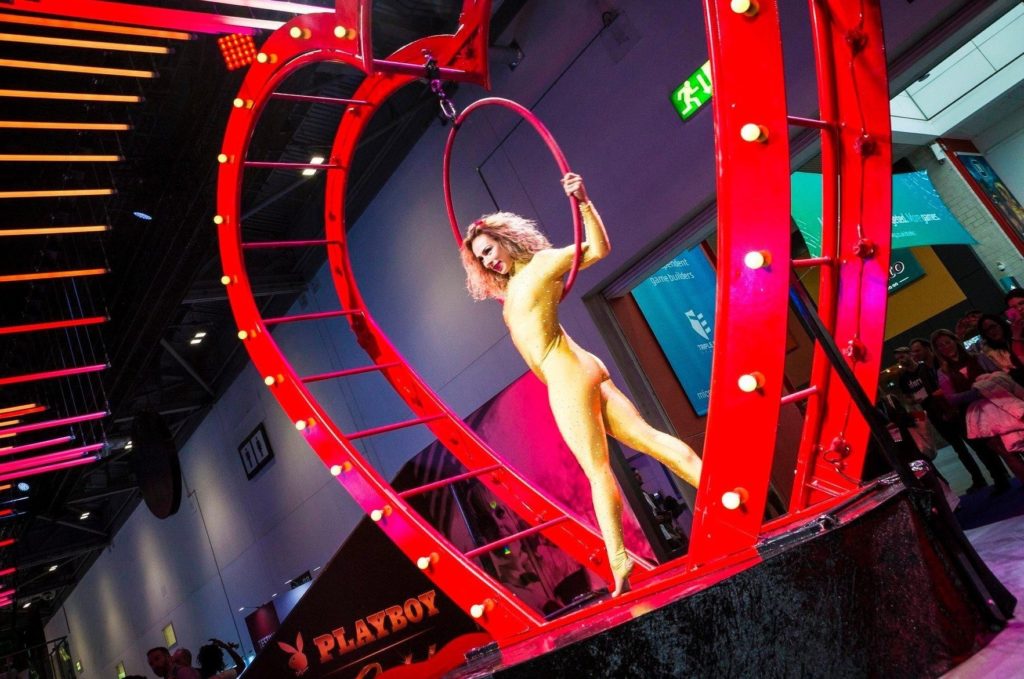 Trust The Church To Get Involved
As reported by the Guardian, (who else!) the Labour MP Carolyn Harris said that the suggestive outfits were "archaic and beyond disrespectful. "Whilst these are overseas companies, the fact they are promoting their business at a UK conference is not acceptable," Harris said. Yes, you've guessed it…she's the Minister for Women and Equality! "I am shocked and saddened to see women still being used as sex symbols. They are there to drive business by the men in suits throughout the gambling industry. This outdated marketing tactic feels sordid and irresponsible. This should not be happening in the UK," Harris added. It gets better. The Lord Bishop of St Albans, Alan Smith stated, "Gambling firms, like Partypoker, are currently free to advertise their products and market their companies in a largely free way. With that freedom comes responsibility. Sexualized objectification, in any form, is totally unacceptable for any industry." Unless they're pretty! Or young boys!
Conclusion: Sexy Outfits at ICE London
This year the CEO of the Gambling Commission, Neil McArthur, actually had a stand at the show. He was also a keynote speaker. So, to sum up. Just another silly storm in a teacup. For a bored and petty right wing or lesbian loving, me-too, press. And for your information, the girls looked great!