"It was disappointing to limp over the line." Admitted Eoin Morgan, England captain. He had little choice. Towards the end at the New Wanderers Stadium it looked like the result had gone for a walk. England have yet to develop the ability to close down a game hard and it shows. They get frazzled when the pressure's on. The T20 betting odds on England in South Africa reflect this. "We would have liked to win commandingly." Lamented Morgan – as if no one else ever does.
That the T20 betting odds on England in South Africa aren't lots longer at Bet365 etc can be put down to their luck. Despite their ability to go to pieces faster than a sheep treading on a landmine, England often wins through. This is usually due to the heroic efforts of an individual, possibly two. The idea the whole team might lift their game together is a pipe-dream, apparently. No one is taking advantage of UK gambling laws to bet on England without a healthy dose of optimism.
T20 Series Winner Odds

South Africa – 13/8

England – 1/2 
England Stagger To A Draw Ahead Of T20 Series 
"We gave ourselves a sniff at the end." Quinton de Kock observed, admitting "it was cool to make it tough for the England guys." Which is a sentiment that will carry over into the T20 series ahead. You might not bet on South Africa to win the series, but they way they've been playing they just might. Their 13/8 series win odds look somewhat more attractive than the 1/2 T20 betting odds on England in South Africa. However, it's not all bleak news. England didn't lose.
SA vs Eng Series Score

South Africa 

3-0

 – 9/1

England 

3-0

 – 11/4

South Africa 

2-1

 – 9/4

England 

2-1

 – 11/8
This was mostly due to the efforts of their bowlers. Saqib Mahmood and Moeen Ali made it very tricky for the South Africans. As did Adil Rashid for whom Morgan had much praise. "His control and variation were outstanding." Said his captain. Rashid got 3-51 and said; "I felt good. It was nice to play on a spicy wicket with turn and bounce." Perhaps with him on form they can beat the T20 betting odds on England in South Africa online sportsbook sites in the UK offer.  
Get T20 Betting Odds On England In South Africa At Bet365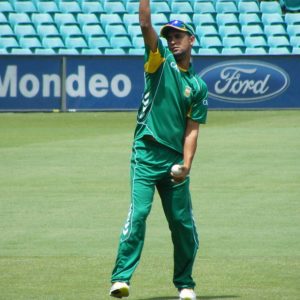 The T20 betting odds on England in South Africa aren't for the faint-hearted. Bet365
 knows it's going to be close either way and their prices are in line with that assumption. Fortunately, they offer up several other opportunities for the canny gambler who wishes to bet on T20. For a start, you can attempt to guess the exact series score, which given the performances thus far will be tricky. 2-1 to England will get you 11/8 but 2-1 to South Africa just 9/4. England winning 3-0 is 11/4.
Aside from the scores, there's also T20 betting odds on England in South Africa of a more individual nature. Whilst the top South African batsman odds are giving de Koch the nod at 11/8, Bavuma gets 11/2. He could be worth a punt. The top England batsman odds are more tricky. Buttler gets 9/4 but Roy is at 5/2 and Bairstow at 10/3. Although it might be that 11/2 on Denly that tempts most among the wagers available at online betting sites in the UK like Bet365.
We take a look at why the T20 betting odds on England aren't as good as they should be.