Phil and Gary Neville, famous brothers from the world of football – Image source: Flickr
There are families, where we can find not just one, but several famous athletes. Either in different generations or in the same one. The most common examples are famous Father-Son athletes, but brothers and sisters can be equally talented. We collected a list of the most famous sports families, see them below. 
At the weekend the youngest from the Maldini family, Daniel Maldini got the chance to play in AC Milan's team. He is the grandson of club icon Cesare Maldini, and the son of another Milan legend, Paolo Maldini. Hopefully, he can become a similarly important player at the club, which has a tradition at the family. But the Maldini men are not the only ones where newborns inherited their parent's talent.
In the most famous sports families, we find several talented generations
Surely everyone knows a famous father and son athletes combination, like Formula 1 drivers Keke and Nico Rosberg, Jos and Max Verstappen or Graham and Demon Hill. Looks like in motorsports it is more common for sons to follow the steps of their dads. Whatsmore, the sons can often exceed their fathers' results like in the case of Max Verstappen. He has a real chance to become a world champion which his dad could only dream of. His odds are 7.50 at bet365 to win this season.
The most famous sports family in motorsports must be though the Andrettis who have five family members racing at the top level. First was Mario Andretti who is the only person in the world to have won the Daytona 500, Indy 500 and Formula 1 as well. He had a twin brother, Aldo who was also competing. He sadly suffered some major accidents and couldn't achieve the same successes as his brother. Not like the sons of Mario, Michael, and Jeff.  Both of them competed in Indy Car in 1991 along with their cousin, John against their dad. The youngest generation of the family is represented by Marco Andretti, who is driving in the Indycar Series. His best result so far is finishing fifth there and third at Indianapolis 500.
Famous sports siblings
But sports talent can appear in a family in a different way. Not inheriting it from your parents, but to have it in both children, like in the case of the Williams sisters. We don't need to introduce them, as Venus and Serena Williams both belong to the most famous women tennis players. Though Serena is the younger, she managed to achieve even bigger successes than her sister, winning 23 Grand Slam titles compared to her sister's seven victories.
They also play together in doubles, with similar successes, winning 14 GS titles so far. They have been almost unstoppable when they played together, but they haven't done it since 2018. As online gambling sites in the US were mentioning, we might see them again to compete alongside each other at the Tokyo Olympics in the summer.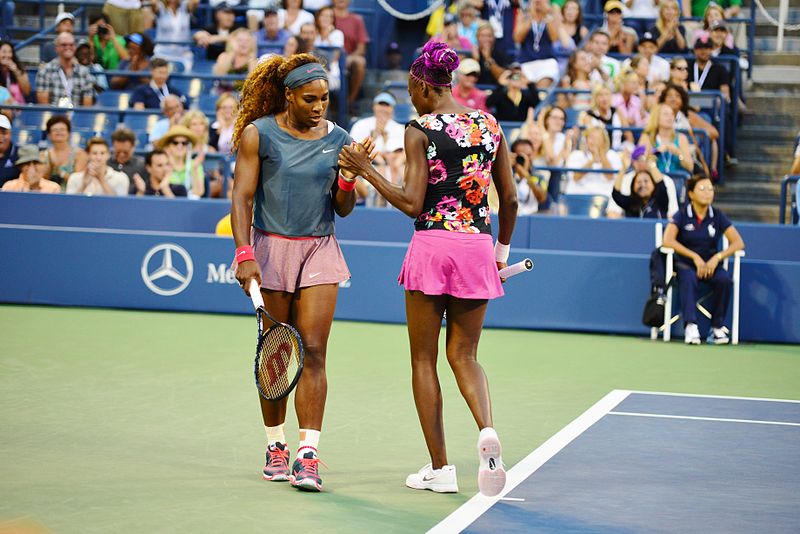 Also, great tennis players are the Murray brothers, Jamie and Andy Murray. Andy got better results in singles, winning the Wimbledon title twice, while Jamie is more specialized in doubles and mixed doubles winning seven Grand Slam titles in it. Andy is still trying to get in form since his hip operation, but he got his first win last October at the European Open, defeating Stan Wawrinka in the final. He is struggling with another injury at the moment, but hopefully, we can see him back on the court soon. The odds for the Roland Garros are already available at bet365.
Famous brothers in football
We can find several siblings in the world of football, where both boys become great players. If you're a Manchester United fan, you are likely to think about the Neville brothers, Phil and Gary.  Gary was the captain of the Red Devils for five years, which is even more unique, that he spent all his career at the club. During his years he won eight Premier League and two Champions League titles with the club and had an amazing 400 appearances.
His younger brother, Phil had a similar but not the same past, spending 10 years in Manchester before joining Everton. He was also part of great successes, winning the Premier League six times and the Champions League once. Now the team is far from another Premier League title, but you can still bet on their next game at bet365.
Yaya Toure played for United's big rival, Manchester City for eight years in midfield, helping them to win titles as well. For several years, he also played together at the club with his older brother, Kolo Toure, and at the Ivory Coast national team.
The Mannings
But we can find a very famous brother pair in American football as well. Peyton and Eli Manning are two of the greatest quarterbacks in the NFL. Peyton won two Super Bowls with two different teams, Indianapolis Colts and Denver Broncos in his last year. While Eli has just retired this year, as it was mentioned by online sportsbooks in the US. The Manning brothers have become the iconic figures of the sport, with Eli also winning two Super Bowls with his team, New York Giants. He was also named the MVP both times.
But what is probably less known is that even their father, Archie Manning had a long career in the NFL, playing most of it for New Orlean Saints. Though he didn't have such successes as his sons, surely he was a great inspiration for them to follow his steps.