In recent years, we could see several footballers who were not only concentrating on football, but also on following the latest fashion trends. If you check their clothes, their hairstyle or their designer watches, they are all very stylish and cost a fortune. We've collected the most stylish footballers who can make their own trend with millions of fans following them. 
In the old times, footballers were not really into fashion. Though there were always exceptions, who wanted to look good both on and off the pitch. The first stylish footballer was Stanley Matthews, who liked to wear smart suits and top hats. In the 60s, George Best, Bobby Moore, and Franz Beckenbauer were the style leaders. While in the 1970s a new hairstyle, perm became dominant. In the 1980s a more romantic style was popular even between footballers. Meanwhile, Diego Maradona embraced Italian fashion and the wearing of jewelry. And we've arrived already in the 1990s, when our first candidate, David Beckham appeared. 
David Beckham is one of the most stylish footballers
Even before his marriage with Posh Spice, Victoria Adams, Beckham was a fashion icon, wearing different hairstyles from the very long up to an almost bald one. He was one of the first football players who started to have tattoos and make them a trend. He got his first one in 1999, by now he has more than 50 in total. The clothes he is wearing are more conventional since his marriage. Either being a leather jacket or a three-piece suit in a Peaky Blinder style. Surely it's got to be inspiring to have a famous designer as a wife. The Beckhams are definitely one of the best styled celebrity pairs of the world. 
Cristiano Ronaldo and his own fashion brand
Looks like in Manchester there is always someone with a more fashion-focused view. Fans didn't have to wait long for the new top footballer after Beckham's leave in 2003. As the new star, Cristiano Ronaldo arrived in the same year. The Portuguese in his first years was making more impact on the pitch with his great skills and fantastic football, than with his outfits, but it all changed after he moved to Madrid. 
He found his style in clothes and luckily he got rid of the excess gel on his hair. Ronaldo has started to wear suits and expensive accessories, like designer watches and sunglasses. He also started modeling Armani underwear and jeans. And the next natural step was to launch his own brand, CR7 in 2013 which is offering now underwear, shirts, socks, and shoes. Not long after came his own fragrance called Legacy, which was followed by his other perfumes, CR7 and the latest, Play it Cool. Luckily he still has time to concentrate on football and scoring goals like before, now in Juventus. He has the odds of 1.65 at 22Bet to score on their next game against Verona at the weekends. 
Cristiano Ronaldo also looks great in a suit [Cristina Cifuentes [CC BY]
Lionel Messi, the most conventional
He doesn't wear extreme clothes or has his own perfume, but still, Messi is one of the most stylish footballers. In his free time, he prefers to wear comfortable clothes, like hoodies and jeans with sneakers and trainers.  He also had several hairstyles in the last 15 years, from a longer one in his teens to even a white one a few years ago. Now he went back to his original color (thank God), and his beard became his trademark. He is still in his top form like Ronaldo, though they can only meet now in the Champions League, where Barcelona and Juventus are in the last 16. 
Neymar, the fancy one
Messi's ex-teammate, Neymar is also interested in fashion, but his style is definitely more extreme. As online sportsbooks in France were announcing, Paris Saint-Germain has paid €222 million for Neymar to Barcelona, which is still the highest fee ever paid for a footballer. His salary is certainly matching these figures, and his taste in fashion as well. Neymar is mostly wearing expensive designer clothes, like Louis Vuitton bomber jacket or a blazer from his favorite brand, Balmain which costs several thousand pounds. He also loves to visit Fashion shows, surely in Paris he has several occasions to do so. 
Pogba and his street style
Back in Manchester, we can find another great footballer with an even more extreme haircut, French midfielder Paul Pogba. He also loves designer stores such as Givenchy or Dolce&Gabbana. Though he is a fan of street style, on special events he wears nice suits from the mentioned brands. But his hair is the most important thing about his outlook, he has at least 20 extreme hairstyles so far. He had a blonde mohawk and even a leopard-skin style, but after winning the world cup with France in 2018, he got two gold stars shaved into his hair. His critics think that he should be focusing more on training and less on his hair, as his football was not that great in the last year. Pogba has been suffering from injuries this season, so as online gambling sites in France are mentioning, he can leave the club in the summer.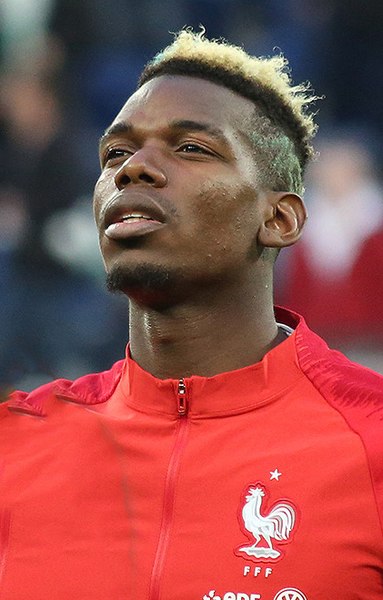 Hector Bellerin, a real fashionista
The vice-captain of Arsenal, Hector Bellerin is a true fashion follower. Last year he was struggling with injuries, so he had more time to focus on the latest trends. He even featured in British Vogue, and he wasn't afraid to wear a pink hoodie with a matching short on a Louis Vuitton show. Bellerin is from Barcelona and clothes have been important in his life from his childhood. In London, he had the chance to discover the latest brands and make his own style. Probably what is even more important to the fans is that he is back at the team. A healthy and confident Bellerin is an important piece of today's Arsenal, which is facing Greek side Olympiacos in the Europa League soon. 
Sergio Ramos, the cool guy
From the list of the most stylish footballers, we can't miss a real phenomenon both on and off the pitch, Sergio Ramos. The captain of Real Madrid and the Spanish national team, he is a leader wherever he goes and whatever he wears. In the last few years, his style has changed as well, becoming more mature. His new short haircut also suits him more. Ramos also loves tattoos and beanies which he wears even with a suit, still looking great. What can we say, he is one of the coolest footballers right now.