After playing for Partizan, one of the best teams in Serbia, Aleksandar Mitrovic has left his country when he was only 19. The striker has signed for Anderlecht, and after spending two years with the great Belgian club, moved to Nothern-England to play for Newcastle.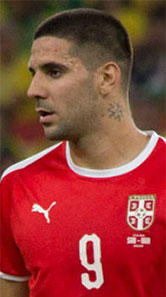 The Geordies have loaned him out to Fulham, and the Londoners were so satisfied with Mitro they've bought him for £18m this summer! He's not ungrateful: this year, he's scored 5 goals in 8 matches for Fulham. Mitrovic is also on fire when he's playing for his national team, he's netted 4 times in 4 games for Serbia in the Nations' League.
The odds are high on Mitro to score against Man City
This season, Mitro's netted once against Watford, Brighton, Spurs and twice against Burnley. He's managed to score in the Wembley Stadium, but can he do that against Pep Guardiola's Manchester City? The odds on that are 18/5 at Unibet Sportsbook. If you're really confident about the Serbian striker, you can also bet on Mitrovic to score the first or the last goal of the game – the odds are as high as 11/1 at Unibet Sportsbook on both of these scenarios.
Manchester City – Fulham

1st November 2018, EFL Cup

Mitrovic to…
…score – 18/5
…score first – 11/1
…score the last goal – 11/1
Mitrovic could compete for the Golden Boot this year
If you have even more faith in the Serbian target man, it's also possible to bet on Mitrovic to become the top goalscorer of the Premier League this season. However, online sportsbook sites in Serbia argue that this event is quite unlikely, while the odds are 33/1 on this event at Unibet Sportsbook. Still, if Mitrovic remains consistent and keeps on scoring against some of the relatively small clubs, he definitely has the chance to become one of the better strikers in England this year.