A kiss could be the result a late goal against your biggest opponents or your childhood dream coming true. It could be also important if you want to comfort your loved ones or to make a political statement. In the world of sports, we can find examples for all of these emotional moments and many of them are historical and unforgettable.
1. Casillas kissing his reporter wife after World Cup win
Online sportsbook sites in Spain predicted that their national team is going to win the World Cup in 2010. However, no one expected one of the most famous kisses in sports to happen after the final. It was captain Iker Casillas who gave an interview for a Spanish TV channel. While fighting with his tears, he suddenly kissed the reporter. The reporter was his wife and their emotional kiss has since become historical.
2. Gary Neville kissed Paul Scholes in ecstasy after the late goal
In 2010, Manchester United were playing against their arch-rivals Manchester City. They needed all 3 points to keep their title-winning hopes alive. In the last minute of the stoppage time, Paul Scholes managed to score and secure the much-needed win for United. Former captain, Gary Neville ended up kissing Scholes in ecstasy.
 "Against City and Liverpool I couldn't control my emotions, if we scored a late winner I did stupid things, like kissing Scholesy!" – Gary Neville
3. Russian athletes were kissing on the podium after their country's anti-gay laws were passed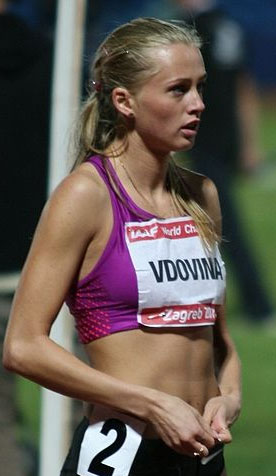 After winning a medal in the 2014 Sochi Winter Olympics, Russian athletes Kseniya Ryzhova and Yuliya Gushchina shared a kiss on the podium. Images and videos about the event went viral as it was believed that they were protesting against their country's recent anti-gay laws.
The athletes later claimed that it was an accident and they stand by the regulations of Russia. However, the kiss just brought even more media attention to these laws. A month later masses were protesting in 50 cities worldwide against Russia's politics regarding LGBTQ people.
4. Maradona kissed Caniggia after the biggest derby in the world
The Superclasico between Boca Juniors and River Plate is described as the biggest derby in the world. One of their most memorable match took place in 1996, when Claudio Caniggia managed to score a hattrick against River Plate. Football legend Diego Maradona got so carried away with his emotions he kissed Caniggia after one if his goals. Claudio's wife at the time later said:
"At times I believe Diego is in love with my husband. It must be the long hair and big muscles."
6. One of the most memorable kisses in sports was shared during a riot
The 2011 Stanley Cup Final plays an important part of the Canadian hockey history. The Vancouver Canucks lost the game at Rogers Arena, which caused an incredible riot around the stadium. As police officers were running around cars on fire throwing gas bombs, a kissing couple was spotted on the ground.
It was later revealed that the girl was knocked down by the police, and her boyfriend tried to comfort her. As Sports Illustrated claims this was the most compelling sports image of the year, we believe this was definitely one of the Top 5 most memorable kisses in sport.